Published 03-17-21
Submitted by Keysight Technologies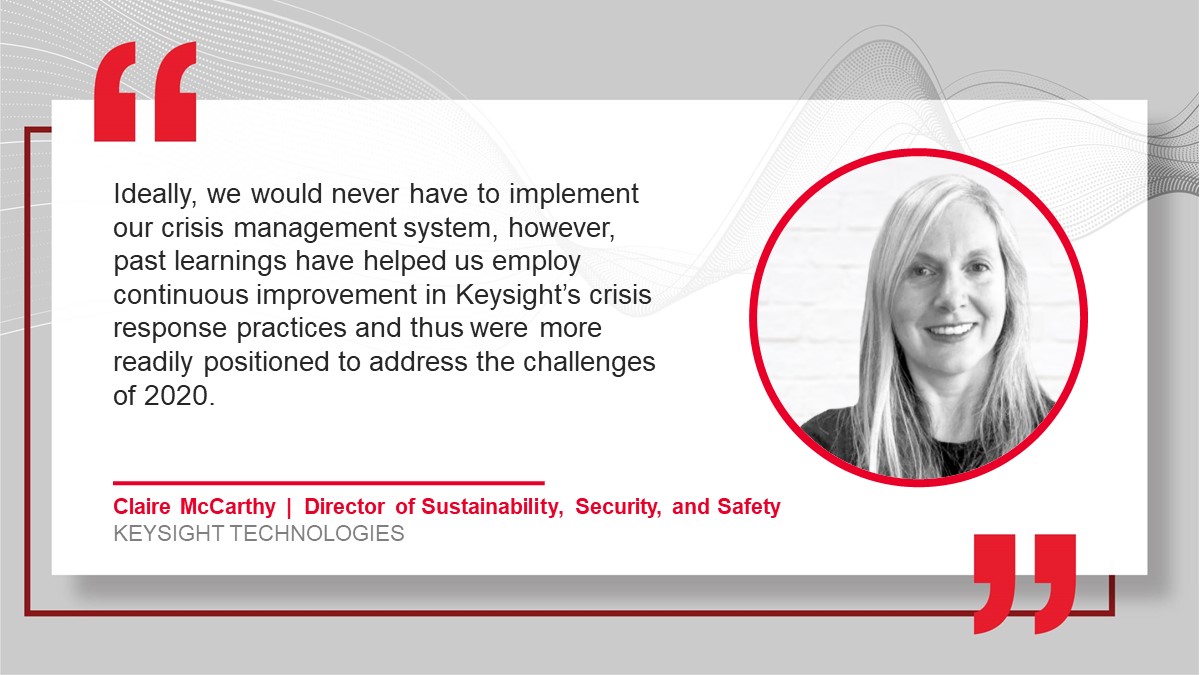 As Keysight's Director of Sustainability, Security, and Safety (SSS), Claire McCarthy's role includes being the company's global incident commander for crises as they arise. That means that on top of her day-to-day job managing the company's sustainability, security and safety programs worldwide, Claire steps into the frontlines when a crisis event occurs. While having engaged in multiple incidents throughout her career, she has been extremely busy over the last year. Since the beginning of 2020, Claire's team has not only managed the COVID-19 pandemic across Keysight's more than 130 sites in 30 countries, but also addressed regional wildfire impacts, power outages, and social unrest events.
I sat down with Claire recently to talk about how her team's work helped Keysight not only mitigate business risks, but also supported the company's ability to continue meeting business commitments throughout the past year. As she explains, Keysight's response efforts have been part preparation, part action, and part learning.
PREPARATION
There is no way of really knowing when or what kind of an emergency, disaster or crisis may occur. So, before we go into what has happened since the start of 2020, what is the most important part of preparing for times like these from a corporate perspective?
Claire: That's right, you just never know what will happen when, or even where in the world. As a result, it's important to have a crisis management system already in place, with teams trained before something happens. Key elements of such a plan include a team organizational structure, management structure, related processes and procedures, a robust communication plan, and an emergency decision tree. I also highly recommend implementing regular tabletop-scenarios to test plans and business continuity, while ensuring the team is clear on available resources for each type of situation. These scenarios help train team members to respond quickly and efficiently if, or when, the time comes.
What are some of the critical aspects of Keysight's crisis management system?
Claire: Keysight's crisis management system clearly defines each of the elements I noted previously. However, I would highlight our management structure, communications, and team organization as particularly critical.
From a structure perspective, we want to be able to respond quickly and effectively to a crisis, keep a potential crisis from becoming a real one, and we want to keep an actual crisis from getting worse. Once the situation stabilizes the Crisis Management Team (CMT) deactivates and recovery efforts are managed through normal operational processes. However, throughout the response and recovery process, employee safety and business continuity are constants to make sure the company continues delivering to our key stakeholders and business commitments.
Effective communication is imperative for a successful outcome. During a crisis event, action must often be taken utilizing the best information available and adjusting as needed as more information presents. It is also important to provide regular situation updates to employees, management, board of directors, and key stakeholders during an event so they understand what is going on, how to stay safe, and where to go for more information.
Of course, nothing would be accomplished without the right teams in place, ready to engage at a moment's notice. At Keysight, we have a Global Crisis Management Team (GCMT), which I lead with executive staff oversight. Together, we implement companywide guidance, protocols, and communications in line with our stated priorities and government requirements. We also utilize a network of country-specific CMTs across Keysight campuses for direct local action and management as needed.
Having our crisis management system in place before an incident ensures the company can manage through an emergency effectively from onset through recovery, particularly during difficult or dynamic events. However, even with preparation, every incident has unique aspects to consider.
ACTION
Certainly, the events of 2020 have proven dynamic with unique aspects, starting with COVID-19. How did Keysight's crisis management system come into play in response to the pandemic?
Claire: Like many global companies, we started to track and address COVID-19 when it was first identified in China in early January of 2020. That's when we initiated our GCMT as well as our China CMT. As the situation evolved from an epidemic to a pandemic, our crisis management system enabled us to quickly adjust our response and expand to include all our country CMTs.
For example, we first phased cancellation of business travel regionally as the virus spread, and of course tended to the immediate safety of those travelling to return home, then moved to halt all business travel prior to countries closing their borders. In a unique aspect to this incident, we also partnered early with Keysight's medical director and infectious disease specialists to help guide specific decisions.
As the situation evolved, we transitioned to work from home and closed sites for all but critical business exceptions. Eventually we ramped essential operations and currently maintain work from home for roles that can, and employ strict safety protocols at Keysight campuses where employees are required on-site access to perform their role.
But the pandemic wasn't the only incident to affect Keysight in 2020. How did the crisis management system and team adjust to other events?
Claire: Unfortunately, that is true. We experienced regional incidents in the form of wildfires in the community near our headquarters in Sonoma County, CA, rolling power outages across sites in CA, air quality issues, and various pockets of social unrest around the world that required attention to ensure employee safety and operational continuance. However, again, our crisis management system and CMTs were prepared with the tools and resources necessary to respond effectively. In any crisis event our priorities remain the same.
What were Keysight's priorities during these events?
Claire: First and foremost, our CEO, Ron Nersesian, made it very clear that employee health and safety, as well as that of their families, was our top priority. It was recognized early on that the mental, emotional, and physical strains of these events could significantly impact employee well-being. So, our first priority was ensuring employees were supported and safe.
Our second priority focused on minimizing risk to operations so that the company could continue delivering to customers and business commitments. This has been particularly important given Keysight's solutions help connect and secure the world, which became increasingly important throughout the year.
Thirdly, efforts to help the broader community is always a key component of Keysight's crisis management. For pandemic relief, the company donated $1M+ to various local community support organizations and multiple rounds of personal protective equipment (PPE) and janitorial supplies to Emergency Operations Centers (EOCs), public health departments or medical facilities around the world.
LEARNINGS
The reality is that Keysight's crisis management system has been tested before. I recall just after the Tubbs fire in 2017 — which affected our headquarters and surrounding communities — I attended an industry event and was approached by multiple companies asking about our crisis management approach. Many noted that, while they had such processes in place, few had actually needed to implement them. While that has now changed given the broad impact of COVID-19, how can events such as these help companies plan for the next incident?
Claire: Ideally, we would never have to implement our crisis management system, however, past learnings have helped us employ continuous improvement in Keysight's crisis response practices and thus were more readily positioned to address the challenges of 2020. Each incident offers new insights. As such, we conduct a retrospective that includes input from those impacted, employees, and of course the crisis management teams. This allows us to feed new learnings back into our program so that we can be even more prepared for the next event. In fact, early learnings from the COVID-19 pandemic have already been integrated into the Keysight's crisis management system.
I've worked with you for a number of years now and the acceleration of incidents in 2020 must surely have been taxing on you personally, but you never showed it. How do you turn crisis mode off and make time to care for yourself?
Claire: I've had my moments. It's easy to get caught up in the anxiety and fear of everything going on, especially since a crisis event does not take breaks! Luckily, the members of our crisis management teams are incredibly supportive of each other. We have all been going through this together, so there is a strong sense of belonging and comradery that we will get through it as a team. We now deploy a backup system so that each member can take a break from the 24/7 cycle of a crisis event, catch up on sleep and recharge. I try to find personal time to spend with my family, catch up on sleep, take walks, and engage in low-stress hobbies like reading, knitting, gardening, and cooking.
At the end of the day, it is an incredible feeling of accomplishment to support fellow employees, their families, and our communities, all while continuing to deliver to business commitments. It is very rewarding to feel that I have made a difference, even through tough times.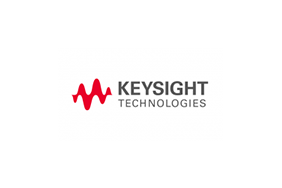 Keysight Technologies
Keysight Technologies
At Keysight (NYSE: KEYS), we inspire and empower innovators to bring world-changing technologies to life. As an S&P 500 company, we're delivering market-leading design, emulation, and test solutions to help engineers develop and deploy faster, with less risk, throughout the entire product lifecycle. We're a global innovation partner enabling customers in communications, industrial automation, aerospace and defense, automotive, semiconductor, and general electronics markets to accelerate innovation to connect and secure the world. Learn more at Keysight Newsroom and www.keysight.com.
More from Keysight Technologies