Published 03-17-21
Submitted by Economist Events
LONDON, March 17, 2021 /CSRwire/ - The Economist's sixth annual Sustainability Week takes place on March 22nd - 25th 2021. Join over 7,000 attendees and 70+ speakers to explore how firms can effectively measure, analyse, transform and scale their sustainability initiatives. Key themes will include emissions and the race to net zero, circularity, biodiversity and natural capital, and society.
Speakers include:
Tony Blair, executive chairman, Tony Blair Institute for Global Change and former prime minister, Great Britain and Northern Ireland
Larry Fink, chairman and chief executive, BlackRock
Arvind Krishna, chairman and chief executive, IBM
Andrew Bailey, governor, Bank of England
Bill Winters, chief executive, Standard Chartered
Marc Engel, chief supply chain officer, Unilever
Alison Rose, chief executive, NatWest Group
Lucas Joppa, chief environmental officer, Microsoft
Tanya Steele, chief executive, WWF-UK
Andrew Morlet, chief executive, Ellen MacArthur Foundation
Mark Carney, special envoy for climate action, United Nations
John Pettigrew, chief executive, National Grid
Barry O'Byrne, chief executive, global commercial banking, HSBC
Christopher Ailman, chief investment officer, CalSTRS
Philippe Ducom, president, ExxonMobil Europe
Virginijus Sinkevičius, commissioner, environment, oceans and fisheries, European Commission
Corli Pretorius, deputy director, UN Environment World Conservation Monitoring Centre
Alice Steenland, chief sustainability officer, Dassault Systèmes
Ben van Beurden, chief executive, Royal Dutch Shell
Lara Wolters, member of the European Parliament
Alasdair Grainger, deputy director, corporate finance advisory and investor relations, Department for Business, Energy and Industrial Strategy
Heidi Hautala, vice-president and member, European Parliament
View the agenda and full speaker line up here.
Event sponsors:
Diamond sponsors: HSBC, IBM, Shell
Platinum sponsor: Accenture, AIB, KAPSARC
Supporter: JTI
Gold sponsors: AB InBev, CANDRIAM, Google Cloud, GfK, The Innovation Center for U.S. Dairy, National Grid, NatWest Group, Wood
Silver sponsors: Alfa Laval, Deloitte, Euler Hermes, ExxonMobil, Invesco, Nomad Foods, Tetra Pak, Wellington Management
PR agency: Porter Novelli
-----------------------------
Get in touch:
Press enquiries:
For more information, or to request an interview with an event speaker, please contact:
Roisin Miller, Porter Novelli | +44 7966 221032 | roisin.miller@porternovelli.co.uk
Press registration:
Press can register free for the event via our press link here.
Attendee registration:
Attendees can register free for the event via our guest link here.
To view the event website, please click here.
Social:
Follow the event on Twitter @EconomistEvents #EconSustainability
About The Economist Events
The Economist Events' philosophy is to tackle issues with a forward-looking, uniquely global perspective. We aim to create events for the intellectually curious: people who enjoy ideas and who are passionate about the issues that define our world.
-----------------------------
-ENDS-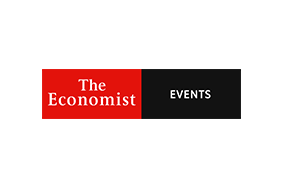 Economist Events
Economist Events
Economist Events brings the rigour of informed analysis and intelligent debate that The Economist is known for to life on stage in international forums. We host over 80 events annually in over 30 countries on topics that convene world-class thought leaders on a range of strategic business issues.
More from Economist Events