Published 03-12-21
Submitted by Economist Events
LONDON, March 12, 2021 /CSRwire/ – Industry leaders, policymakers, NGOs, academia and entrepreneurs came together at the eighth World Ocean Summit to share their insights on how to ensure that the world's ocean is best preserved for future generations. 
The event, which took place between March 1st - 5th is now available on-demand via this link free of charge. The event was the biggest ever - with more than 170 speakers participating in over 60 sessions which examined how to maximise the growth of marine renewable energy, how to tackle marine plastic pollution, how to introduce sustainable practices to fishing to conserve biodiversity and protect fish stocks, how to accelerate the decarbonisation of the shipping industry. In the plenary sessions, the event focused on the following key areas: ocean finance, governance, innovation and technology.
A key theme from the plenary sessions was the need to collaborate at a global level. Patricia Scotland, secretary-general, The Commonwealth, highlighted that regional and global ocean issues require cooperation across countries, and action needs to be taken now, stating "if not now, when? And if not us, who?". Furthermore, collaboration with local communities is key for effective management of marine protected areas, and collaboration across industries is required to reduce emissions and increase sustainability across operations. 
Attendees heard from ocean visionaries/distinguished speakers, including Marika McCauley Sine Vice-president, global sustainability, Mars Petcare; Tom Dillon Senior vice-president, head of environment, The Pew Charitable Trusts, Darian McBain Global director, corporate affairs and sustainability, Thai Union; Ricardo Mourinho-Félix Vice-president, European Investment Bank; Ted Danson Actor, advocate and board member, Oceana and HSH Prince Albert II Sovereign Prince of Monaco.
A common theme that ran across the event was the importance of global cooperation, collaboration and ambition to make 2021 the ocean super year that 2020 should have been. 
Moving to a sustainable ocean economy will only happen if the words heard at the event are translated into reality. This was the stark message, which The Economist Group, editorial director, Charles Goddard pulled out in his closing remarks.
In addition to the detailed thought leadership, a Memorandum of Understanding was signed between the Economist Group and the Nippon Foundation to launch the Back to Blue initiative. The Nippon Foundation is one of Japan's most prominent philanthropic organisations and shares a common understanding with the Economist of the need to improve evidence-based approaches and solutions to the pressing issues faced by the ocean, and to restoring ocean health and promoting sustainability. The initiative will focus initially on aspects of the vexing challenge of pollution.
From our founding supporter, Blancpain
Blancpain is the founding supporter of The Economist's World Ocean Summit since its first edition in 2012. With its almost 70-year legacy of the world's first modern diving watch, the brand has close ties with explorers, photographers, marine scientists, and environmentalists who treasure the precious underwater universe. Blancpain has passionately supported multiple initiatives dedicated to the ocean with tangible results including contributing to the addition of more than four million km2 of marine protected areas worldwide."
View the agenda and full speaker line up here.
Sponsors:
Official host country: República Portuguesa
In collaboration with: Oceano Azul Foundation
Founding supporter: Blancpain
Diamond sponsors: Wallenius Wilhelmsen
Silver sponsors: Calysta, Environmental Defense Fund, MSC and Ocean Network Express (ONE)
Bronze sponsors: Alliance to End Plastic Waste, AXA XL, BioMar, Cargill, Entrust Global, Mars Petcare Inc. and The Nature Conservancy
Associate sponsors: Undersee, The Northland Power, Seafood Alliance for Legality & Traceability (SALT), FishWise
Supported by:
The Nippon Foundation
The Pew Charitable Trusts
For more information from the event, or to request an interview with any of the speakers, please get in touch with us (contact details below).
For more information visit:
@EconomistEvents  / #OceanSummit
Press enquiries:
Roisin Miller
roisin.miller@porternovelli.co.uk
Naomi Grice - Marketing manager, The Economist Events
naomigrice@economist.com
-ENDS-
For general queries or further information about the event please call 0207 576 5118 or e-mail events@economist.com
For more information, please visit events.economist.com
Join us on Twitter: @EconomistEvents
About The Economist Events
The Economist Events' philosophy is to tackle issues with a forward-looking, uniquely global perspective. We aim to create events for the intellectually curious: people who enjoy ideas and who are passionate about the issues that define our world.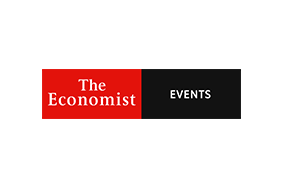 Economist Events
Economist Events
Economist Events brings the rigour of informed analysis and intelligent debate that The Economist is known for to life on stage in international forums. We host over 80 events annually in over 30 countries on topics that convene world-class thought leaders on a range of strategic business issues.
More from Economist Events