Published 03-05-21
Submitted by Abbott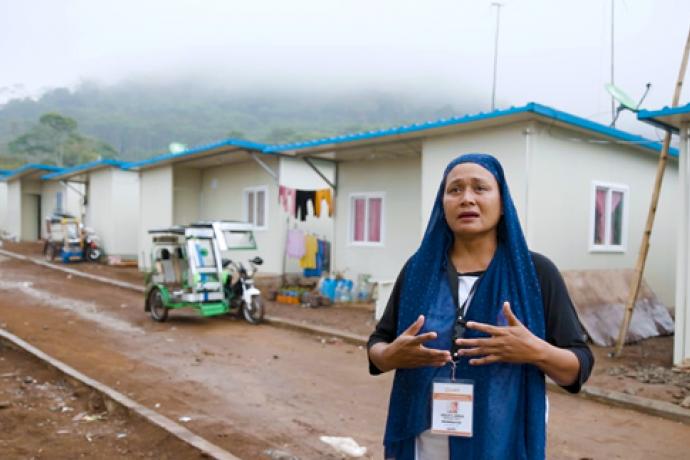 During the siege of Marawi, Jaslia Abbas was forced from her home. Today, she serves as a health volunteer for CARE Philippines, helping other displaced families to access the testing, care and information they need.
Jaslia Abbas lived with her husband in the Philippine city of Marawi for years, raising their five children and helping others as a midwife. Then in 2017, the siege of Marawi began. The armed conflict between government forces and militant groups lasted for five months – and changed Jaslia's life forever.
"We stayed three days with no food and without sleeping, while bombs were exploding all around us," said Jaslia. During a break in the fighting, her family fled the devastated city – part of an exodus of more than 350,000 people seeking refuge in evacuation centers. They ended up in a tent city, and now live in a nearby transitory shelter.
Today, more than 80 million people like Jaslia are displaced from their homes by conflict, natural disasters and other emergencies, according to the United Nations. Many live in temporary shelters that provide food, water and other basic needs. However, the prevention and care of chronic diseases – also called noncommunicable diseases (NCDs) like diabetes and heart disease – is usually overlooked in these settings, according to the World Health Organization (WHO).
This is especially challenging when emergency situations turn into protracted crises like in Marawi, where three years after the siege, much of the health infrastructure has yet to be rebuilt and more than 120,000 people remain displaced. Despite the increasing impact of NCDs globally, little information exists on the prevalence and impact of chronic disease for people in crisis settings.
A Better Future for People Living in Crisis
Today, Jaslia is able to apply her expertise as a midwife to now help her community as a health volunteer for a unique program that is finding new answers for chronic diseases in Marawi. By mobilizing displaced communities and filling health system gaps in prevention and care, a partnership between the global humanitarian organization CARE, Abbott and our foundation the Abbott Fund is helping people to live healthier lives in Marawi and nearby towns. The goal is to create a scalable and replicable new model for the effective prevention and care of chronic diseases in resource-limited and humanitarian settings around the world.
Launched in 2019, the three-year program – called Future Well in Crisis – is finding new ways to tackle NCDs with a focus on helping internally displaced people affected by diabetes, hypertension and obesity. Program work focuses on three things:
Screening to identify people with NCDs and those at risk of developing NCDs
Providing health education, counseling, monitoring and referral services to NCD patients
Building local capacity to deliver NCD services and partnering with the local health system to ensure prioritization of NCDs in displaced communities
Sharing Unique Technologies, Expertise and Resources
To support the partnership, Abbott is providing its life-changing technologies to advance testing and care, including the Abbott Afinion rapid testing technology and FreeStyle Lite glucose monitoring systems for the management of diabetes. Abbott experts also are providing training on the use of these technologies for local healthcare providers and volunteers.
Our work with CARE in the Philippines is part of a series of partnerships around the world we call "Future Well," which are focused on advancing health equity by working with others to find pioneering ways to prevent and care for chronic diseases. These efforts are transforming lives around the world, and supporting Abbott's broader goal of innovating for access and affordability through our 2030 Sustainability Plan.
"Our partnership with CARE sits at the intersection of two immense issues – chronic disease and humanitarian crises," said Melissa Brotz, vice president of global marketing and external affairs, Abbott, and president, the Abbott Fund. "From the Abbott side, we knew we could build on our expertise supporting disaster relief efforts and treating chronic disease. And CARE is the perfect partner, with expertise in meeting needs in challenging settings, strengthening systems and empowering women and communities."
Empowering Displaced Communities – Especially Women
An important part of the new partnership is the dedicated work of local volunteers – most of whom are women in displaced communities. With an in-depth understanding of the needs of their neighbors, the health volunteers lead "NCD Clubs" to advance disease prevention and management, and provide vital peer support to club members with or at risk of developing NCDs.
"Our volunteer groups are made up mostly of women; we are all determined to lead," said Jaslia. "Abbott and CARE have helped many local people with education campaigns, screening and care for NCDs. We provide blood tests, monitor blood pressure and sugar levels, as well as body mass index. We educate people about sugar and salt intakes and the importance of exercise and daily routines."
Early Results: Making an Impact
Initial results from the program are promising. Baseline screening found that three out of four adults (75%) had never had their glucose tested, and 16% of adults were either diabetic or pre-diabetic. And of those identified as diabetic, more than half (59%) had not been previously diagnosed.
Following targeted interventions, including monitoring and counseling, more than half (51%) of diabetic and pre-diabetic patients saw a decrease in their fasting blood glucose levels since baseline, and 46% saw a decrease in their average blood glucose (HbA1c) levels, which is an indicator of better glucose control and lower risk of complications.
Building on the initial results, the partners are conducting ongoing monitoring and evaluation to further assess the success of the model – with the broader goal of further expanding the impact.
"We hope that we can develop and create a model of addressing NCDs in emergency situations that we can use in other areas of the Philippines and maybe globally," said David Gazashvili, country director, CARE Philippines.
"This project has a big impact in the community," said Jaslia. "People are now aware of the diseases and informed on how to control them."
More Information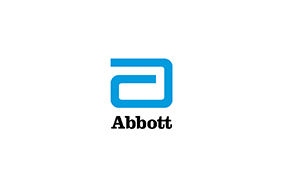 Abbott
Abbott
About Abbott and the Abbott Fund
The Abbott Fund is a philanthropic foundation established by Abbott in 1951. The Abbott Fund's mission is to create healthier global communities by investing in creative ideas that promote science, expand access to health care and strengthen communities worldwide. For more information, visit www.abbottfund.org.
Abbott is a global, broad-based health care company devoted to the discovery, development, manufacture and marketing of pharmaceuticals and medical products, including nutritionals, devices and diagnostics. The company employs nearly 90,000 people and markets its products in more than 130 countries. Abbott's news releases and other information are available on the company's website at www.abbott.com.
More from Abbott