Published 03-04-21
Submitted by Enbridge Inc.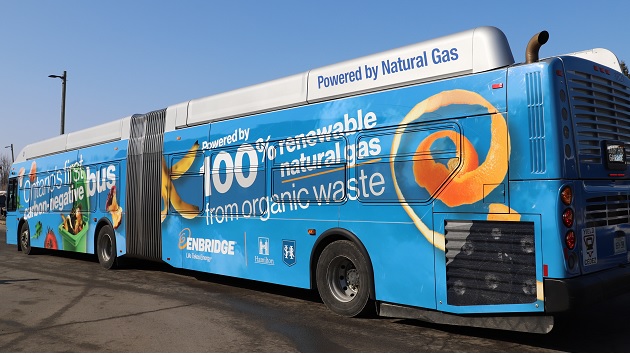 Transit users can now catch a carbon-negative ride on Ontario's first bus fueled by renewable natural gas (RNG).
The RNG public transit bus hit the road today in Hamilton, in the Golden Horseshoe region of southern Ontario that's one of North America's fastest growing regions. It runs on RNG, a cost-effective, low-carbon alternative to diesel fuel, which is supplied by Enbridge Gas Inc. and created in the nearby city of London at the StormFisher biogas facility that processes organic waste.
RNG produced at the StormFisher plant is considered carbon negative because it's diverting organic waste from a landfill and preventing methane from being released into the atmosphere.
"Renewable natural gas provides an excellent opportunity for the HSR (Hamilton Street Railway, the city's transit authority) and City of Hamilton to continue our efforts to lower corporate GHG emissions and move toward targets outlined in our Climate Change Emergency declaration and Corporate Energy and Sustainability Policy," says Hamilton Mayor Fred Eisenberger. "We are proud to partner with Enbridge Gas on this innovative initiative that will pave the way to ensure the future of transit in our community is energy efficient and sustainable."
Enbridge Gas has been a long-time partner of HSR as it works toward building one of the greenest transit fleets in Canada. Several years ago, HSR began gradually replacing its fleet of diesel buses with compressed natural gas (CNG) vehicles, cutting greenhouse gas emission by some 20%.
By introducing RNG to fuel its natural gas buses, HSR becomes the first public transit authority in Ontario to use a certified 100% carbon-negative fuel to transport customers. In one year, HSR's RNG bus will divert 450 tonnes of organic waste from the landfill, enough to fill 38 garbage trucks1.  Using RNG to fuel the bus will also displace CO2 emissions from 36,000 litres of diesel a year, making trips even more carbon negative.
"HSR is proud to have led the transit industry as an early adopter of natural gas to fuel a significant portion of our buses. By leveraging RNG, we're continuing our legacy of being one of the greenest transit fleets in Ontario and Canada," says Debbie Dalle Vedove, HSR's Director of Transit.
With the fuel produced within the province, the project supports a circular economy—achieving climate change targets, diverting waste from landfills, supporting economic development, decreasing tailpipe emissions and providing transit customers comfort and reliability.
"The HSR is a prime example of a major transit authority recognizing the environmental benefits and financial value of RNG," says Cynthia Hansen, President of Enbridge Gas. "We're pleased to support their efforts by supplying RNG, a cleaner fuel option that will help fight climate change in the region."
Today, there are more than 110 operating RNG facilities in North America, including 10 in Canada. There are more than 30 RNG projects in various stages of development or construction in Ontario.
Through collaboration with governments and partners, Enbridge is advancing innovative energy solutions and helping fleets switch to green RNG today. In addition to existing projects with the cities of Toronto and Hamilton, Enbridge Gas has been working to develop new sources of RNG to add to its distribution system, recently teaming up with Walker Industries and Comcor Environmental to build Ontario's largest RNG plant in Niagara Falls.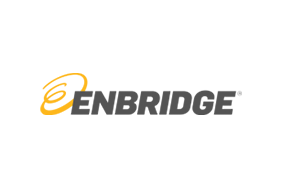 Enbridge Inc.
Enbridge Inc.
Enbridge's vision is to be the leading energy delivery company in North America. We deliver the energy people need and want—to heat their homes, to keep their lights on, to keep them mobile and connected.
We operate across North America, fueling the economy and people's quality of life. We move about 25% of the crude oil produced in North America, we transport nearly 20% of the natural gas consumed in the U.S., and we operate North America's third-largest natural gas utility by consumer count. Enbridge was an early investor in renewable energy, and we have a growing offshore wind portfolio.
We work collaboratively every day to provide safe, reliable energy. Enbridge connects energy supply with growing markets in North America through our three core businesses:
Enbridge was named to the Thomson Reuters Top 100 Global Energy Leaders in 2018; we were selected to Bloomberg's 2019 and 2020 Gender Equality Index; and we have been ranked among the Best 50 Corporate Citizens in Canada for 18 years running, through 2020.
Enbridge Inc. is headquartered in Calgary, Canada. We have a workforce of about 13,000 people, primarily in Canada and the United States. Enbridge (ENB) is traded on the New York and Toronto stock exchanges.
More from Enbridge Inc.