Published 03-02-21
Submitted by 3BL Forum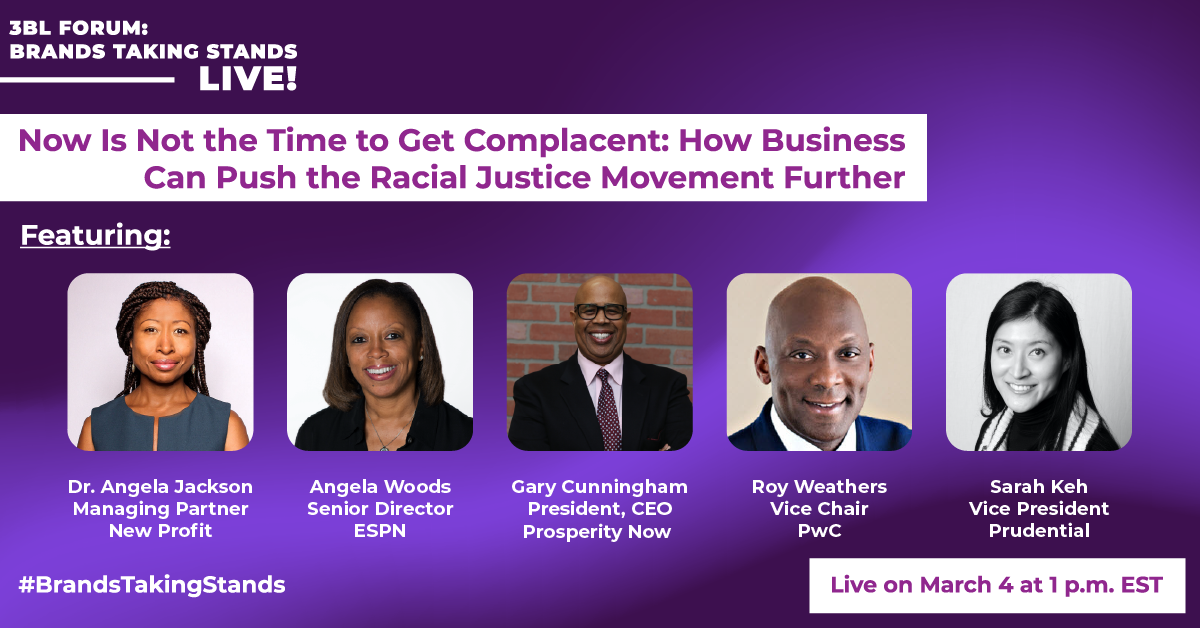 Following the murder of George Floyd last summer, countless companies and their senior leadership publicly condemned discrimination in any form, announced various financial commitments aimed at accelerating change and, in some cases, unveiled long-term initiatives to fundamentally alter their business practices to meet the needs of all people.
Fast-forward to today: A new presidential administration committed to addressing systemic racism and economic inequality has taken office in the U.S. But what does this mean for businesses that pledged to help stamp out systemic racism just a few months ago? How can they make good on their commitments now and maintain momentum into the future?
Join us on March 4 at 1 p.m. EST as we explore the answers to these consequential questions during "Now Is Not the Time to Get Complacent: How Business Can Push the Racial Justice Movement Further," the first installment of 3BL Forum: Brands Taking Stands – LIVE!
Presented by 3BL Media, 3BL Forum: Brands Taking Stands – LIVE! will convene corporate leaders from top brands for a series of sessions focused on "the why" and "the how" behind business leadership on today's most pressing issues.
To help us examine how businesses can partner with stakeholders to propel the movement for racial and economic justice further, we're excited to welcome these exceptional thought leaders to the virtual main stage:
Angela Woods, senior director for corporate citizenship at ESPN, who will speak to the sports entertainment brand's newly formed partnership with the Obama Foundation's My Brother's Keeper Alliance.
Sarah Keh, vice president of inclusive solutions at Prudential Financial.
Dr. Angela Jackson, the leader of the Future of Work initiative at New Profit, a venture philanthropy organization.
Gary Cunningham, CEO of Prosperity Now, a nonprofit dedicated to helping people of color and low-income individuals achieve financial prosperity.
There is no cost to attend this and any future editions of 3BL Forum: Brands Taking Stands – LIVE! To stay up to date on the latest 3BL Forum news, follow @3BLMedia on Twitter and sign up for email alerts here.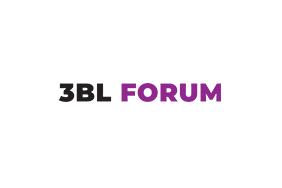 3BL Forum
3BL Forum
THE NEW YORK STAGE IS SET.
3BL Forum will continue its newly established tradition of bringing corporate leaders together on a fast-paced main stage, keenly focused on the 'why' and 'how' as business amplifies its leadership and elects to lead on environmental, social and governance issues.
Our main stage will feature legacy companies, sustainable businesses, NGOs and leading agencies. This 2-day conversation will be curated to bring forth new perspectives, nuances in thinking, candid insights, and revelations above and beyond the ordinary. 
3BL Forum is produced by 3BL Media, the world's leading communications partner for purpose-driven organizations.
More from 3BL Forum