Published 02-19-21
Submitted by Pure Strategies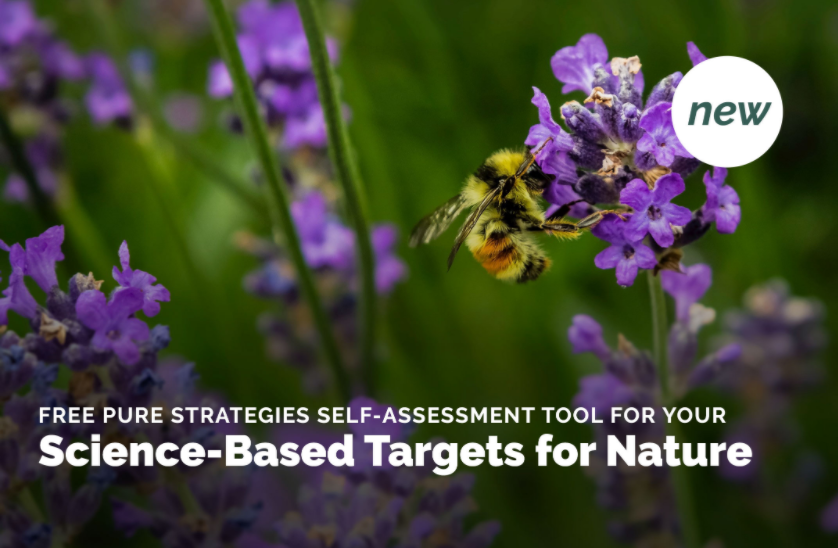 GLOUCESTER, Mass., February 19, 2021 /CSRwire/ - Pure Strategies, a pioneer corporate member of the Science Based Targets Network (SBTN) Corporate Engagement Program, today announced the launch of a new self-assessment tool designed to help companies start in building a strong commitment to protecting and restoring nature – including water, land, biodiversity, and oceans. 
Nature is in crisis. Businesses impact and depend on nature and its systems. Companies that work to protect and restore nature across their value chains can realize reduced risks and greater resilience. Businesses can also build their reputation and growth opportunities with nature-positive efforts.
In September 2020, the Science Based Targets Network issued initial guidance for business to set a clear course of action to protect nature in line with science..  The free Pure Strategies self-assessment tool for science-based targets for nature serves to complement this important work by helping companies understand what they may have already done that will help them and what they may want to do next to progress on the path to supporting a nature-positive future.  For example, companies that have set science-based targets for climate may have some of the foundational understanding and data needed to begin setting targets for nature. 
The tool supports the SBTN guidance by:
Offering a free tool to help companies get started on their journey to set science-based targets for nature
Helping companies identify insights, expertise, and experience that will be useful in taking steps in helping to protect and restore nature
Linking to the guidance and resources developed by the SBTN
Providing a starting point for companies considering efforts to protect and restore nature across their value chains
"The essential services nature provides can no longer be taken for granted," notes Tim Greiner, Managing Director for Pure Strategies. "Companies must establish strong commitments to a net zero emissions and nature-positive future.  There are useful tools to help companies progress with climate strategies.  Our new self-assessment tool can help companies understand the steps it takes to advance critical nature strategies.  This tool, along with the resources from SBTN, have a nature-focused lens that includes biodiversity, freshwater, land, and oceans."
SBTN provides guidance on conducting nature-focused materiality analysis, value chain mapping, and prioritization.  "To achieve a nature-positive future requires unprecedented collaboration," notes Erin Billman, Executive Director, Science Based Targets Network.  "There are over 45 partner organizations working with us, along with members of our Corporate Engagement Program like Pure Strategies. We are united by the common purpose to maintain the interrelated Earth system that underpins the health and well-being of all life while helping to avoid further destruction of our ecosystems."
About the Science Based Targets Network
The Science Based Targets Network aims to help create a global economy in which companies and cities operate within the Earth's limits while meeting society's needs through the setting of science-based targets (SBTs) to transform their impact.  It is comprised of 45+ organizations working together to provide science-based targets (SBTs) for companies and cities. It builds on the momentum of the Science Based Targets initiative to enable companies to set targets beyond climate. It is part of the Global Commons Alliance.
About Pure Strategies
Pure Strategies has been transforming business through sustainability performance since 1998. Our team helps companies initiate and enhance existing sustainability programs by setting meaningful goals, devising effective management strategies, and making changes to products and supply chains that deliver value to the business and society.  Our clients include Walmart, Ahold Delhaize USA, Seventh Generation, Timberland, Everlane, MegaFood, Ben & Jerry's, and over 100 others.  Pure Strategies is proud to be a Co-Founder of The Chemical Footprint Project, a licensed GreenScreen® Consultant, The Sustainability Consortium registered service provider staff member, a pioneer member of the Science Based Targets Network Corporate Engagement Program, and a certified B Corp. 
For more information, contact:
Melanie Fleming
Marketing Manager
​Pure Strategies, Inc.
mfleming@purestrategies.com
978-525-0487

Pure Strategies
Pure Strategies
Pure Strategies is a sustainability consulting firm that has been empowering companies to realize meaningful environmental and social improvement since 1998. Our team of experts helps build sustainability strategies and programs, set sustainability goals, create sustainable supply chains, and optimize products and sustainable packaging for brands and retailers such as Ben & Jerry's, Everlane, Seventh Generation, TAZO, and Walmart. This work helps our clients gain business benefits while also realizing sustainability goals and helps us on our mission as a certified B Corporation to transform business to create a more sustainable future. Learn more about our sustainability advisory services here.
More from Pure Strategies