Published 02-18-21
Submitted by AccountAbility
February 18, 2021 /CSRwire/ - A departure from "business as usual" is critical to rethink and reimagine long-standing, enduring challenges of inequality and exclusion.
The need for a focused, systems-based approach to achieving meaningful change in advancing diversity, equity, and inclusion (DEI) is particularly apparent in today's corporate systems and structures.
Tackling such a systems-based challenge, however, requires structured transformation and principled leaders with a global DEI mindset prepared to champion change.
To present leadership solutions for responding to and embracing effective DEI ideas and practices, AccountAbility is announcing the release of a virtual panel conversation, hosted with the MIT Sloan School of Management.
The panel – available at this link – brings together renowned academics and esteemed industry leaders in a discussion of the challenges that face us all personally and professionally – the behaviors and system failures that perpetuate inequity, and the leadership traits that have the potential to transform this narrative for a more resilient future.
Featured Panelists
Mr. Sunil A. Misser, Chief Executive Officer, AccountAbility
Dean Melissa Nobles, Kenan Sahin Dean of the School of Humanities, Arts, and Social Sciences, Massachusetts Institute of Technology
Professor Ray Reagans, Associate Dean for Diversity, Equity, and Inclusion, MIT Sloan School of Management
Sir Mark Moody-Stuart, Chairman Emeritus, Royal Dutch Shell Group and Anglo American
Mr. Manoj P. Singh, Former Chief Operating Officer and Global Managing Director, Deloitte
Ms. Sanda Ojiambo, Executive Director and Chief Executive Officer, United Nations Global Compact
AccountAbility, a global consulting and standards firm in the sustainability/ESG arena, convened this panel conversation as part of the firm's own commitment to DEI and the desire to "pass the mic" this Black History Month for experienced leaders in the space to share their perspectives on the path forward.
Recognizing that DEI will continue to become more visible and integrated within corporate agendas in the future, AccountAbility also recently developed a "DEI Healthcheck" service offering to assess an organization's DEI commitments, strategies, activities, and impacts by evaluating core areas of organizational processes, systems, and culture.
In this time of economic uncertainty, social unrest, and evolving corporate landscapes, there is an urgent, global need for effective leadership that prioritizes DEI. 
Learn more about AccountAbility's systems-based approach to improving an organization's DEI health and business performance at www.AccountAbility.org or by emailing communications@accountability.org, and view the panel recording of DEI: A Leadership Imperative for Systemic Transformation here.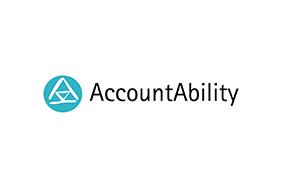 AccountAbility
AccountAbility
AccountAbility is a global consulting and standards firm that works with businesses, investors, governments, and multi-lateral organizations to achieve opportunities, advance responsible business practices, and transform their long-term performance. We focus on delivering practical, effective, and enduring results that enable our clients to succeed.
More from AccountAbility