Published 01-28-21
Submitted by American Airlines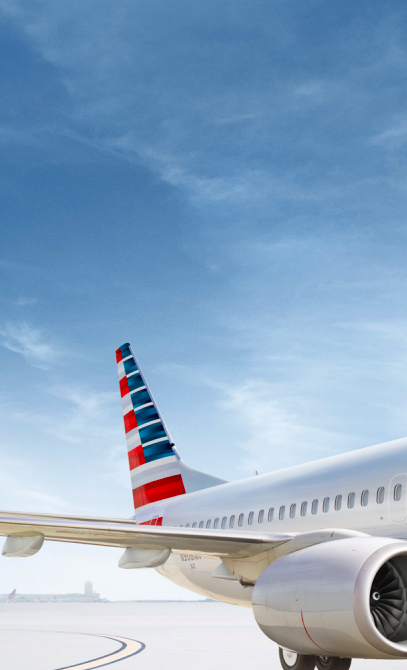 Climate change is a pressing global challenge, and American Airlines believes it must do its part to address it. That is why the airline has set a goal to achieve net zero carbon emissions by 2050. While ambition is important, American knows that what matters most is having a clear roadmap — with both a long-term vision and intermediate milestones — to achieve it.
Originally published in American Airlines' 2019-2020 ESG Report
American Airlines has launched an effort to build its carbon reduction pathway to 2050 and to refine and expand its strategy for addressing the risks and opportunities associated with climate change. The airline's ESG Report is American's first step toward both efforts, and the airline intends to develop intermediate goals once their demand forecast is stabilized following the disruption caused by the COVID-19 pandemic.
American expects there will be a higher price on carbon in the future — which reinforces the intention to drive to net zero — and is developing a strategy to position the company to succeed.
While there are many steps American can take to reduce its carbon footprint, transitioning to a low- or no-carbon aviation future will depend on the combined efforts of the private sector and effective policies from governments at all levels, along with advances in airframe, engine and fuel technologies. American is committed to helping lead the way.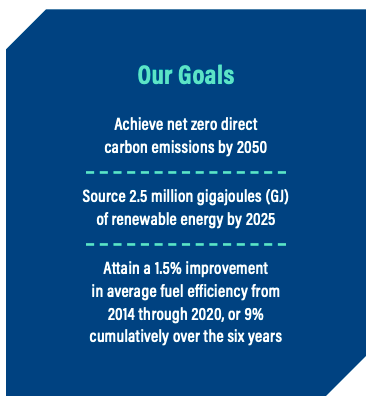 Advancing Industry Goals
The global airline industry contributes about 2% of all human-induced carbon dioxide (CO2) emissions, and the industry's share of global emissions is projected to rise. The airline industry is one of the few sectors that has established global CO2 emissions goals, which include an average improvement in fuel efficiency of 1.5% per year from 2009 to 2020, carbon-neutral growth after 2020 and a 50% reduction in net aviation CO2 emissions from 2005 levels by 2050.
To achieve these important industry goals, American adopted two environmental sustainability targets for its own operations: attain an average improvement in fuel efficiency of 1.5% per year from 2014 (the first full year after merging with US Airways) through 2020, and source 2.5 GJ of renewable energy by 2025. In addition, along with others in the industry, American is subject to the Carbon Offsetting and Reduction Scheme for International Aviation (CORSIA), which aims to achieve carbon-neutral growth in CO2 emissions from international aviation after 2020. Adopted by the United Nations' International Civil Aviation Organization (ICAO) in 2016 and currently being implemented by the United States and countries around the world, CORSIA is the first global carbon pricing mechanism covering an entire sector.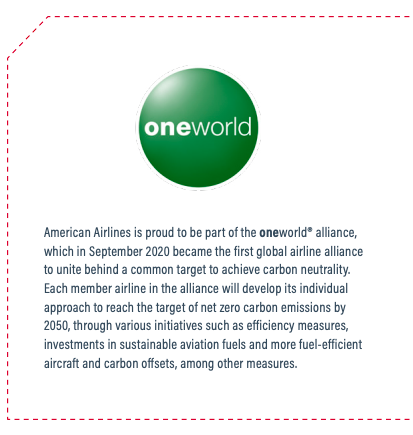 American supports the industry's goals — but believes the scale of the climate challenge, and the science behind it, demands increasing the scale of the company's ambitions to achieve net zero carbon emissions by 2050. As one of the world's largest airlines, American knows it needs to be a leader in helping to drive the operational, policy and technological changes needed to reduce CO2 emissions from air travel to try to limit global warming to 1.5° Celsius, which is the limit advised by the Intergovernmental Panel on Climate Change (IPCC) to avoid the most damaging and irreversible impacts of climate change.
While the COVID-19 crisis has upended the industry and compelled American to adjust the pace of some of its efforts, it has not diminished the airline's belief in the importance of addressing climate change. Instead, the pandemic has underscored the need for collective action to address critical global challenges that have profound implications for people and economies and reinforced the work to make the company stronger and more resilient.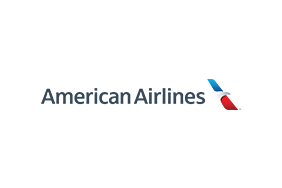 American Airlines
American Airlines
About American Airlines Group
American's purpose is To Care for People on Life's Journey®. Shares of American Airlines Group Inc. trade on Nasdaq under the ticker symbol AAL and the company's stock is included in the S&P 500. Learn more about what's happening at American by visiting news.aa.com and connect with American on Twitter @AmericanAir and at Facebook.com/AmericanAirlines.
More from American Airlines