Published 12-14-20
Submitted by GoodCarts
MINNEAPOLIS, December 14, 2020 /CSRwire/ – GoodCarts, a platform supporting social impact ecommerce brands, recently launched as a way to connect tens of thousands of purpose-driven e-commerce brands and retailers in order to exchange customers who share the goal of "shopping for good." The platform is free for all impact brands and generates exclusive free discounts for consumers.
After a successful beta phase, GoodCarts attracted more than 60 retailers that are currently active on its platform. The company also recently launched its app on Shopify.
Using innovative proprietary technology GoodCarts taps exit traffic from onlines stores to provide opportunities for shoppers to discover like-minded companies. And it's free for both its members and customers to use, making it an affordable marketing tool for pioneering and new mission-driven businesses. 
"In short, GoodCarts is a smart digital version of coupons on the back of the store receipt - but focused on and powered by sustainable and 'shop for good' stores," said Steven Clift, GoodCarts CEO. "GoodCarts will accelerate this growth and provide reasons for great brands to cooperate for growth and greater profitability through reduced customer acquisition costs. We are growing a network to not only strengthen individual brands but further unleash the social impact economy."
According to the 2020 Consumer Culture Report, more than 70 percent of consumers prefer buying from brands aligned with their values. 
"We want to provide values-aligned ecommerce brands with a great way to connect to new customers," said Chris Dykstra, GoodCarts Founder. "Our platform moves away from online advertising methods that degrade the shopping experience, and uses AI and Machine Learning to bring complementary products and services into sharper focus for shoppers." 
According to entrepreneur Jeffrey Hollender, co-founder of Seventh Generation and CEO of the American Sustainable Business Council, GoodCarts is a platform that will elevate the "shop for good" industry. 
"GoodCarts is a great way for sustainable brands to grow together to not only increase awareness and customers but also increase the ability to do good," said Hollender. "It's the kind of opportunity I wish we had when Seventh Generation was seeking its first customers."
GoodCarts is looking to add up to a thousand new impactful brands as members in the next year. 
About GoodCarts
GoodCarts helps mission-driven companies gain new customers through a cross-promotional network of sustainable and "shop for good" stores. GoodCarts' innovative technology offers a smart way to reach more customers, grow impact, and improve ROI—for zero cost. For more information visit GoodCarts.co.
Insights and News
GoodCarts shares free insights, in-depth GoodGuides on impact through e-commerce, and a daily curated Impact Retail e-newsletter. 
Media Contact:
Jennifer Trebisovsky
media@goodcarts.co
1-6GOODCART5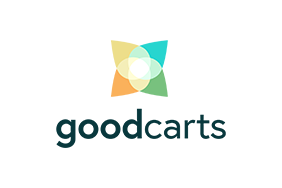 GoodCarts
GoodCarts
GoodCarts helps mission-driven ecommerce stores gain new customers for free. Innovative technology supports stores with sustainable and social impact products via a Shopify app and on other ecommerce platforms. By growing together with free shared web traffic, stores build conscious customer loyalty, scale their impact, and crucially reach new customers.
More from GoodCarts