Published 12-11-20
Submitted by Ethical Goods Limited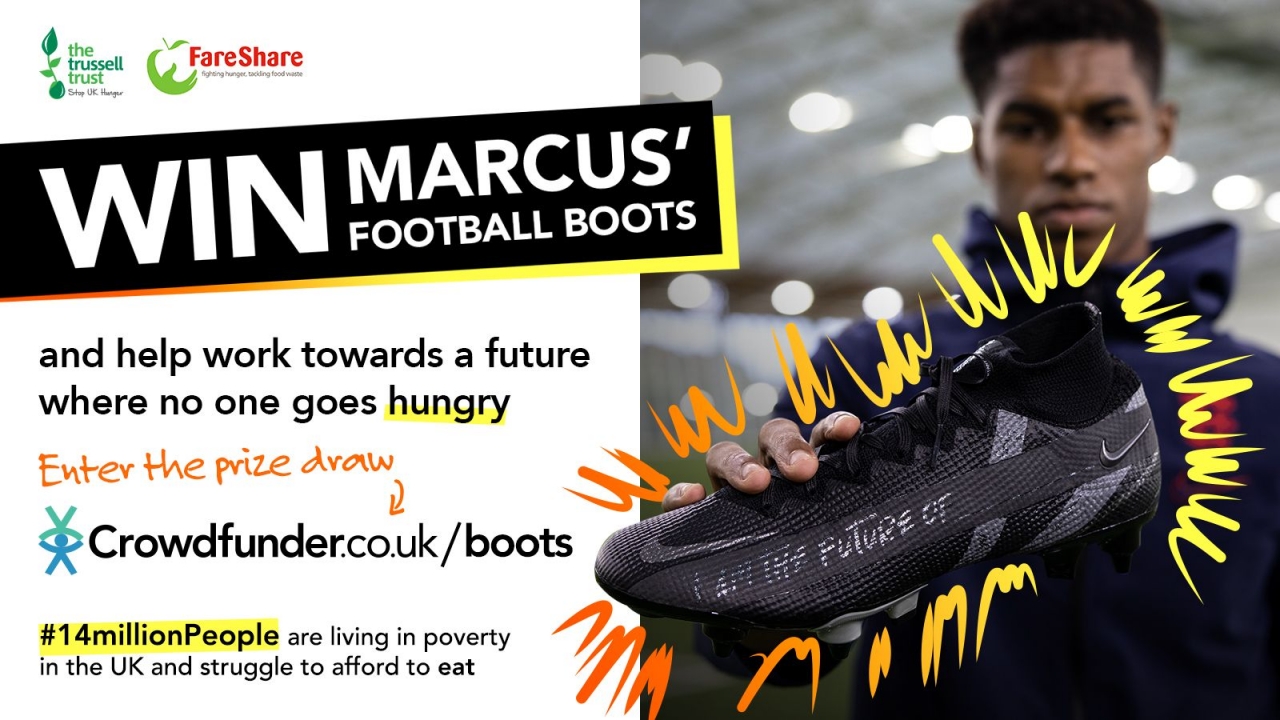 Crowdfunder Prize Draw costs just £3 to enter, with two pairs of Marcus Rashford's special edition All-Black Nike Mercurial Superfly boots available to win
All proceeds go to FareShare and Trussell Trust to help alleviate hunger for the #14millionpeople who live in poverty in the UK and struggle to afford to eat
Winners to be announced on 22nd of December, with boots making fantastic Christmas surprise
To win Marcus' boots and help fight against hunger go to: www.crowdfunder.co.uk/BOOTS
Marcus Rashford has donated two pairs of his special edition football boots to a Crowdfunder Prize Draw, as he continues his powerful campaign against food poverty. Costing just £3 to enter, the two winners of the prize draw will be drawn on the 22nd December, right in time for Christmas.
Win Marcus' Boots and help the Trussell Trust and FareShare's fight against hunger in the UK.
With aims to raise millions of pounds, the campaign, led by charities FareShare and the Trussell Trust, will alleviate hunger and build a future where everyone in the UK has enough money for the basics.
The Crowdfunder Prize Draw launches via a personal video from Marcus.
Marcus Rashford said, "I'm really excited that we're going to raise some more money for people in need during Christmas.
"The boots are very special and very personal to me, and the best thing about them is that they are unique—not many people will have a pair, so make sure you're in the race to win them!"
The special edition boots carry messages from 40 children that have been helped by Marcus' campaign and represent the voice of millions more.
The two lucky winners of the prize draw will each receive a pair of Rashford's All-Black Nike Mercurial Superfly boots, which he debuted for England against Belgium in October. Only ten pairs of the boots exist, and they are not available for purchase anywhere: this prize draw is the only way to get hold of them. The special edition boots would make a perfect Christmas surprise.
Marcus Rashford's mission to alleviate child hunger in the UK
Earlier this year Marcus Rashford was awarded an MBE for his monumental efforts and successful 'End Child Food Poverty' campaign calling for free school meals during the coronavirus lockdown.
Marcus' petition to end child food poverty was only the fifth to ever receive over 1 million signatures
Families with children have been the hardest hit by food poverty during Covid-19
In September this year, 2.3 million children had experienced hunger in the last six months with 14% of UK families not able to afford food
The Trussell Trust saw a 61% increase in food parcels needed across its UK network in October to December – that's six parcels given out every minute
Approximately 1.9 million people used a food bank in the UK in 2019/2020 before the pandemic
Emma Revie, CEO Trussell Trust, said,
"Marcus Rashford's campaigning this year has shone a light on the harsh realities faced by families struggling to afford the basics. It's also highlighted the incredible compassion and generosity that exists in our communities and shown that when we come together to push for a better future for each other, things can change. We're so grateful to Marcus for donating these special edition boots. By entering the draw, you'll be helping us support food banks to provide vital emergency help, and work in the long-term towards a hunger free future where everyone has enough money for the essentials. Thank you."
Lindsay Boswell, CEO, FareShare, said,
"Following a very difficult summer for the vulnerable communities that FareShare are supplying over 2 million meals per week to, we are now facing an even tougher winter with the economic impacts of Covid-19 biting, on top of the terrible health impacts. FareShare will continue to maintain a full operation throughout Christmas and the winter to serve the charitable communities and their clients who need our help. We are delighted to be launching the prize draw for the boots, generously donated by Marcus Rashford, as the funds raised will help make an incredible difference for many children and families this winter." 
Rob Love, CEO Crowdfunder, said,
"Food poverty is unacceptable in 2020 Britain. Despite unprecedented hardship, the goodwill and compassion of people up and down the country gives us hope and demonstrates the power of local communities coming together.
"Crowdfunder stands ready and willing to do what we can to support people during this time. We are proud to be working with the Trussell Trust and FareShare to deliver this Prize Draw. We hope this can put more meals on tables, and a smile on the face of those that win! Thank you, Marcus".
How to enter
Go to www.crowdfunder.co.uk/BOOTS and enter before 22nd December
Pledge £3 to support the #14millionpeople who live in poverty in the UK and struggle to afford to eat
Be in with a chance to win the special edition Marcus Rashford Boots – a great surprise for Christmas
For full terms and conditions go to: www.crowdfunder.co.uk/BOOTS
Website: www.crowdfunder.co.uk/BOOTS
Hashtag: #14millionpeople
Assets:  https://www.dropbox.com/sh/hh44ze8sfxfp2e1/AAC4Ygff_AANMNpGh30eREY6a?dl=0
Video: https://www.youtube.com/watch?v=DF7MqP6ur1o&feature=youtu.be 
--Ends--
Notes to the Editor
About FareShare
FareShare take good quality surplus food from across the food industry and distribute it to almost 11,000 frontline charities and community groups across the UK.
About the Trussell Trust
The Trussell Trust supports a network of food banks across the UK providing emergency food, and campaign for a #HungerFreeFuture where no one needs a food bank.
About Crowdfunder
Crowdfunder exists to tackle society's challenges. That's because we believe in the power of the Crowd to make positive change happen. By providing a platform for people to pair online donation with powerful campaigns and community engagement, we've seen Our Crowd and our Crowdfunders do some spectacular things. From saving community centres to reimagining their high streets to influencing national policy. If you've got a good idea, this is where you can make it happen.
To date, over £150 million has been raised on Crowdfunder by thousands of businesses, social enterprises, charities, community groups, and individuals across the UK.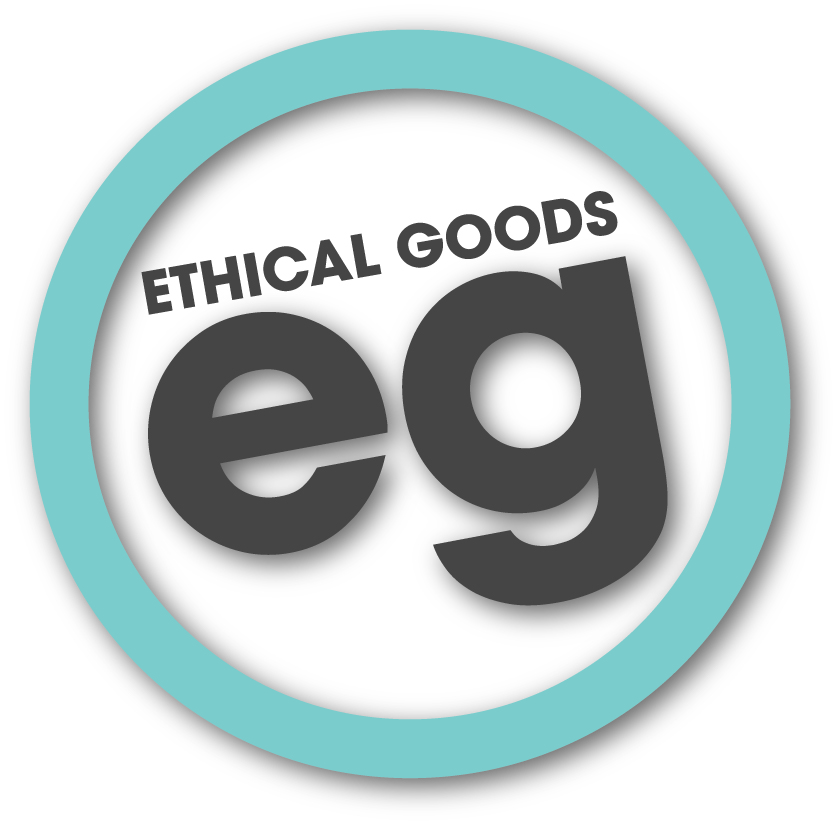 Ethical Goods Limited