Published 12-10-20
Submitted by Carol Cone ON PURPOSE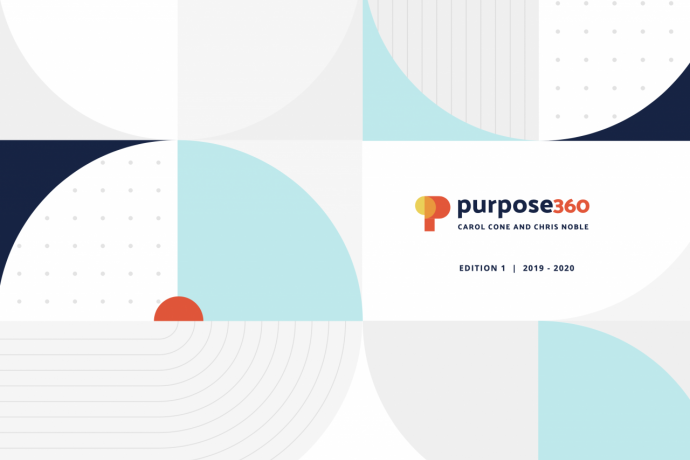 Cover of Purpose 360 eBook
Purpose 360 Podcast Introduces 75 Insights From Social Impact Leaders
December 10, 2020 /CSRwire/ - Leading social impact podcast Purpose 360, hosted by purpose pioneer Carol Cone and cause marketing savant Chris Noble, today released the first edition of its eBook series, featuring 75 insights from guests. The show, which JUST Capital named one of the top podcasts for the stakeholder economy, features conversations with senior leaders at companies from diverse industries about their journeys to identify, integrate, and activate purpose in their organizations.
"Purpose is a mandate for businesses of all sizes and industries today, and I am proud to have had the opportunity to speak with some of the most visionary organizations acting on an authentic purpose for both business and societal impact," said Cone, CEO of Carol Cone ON PURPOSE. "With this eBook, we hope to equip purpose leaders with the skills and insights to advance their careers in organizations with a purpose beyond profits."
Select chapters in this edition feature insights from leading companies on their approach to COVID-19 and the racial justice movement, offering timely, real-world case studies for organizations seeking to respond to the challenges of 2020 with authenticity and empathy.
"If you listen to just one podcast about business and social impact, make this the one," said guest Kathleen Dunlop, Global Brand Vice President, Unilever. "Purpose 360 provides access to the individuals that created the practice and highlights organizations that are breaking barriers with social purpose. More than dynamic conversation, Purpose 360 features actionable insights that listeners can apply to their organizations."
Download the eBook here for insights including how to:
Approach the social issues of today with humanity, while leveraging an organization's core capabilities to drive progress
Develop built-to-last partnerships by identifying shared values and goals
Balance heritage and a vision for the future by developing and implementing purpose
Build cross-functional teams to bridge C-suite vision for purpose with the talents and ideas of employees at all levels of an organization
Architect social impact programs that deliver against business and societal goals, while allowing for flexibility and evolution over time
The first edition of the Purpose 360 Podcast eBook can be downloaded here.

Purpose 360 Podcast is a masterclass in unlocking the potential of purpose to ignite business and social impact. The show is co-hosted by Carol Cone, CEO of Carol Cone ON PURPOSE and one of the world's foremost experts in CSR and purpose, and Chris Noble, CEO of Matchfire and a cause marketing expert. Purpose 360 guests have included leaders from Unilever, JetBlue, McDonald's, REI, United Way, JUST Capital, TOMS, New York Times, AB InBev, and dozens more. To subscribe and listen to past episodes, visit purpose360podcast.com.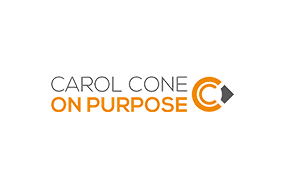 Carol Cone ON PURPOSE
Carol Cone ON PURPOSE
Carol Cone ON PURPOSE is a pioneering consultancy helping companies, brands, and organizations harness the power of social purpose to advance their business and social impact. CCOP's proven approach meets clients at any point on their  purpose journey to unlock opportunities to build reputation, inspire employees, exceed financial targets, and support the greater good. The consultancy is led by Carol Cone, regarded as one of the founders of the purpose movement in the early 1980s and has been internationally recognized for her work.
More from Carol Cone ON PURPOSE