Published 12-04-20
Submitted by Logitech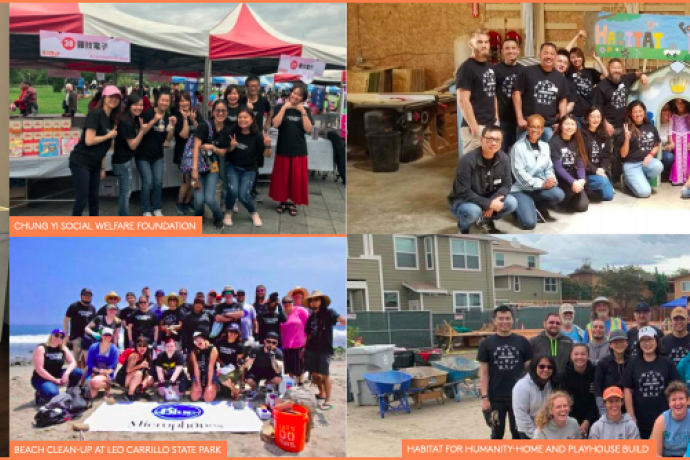 Originally published in Logitech's 2020 Sustainability Report
At Logitech, we are advocates for people. We want to have a positive impact on society and we want this impact to be felt over time. In pursuit of this goal, we empower our people to give back to communities meaningful to them and their work, and we look to maximize our impact by leveraging our people's skills and our products.
Empowering our people: Our employees contribute to the causes they have a personal passion for, and we maximize their contributions.
Our local communities: We create opportunities for employees to work together to give back to the communities in which we live and work.
Leveraging skills and products: We leverage the skills and products that our people and company have to offer, to better the lives and futures of others.
The purpose and values underpinning our give back program reflect our passion and belief that Logitech should be more than just a great place to work; it should help connect our personal values and organizational values by building a community of people who care. The philanthropic spirit of our give back program is deeply rooted in our values, from our early focus on people, as the cornerstone of our culture, to our focus on doing the right thing, across all areas of the business
During FY20, employees across the company organized and delivered approximately 23 give back events across 13 cities in 9 countries, including Taiwan, India, USA, Mexico, Singapore, China, Ireland, United Arab Emirates and Switzerland. The remainder of this section provides examples of give back initiatives that employees organized around the world in the last year.
Boys' & Girls' Clubs Association (BGCA), Hong Kong
Founded in 1936, the Boys' & Girls' Clubs Association of Hong Kong (BGCA) is one of the longest-serving, local, charitable organizations in Hong Kong. BGCA works to raise awareness and support the welfare of children and young people, particularly from disadvantaged groups.
A team of 11 employees accompanied children and their parents and BGCA social workers on a visit to the Hong Kong Science Park. This visit helped children from low income families learn more about how technology can change lives and introduced them to STEM concepts.
Casa De La Amistad, Mexico City
Casa de la Amistad's (CDLA) mission is to help increase the survival rates of Mexican children and young people with cancer, from low income backgrounds. CDLA provides no-cost cancer treatment and accommodation for children and their families, as well as food, educational and emotional support. During a Logitech visit, our employees donated items and entertained the children, with artistic activities.
Ramadan Breakfast Donation, Dubai
Ramadan is about caring, giving and a time of sacrifice for the Muslim community. When authorities in Dubai decided to provide refrigerators across Dubai city to serve the less fortunate, our team helped stock by contributing food and beverages. 
Adopt an Angel, San Francisco
The Adopt an Angel program supports Alameda County Child Protective Services in the San Francisco Bay Area. During the holiday season, program coordinators from the Adopt and Angel program help children in care compile a "wish list" of items they would appreciate. Our Silicon Valley offi­ce has contributed to the program for almost 20 years and in 2019, employees prepared more than 2,400 gifts, which were distributed to more than 800 children, living in group homes, shelters, foster care or low-income homes.
Evergreen School District Family and Community Resource Center, Camas
The Evergreen School Family and Community Resource Center gives students and families the tools they need to learn and grow. The center helps families with basic items, including school supplies, food, clothing, shoes and toiletries. They also help individuals access community resources, while offering parenting resources, employment connections, continuing education, housing and utilities resources and early childhood education.
A number of children in the Evergreen School District have experienced homelessness and receive free or reduced-price lunches from the state, each year. Our team in Camas hosted a shoe drive, to raise funds for the Center and donated 'snacks' for the state-funded lunches that are provided at schools.
Anaikkum Karangal Children's Shelter, Chennai
Anaikkum Karangal is a children's shelter run by Bhumi NGO. Employees from our Chennai o­ffice visited the shelter and made and donated notebooks and flashcards, which the children could use in school. Employees also set up fundraising events, gathered donations, prepared refreshments and hosted games, to raise funds and help six students through higher education, and support broader child welfare and women's empowerment programs.
Chung Yi Social Welfare Foundation, Taiwan
The Chung Yi Social Welfare Foundation was established in 1951 and set up several homes in Taipei to provide housing and supportive services for disadvantaged children and young adults. Volunteers from our Taiwan Welfare Committee and Taiwan o­ce set up a booth to wash, pack and sell fruit, coffee cupcakes and children's books, to raise funds and support Chung Yi's Children's Home.
Beach Clean-Up at Leo Carrillo State Park, California
The Leo Carrillo State Park was burned in the Woolsey Fire of November 2018, destroying the campground and park structures. A team of 27 employees held a beach clean-up initiative to support the restoration efforts.
Habitat for Humanity-Home and Playhouse Build, California
Habitat for Humanity builds homes and creates affordable home-ownership opportunities for low-income families in Marin, San Francisco, and San Mateo counties. Habitat East Bay/ Silicon Valley has partnered with the City of Fremont to build a 30 home development featuring a large community area for family and children to play as well as private decks and balconies. A team of volunteers from our SVC offi­ce helped to frame walls, build door and window packages and cut and sort lumbar during the construction of the second phase of the development.
Habitat for Humanity's Playhouse Program facilitates Habitat volunteers coming together to work as a team and build playhouses for local families and community partners. A team of employees from our SVC offi­ce participated in the program and built three playhouses.
Cork Simon Community and Cobh Community Hospital, Ireland
Cork Simon Community works in solidarity with men and women who are homeless in Cork, offering housing and support to help them on their journey back to independent living. The community provides round-the-clock care for men and women whose health and other needs are such that they are not able to live independently. Cobh Community Hospital provides a residential home for the elderly. Residents are cared for, supported and valued in a person-centered environment that promotes the individual health and well-being of residents.
Our team in Cork organized a number of activities to raise funds for both organizations and more than 60 employees participated in volunteering days to give both organizations a refreshing face-lift with lots of new plants, painting, cleaning and energy. We are incredibly proud of the work that both organizations undertake and were humbled to work with their teams to live our company values and make a positive impact on local communities, while also making a real difference to people at these charities.
Téléthon, Switzerland
Téléthon is a Swiss association that helps orphans and children with Myopathies (ASRIM) and Muscular Diseases (FSRMM). To help Telethon, a team of volunteers from our Lausanne office organized a fundraising lunch in our own cafeteria. With the funds that were raised, we made a donation to Telethon for medical research and social support for children. The team also participated in Handi-Challenge 2019 - the first public racing event for people with disabilities in Switzerland. Employees participated to support children who were taking part in the event. 
International Women's Day Stream Fundraiser for Charity: Water
This year, we celebrated International Women's Day with the theme "Share Your Passion." As part of incorporating inclusive actions into work, Logitech, Logitech G, Blue Microphones and Ultimate Ears joined forces with their influencers to create a week of streams that invites streamers and employees from across the company to share their passion. In total, 9 influencers from across the global streamed throughout the week and raised over $50,000 USD for charity:water. 
Charity:water is a non-profit organization whose goal is to bring clean and safe drinking water to developing countries. Scarcity of clean drinking water is an issue that especially impacts women, who are the primary water-gatherers in many households in developing countries. This celebration also provided an opportunity to role model inclusive gaming, which is a pillar of Logitech G's philosophy. Participating in the fun, our CEO, Bracken Darrell was challenged to "do the floss", as part of the fundraiser. 
Disaster Relief 
Across the world, in acts big and small, our employees have responded to the COVID-19 pandemic by taking action, to have a positive social impact on Healthcare, Education, and the communities that we touch.
Health Care
The Huoshenshan and Leishenshan, local authorities established two emergency field hospitals, in response to the COVID-19 outbreak. Despite lockdown conditions, our employees in China managed to acquire and donate over 60 video-enabled telemedicine carts in only four days, to enable start-up of the hospitals.
Our Design and Engineering team in Cork designed and 3D printed valves for snorkel-based ventilator masks, which were deployed at local hospitals in Cork. The team then engaged with a government-supported task force, to figure out how to optimize the prototype design, manufacture the first 400-500 valve sets for use in other local hospitals, and engage others to print thousands more sets for hospitals across Ireland to use.
Our procurement team brought their skills to the table, by sourcing masks from across the globe, for distribution to health workers and hospitals. We distributed approximately 100,000 masks in China, Hong Kong, and Taiwan, followed by 15,000 masks in the U.S., Ireland, Switzerland, Italy and Netherlands, with another 100,000 planned for global distribution.
We also donated $100K to the GlobalGiving Coronavirus Relief Fund. That initial donation was matched by a personal donation from our President and CEO, Bracken Darrell.
Education
We distributed thousand of webcams and headset bundles to K-12 teachers in the United States,to enable teachers to connect with students virtually and continue child education.
Communities
In Chennai, Logitech finances daily meals for employees, from the local Kadhir Dhaan /Eco kitchen. Employees chose to donate this benefit to Covid-19 health care workers, patient attendees, and staff of the Royapettah General Hospital and the Government Specialty Hospital (Omandur estate). From the initiative we were able to support 250 meals/day for these deserving people.
Future Plans
We are proud of the work we have done thus far but recognize that there is plenty of room to grow not only our programs but also our impact. In anticipation, we have formed up a new Community and Advocacy team, who are building our vision and strategy for our social impact and launched a Social Impact page on logitech.com. Starting in FY21, we have expanded our donation matching program globally, and are implementing company-sponsored Volunteer Time Off. We are also expanding our program to reflect a digital volunteering model, which will allow employees to access an even wider range of philanthropic opportunities. We look forward to continuing the work of growing our social impact programming. 
In June of this year, we pledged to expand our global Volunteer Time Off program which gives all employees four days of time to devote to non-profit volunteering. We are also expanding our program to reflect a digital volunteering model, which will allow employees to access an even wider range of philanthropic opportunities.
In addition, we are making significant Diversity and Inclusion commitments that impact multiple stakeholder groups. For example, we are making multi-year commitments to organizations that explicitly work to improve fairness and eradicate racism. Grants will be a multi-year commitment, starting with our Streamlabs' ten year, $1,000,000 minimum commitment to address racial inequality.
We will expand our support of schools and nonprofits in under-supported communities with financial contributions, volunteering and product donations. We have partnered with Best Buy to fund and support a teen tech center for the Boys' and Girls' Club in California and will target opportunities to support other STEAM centers in underserved communities.
We have a history of investing and mentoring entrepreneurs and will look at the makeup of our investment to ensure innovation and ideas are coming from a diverse set of voices. And we are working on other long-term initiatives now to help under-represented entrepreneurs and designers. We look forward to continuing the work of growing our social impact programs.
Learn more in Logitech's 2020 Sustainability Report

Logitech
Logitech
Logitech designs products that have an everyday place in people's lives, connecting them to the digital experiences they care about. More than 35 years ago, Logitech started connecting people through computers, and now it's a multi-brand company designing products that bring people together through music, gaming, video, and computing. Brands of Logitech include Logitech, Logitech G, ASTRO Gaming, Streamlabs, Ultimate Ears, Jaybird, and Blue Microphones. Founded in 1981, and headquartered in Lausanne, Switzerland, Logitech International is a Swiss public company listed on the SIX Swiss Exchange (LOGN) and on the Nasdaq Global Select Market (LOGI). Find Logitech at www.logitech.com, the company blog, or @Logitech.
More from Logitech