Published 12-02-20
Submitted by Acre
LONDON, December 2, 2020 /CSRwire/ - The CR Salary & Market Survey today announced the launch of the 2020 results and report. The largest of its kind, the survey was completed this year by over 1,500 professionals globally, making for compelling and thorough results. 
"We have seen dramatic growth in the CR/S job market over the past two years - a greater acceleration than ever before. An indication perhaps that momentum is building to address the global challenges humankind faces," says Andy Cartland, Founder at Acre and founding partner of the survey. "As such this year's survey comes at a critical junction and we hope it creates intelligence which supports the profession's ongoing development and growth."
The report has expanded on previous years, to include data which can now be presented in either pounds (£), euros (€) or US dollars ($), covering the following topics:
Diversity in the workplace and the gender pay gap

Key competencies required in the profession

An understanding of the varied backgrounds of CR & sustainability professionals 

Career progression within CR & sustainability

Benchmark salaries and benefits by sector, location, gender and seniority
The survey was launched in 2008 by Acre, Carnstone and Flag with the purpose of helping CR & sustainability professionals gain a better understanding of the growing areas of corporate responsibility and sustainability, and how sustainability fits into the modern business landscape. 
Now in its 12th year, it's more important than ever to raise awareness about the importance of sustainability within corporate organisations along with the impact the sector has on society and the environment. 
"The last year has demonstrated the importance of taking a wider view of risk and exposed the folly of short termism.  People working in CR and sustainability, with their broader and longer-range perspectives, are perfectly placed to play a major role in the post-Covid recovery and addressing a host of other social, environmental and ethical challenges," says Paul Burke, Senior Partner at Carnstone and co-founder of the CR Salary Survey. "Consequently, this survey should be of interest not only to those already working in the sector but to their employers – current and prospective – and others who want to utilise the skills and knowledge CR&S professionals have to offer.
The 2020 CR Salary & Market Survey Report will be available to download for free from Wednesday 2nd December. To download a copy, visit https://www.acre.com/thought-leadership/2020-cr-and-s-salary-survey​. 
About the CR & Sustainability Salary & Market Survey: 
The Corporate Responsibility & Sustainability (CRS) Salary Survey, brought to you by Acre, Carnstone and Flag, has been developed to provide a comprehensive insight into the salaries & benefits, responsibilities and backgrounds of people working in the CRS sector – both in-house and for external consultancies.
About Acre - https://www.acre.com
Acre is a specialist sustainability recruitment consultancy connecting companies and people across corporate responsibility, sustainability, environment, energy and health & safety to help build the next generation of sustainable business. The company was founded in 2003 to respond to the growing need for sustainability professionals and offers bespoke solutions for recruitment, executive search and business intelligence.
Amsterdam: +31 20 369 81 50
London: +44 (0)20 7400 5570
New York: +1 917 475 0461

Carnstone: https://carnstone.com/home 
Flag: https://www.flag.co.uk/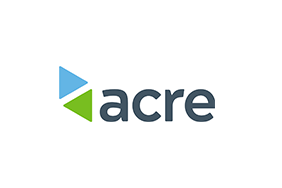 Acre
Acre
​About Acre
At Acre, we work with the most aspirational businesses with potential to make real change; from those who are just starting out to those who are well on the journey to crafting a legacy.

Our 18 years' experience in sustainability recruitment, combined with our extensive global network, enables us to provide talent solutions that are designed to deliver this change.

Through our unique behavioural assessment technology, we understand the types of people, skills and behaviours required to create impact. We can develop these qualities within your existing teams too.

We find talented people and develop their skills to ensure they make a true impact in ambitious, progressive organisations.

Acre. Making companies ready for tomorrow.
More from Acre