Published 12-03-20
Submitted by Global Compact Network Canada
TORONTO, December 3, 2020 /CSRwire/ - On December 2, 2020, Global Compact Network Canada welcomed leaders, advocates, and change-makers at the Business for Gender Equality virtual forum. The forum brought together a  diverse group of stakeholders to map the opportunities, challenges, and next steps related to advancing equality, diversity, and inclusion in the private sector as well as to showcase outstanding action being taken to break barriers and fast-forward gender equality progress in Canadian workplaces. 
The event also featured the exclusive launch of Global Compact Network Canada's Blueprint for Gender Equality Leadership in the Canadian Private Sector, a Maturity Model self-assessment questionnaire, and a resource database. This set of tools, made possible by funding from the Department for Women and Gender Equality, is publicly available and accessible with the aim of providing key information, recommendations, and examples to organizations and individuals looking to advance gender equality in their workplaces.
During the opening plenary, Sanda Ojiambo, Executive Director of the United Nations Global Compact remarked that despite current challenges like COVID-19, "the Canadian business community is well placed to lead the way" when it comes to adopting business policies and practices that accelerate gender equality progress.
Canada's first Federal Pay Equity Commissioner, Karen Jensen, echoed the idea that Canadian workplaces should aim to "build back better". She noted that "inclusive, fair workplaces aren't just a good idea, they're good for business."
The Honourable Judge Marion Buller left the audience with the following call to action: "Inspire each other, learn from each other, share best practices, and be a change-maker."
Global Compact Network Canada would like to thank the forum speakers for their time and commitment to advancing gender equality in Canada as well as the sponsors for their generous support: Baker McKenzie, BASF Canada, Nutrien, Lucara Diamonds, Scotiabank, TELUS, Blake, Cassels & Graydon, Global Affairs Canada, Power Corporation of Canada, Teck, Turner & Townsend, and the Pay Equity Commission of Ontario.
Reflect on the virtual forum by visiting the Business for Gender Equality website.
Contact
Global Compact Network Canada
Sandra Espinosa
Project Manager
Email: sandra@globalcompact.ca
About the Global Compact Network Canada
The GCNC is the Canadian network of the United Nations Global Compact, an organization dedicated to catalyzing business action to advance the Sustainable Development Goals (SDGs) and the 10 Principles of the UN Global Compact in Canada. GCNC and its many corporate and non-profit participants unify and build the capacity of the Canadian private sector to embrace sustainable business practices by convening and accelerating opportunities for multi-stakeholder collaboration.
SDG 5 – achieving Gender Equality and empowering all women and girls – is central to the successful realization of all 17 SDGs.
To learn more about GCNC, visit our website and follow us on Social Media: @globalcompactCA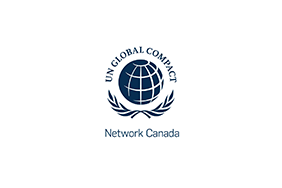 Global Compact Network Canada
Global Compact Network Canada
The UN Global Compact is the world's largest voluntary corporate responsibility initiative with over 10,000 signatories in 130 countries committing to ten universally accepted principles. The Global Compact Network Canada builds the capacity of the Canadian corporate sector to embrace sustainable business practices.
More from Global Compact Network Canada