Published 11-17-20
Submitted by Logitech
Originally published in Logitech's 2020 Sustainability Report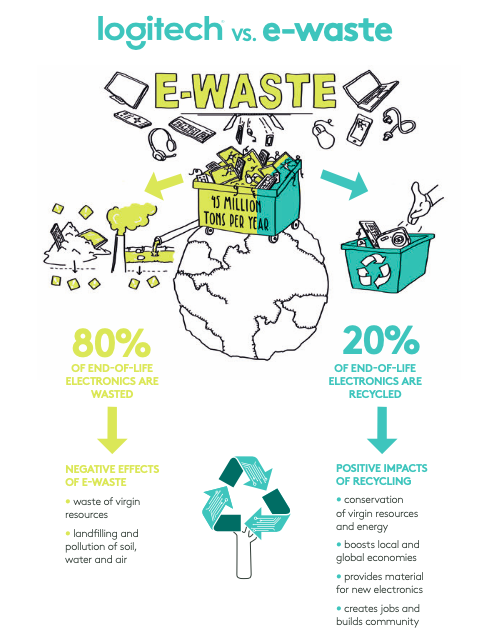 E-waste is one of the fastest growing waste streams in the world. Each year, the world produces nearly 45 million tons of e-waste and that figure is predicted to increase to nearly 54 million by 2025.
Worldwide, recycling rates continue to be low. When developing strategies to empower and enable local recycling, we consider:
Collection rates: the extent to which end-of-life devices are segregated from household waste and collected by recyclers for local recycling; and
Recovery rates: the extent to which components and materials can be recovered, from collected devices.
To increase collection rates, we support and finance the development of recycling infrastructure and capability in major markets. As a Responsible Producer, we monitor evolving recycling laws, identify Producer Responsibility Organizations (PROs) and provide financial support to enable and support the development of local recycling infrastructure and capability. In CY19, we were delighted to achieve our 2020 PRO Recycling Goal of directly financing the recycling of more than 50,000 tons of electrical devices, batteries and packaging, since CY10.
In FY20, we established our global Recycling Standard, which defines our requirements for management and recycling of end of life devices and batteries. This standard is now embedded, as a contractual requirement, in the contracts of all our PRO Recycling Partners. With the introduction of this standard, we can now interrogate and better understand the final fate of end-of-life devices and materials, which are gathered by PRO Recycling Partners, on our behalf.
In countries where we cannot finance recycling directly with our PRO Recycling Partners, we work to improve collection rates, by enforcing good practice recycling, as a contractual requirement, for our in-country business partners. Our goal is to enable and empower consumers to recycle end of life devices in their local area and avoid the carbon impact of transporting devices over long distances. We work with our business customers, including distributors, retailers and e-tailers, to enable consumer recycling in this way.
In addition to building in country recycling capability, we recognize the need to raise consumer awareness. Batteries and electronics should not be disposed of with household waste to landfill, but this continues to occur widely in many countries across the globe. Our financing of PRO schemes includes contributions to consumer campaigns to raise awareness in major markets and in CY18, we chose to launch our own recycling page on logitech.com. The following infographic forms part of a recycling video we use on our recycling page on logitech.com, to raise awareness around the need for end-of-life recycling. We continue to expand the information we provide to consumers via that page, with the goal of providing information for every major market, in the next year.
As a product design company, we also recognize the need to design for recyclability, to enable recovery of components and materials, from end of life devices. We accept responsibility for carbon and environmental impacts associated with our choice of materials and the end-of-life phase of the product life cycle. To eliminate end-of-life contaminants of the recycling stream, we manage RoHS substances and eliminate Targeted Substances (including PVC in packaging and rigid plastics). For more information on this aspect of our approach, please refer to the Avoiding Targeted Substances section of this report.
Our longer-term goal is to design products to enable optimal use of recycled materials, end-of-life recyclability and broader circularity. Over the last year, we have evolved our understanding of the recyclability of materials and the maturity of recycling infrastructure, and recycling capability, in major markets worldwide. These insights are informing our approach to life cycle analysis (LCA) and the development of design guidelines for both hardware and packaging. We are also implementing environmental friendly technologies and solutions, including PostConsumer-Recycled (PCR) plastic. For more information on this aspect of our approach, please refer to the Design for Sustainability (DfS) section for more information in this regard.
Learn more in Logitech's 2020 Sustainability Report

Logitech
Logitech
Logitech designs products that have an everyday place in people's lives, connecting them to the digital experiences they care about. More than 35 years ago, Logitech started connecting people through computers, and now it's a multi-brand company designing products that bring people together through music, gaming, video, and computing. Brands of Logitech include Logitech, Logitech G, ASTRO Gaming, Streamlabs, Ultimate Ears, Jaybird, and Blue Microphones. Founded in 1981, and headquartered in Lausanne, Switzerland, Logitech International is a Swiss public company listed on the SIX Swiss Exchange (LOGN) and on the Nasdaq Global Select Market (LOGI). Find Logitech at www.logitech.com, the company blog, or @Logitech.
More from Logitech