Published 11-16-20
Submitted by Yum! Brands
LOUISVILLE, Ky., November 16, 2020 /CSRwire/ – Yum! Brands (NYSE: YUM) was once again named to the Dow Jones Sustainability Index (DJSI) North America for its continued commitment to responsible and sustainable business practices. This is the fourth year in a row the Company has been named to DJSI, regarded as one of the leading sustainability benchmarks among both businesses and investors.
Yum!'s Global Citizenship & Sustainability Strategy, called its Recipe for Good, is the Company's roadmap for socially responsible growth, risk management and sustainable stewardship around its three priority areas of people, food and planet. In January 2020, Yum! integrated its Recipe for Growth, the guiding principles of its business strategy, with its Recipe for Good.
"As the world's largest restaurant company, Yum! is committed to socially responsible, sustainable and purposeful stewardship of our people, food and planet," said Jerilan Greene, Yum! chief communications and public affairs officer, and chairman and CEO of Yum! Brands Foundation. "We're pleased to have earned another year of recognition by the Dow Jones Sustainability Index North America, which is a testament to the strength of our ongoing progress on our Recipe for Good journey."
The Company continues to advance its Recipe for Good and its priority areas of people, food and planet. In June 2020, the Company announced a new social purpose to unlock opportunity in frontline restaurant teams and communities, supported by a $100 million investment over five years. Additionally, Yum! expanded efforts to offer customers globally more balanced choices, including plant-based and vegetarian menu items, and continued its climate change journey by increasing efficiencies in its restaurants and corporate offices and making progress on key deforestation commitments related to paper, palm oil, beef and soy.
"In a year filled with unprecedented challenges due to COVID-19, we're proud of the significant progress Yum! has made when it comes to further integrating responsible and sustainable practices across our business," said Jon Hixson, Yum! chief sustainability officer and vice president of global government affairs. "This recognition reinforces the importance of investing in a more sustainable future with a focus on key areas such as climate change and sustainable packaging."
Since launching in 1999, DJSI has become a leading global index that tracks the sustainability strategies and work of publicly listed companies. Each year, the index assesses and ranks selected companies for their performance with environmental, social and governance (ESG) criteria. View details about the 2020 DJSI here.
Manjit Jus, Global Head of ESG Research and Data, S&P Global said, "We congratulate Yum! Brands for being included in the DJSI North America. A DJSI distinction is a reflection of being a sustainability leader in your industry. With a record number of companies participating in the 2020 Corporate Sustainability Assessment and more stringent rules for inclusion this year, this sets your company apart and rewards your continued commitment to people and planet."
Yum!'s 2019 Global Citizenship & Sustainability Report highlights the Company's progress and goals around its people, food and planet and is a key component of its commitment to transparent and regular reporting. Learn more about Yum!'s citizenship and sustainability journey here.
About Yum! Brands, Inc.
Yum! Brands, Inc., based in Louisville, Kentucky, has over 50,000 restaurants in more than 150 countries and territories, making it a leader in global retail development primarily operating the company's brands – KFC, Pizza Hut and Taco Bell – global leaders of the chicken, pizza and Mexican-style food categories. The Company's family of brands also includes The Habit Burger Grill, a fast-casual restaurant concept specializing in made-to-order chargrilled burgers, sandwiches and more. In 2020, Yum! Brands was named to the Dow Jones Sustainability Index North America and was ranked among the top 100 Best Corporate Citizens by 3BL Media.
CONTACT
Alecia Berry
+1 (502) 874-8200
Media Contact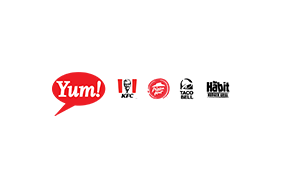 Yum! Brands
Yum! Brands
Yum! Brands, Inc., based in Louisville, Kentucky, has over 48,000 restaurants in more than 145 countries and territories primarily operating the company's restaurant brands - KFC, Pizza Hut and Taco Bell - global leaders of the chicken, pizza and Mexican-style food. Worldwide, the Yum! Brands system opens over eight new restaurants per day on average, making it a leader in global retail development. In 2018, Yum! Brands was named to the Dow Jones Sustainability North America Index and ranked among the top 100 Best Corporate Citizens by Corporate Responsibility Magazine. In 2019, Yum! Brands was named to the Bloomberg Gender-Equality Index for the second consecutive year. For more information on Yum! Brands, visit yum.com. Yum! Media Line: 502.874.8200
More from Yum! Brands