Published 11-09-20
Submitted by PayPal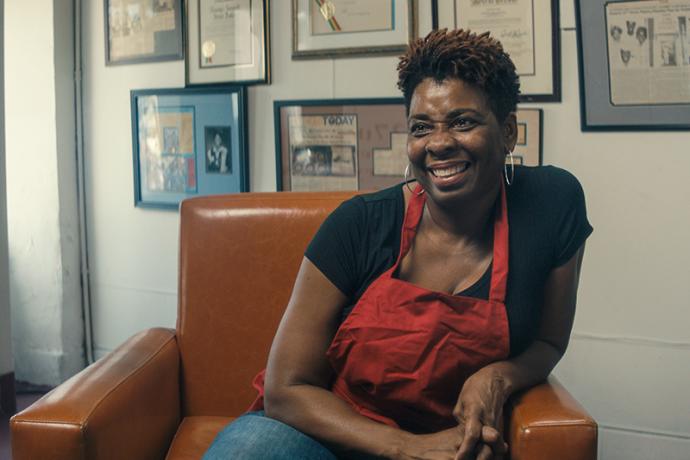 Jeanette Bolden-Pickens is the third-generation owner of 27th Street Bakery.
Originally published by PayPal
At the corner of 27th Street and Central Avenue in Los Angeles sits 27th Street Bakery, a neighborhood staple for over sixty years. Its third-generation owner, Jeanette Bolden-Pickens, was concerned her family's business might not survive the impact of COVID-19 this spring. Now, through community support and a grant, she is optimistic for the upcoming holiday season.
In the 1940s, Jeanette's grandparents, Harry and Sadie, moved from Shreveport, La. to put down roots on Los Angeles' Central Avenue, the heart of the city's African American community and home to landmarks like The Dunbar Hotel, where jazz legends like Louis Armstrong once played. The couple opened 27th Street Bakery several years later, using a tin can of family recipes as inspiration for their menu. With Harry managing the business and Sadie handling the cooking, the restaurant quickly rose to fame for its homemade cakes, cobblers and sweet potato pies. Over the decades, it evolved from a restaurant to a malt shop to the bakery it is today, which sells onsite and in local grocery stores and mom-and-pop eateries.
Jeanette grew up in the kitchen at 27th Street Bakery, often getting scolded for sneaking tastes of her grandmother's pies. What she remembers most about her childhood at the bakery — besides the sweets — is Harry and Sadie's hard work and generosity to others in the community.

The bakery's numerous awards and newspaper clippings are framed on the bakery wall.
"They would give out day-old pies to the neighborhood kids. My grandfather would give someone a quarter for sweeping up at the end of the day, and my grandmother even helped this one gentleman with his bank book," she said, smiling as she remembers her grandparents. "I was like, 'What are you doing?' and they would say, 'Well, they're our customers and they need help.'"
Jeanette worked in the pie shop alongside her family as she pursued her talents in track and field. In between high school and a rigorous training schedule, she would help in the kitchen or deliver pies in the family station wagon. Jeanette's tireless work ethic paid off– she went on to excel in sprinting events at UCLA, where she graduated in 1983. Shortly after, Jeanette was selected to represent the United States in international competition at age 24.
"One thing that my grandparents instilled in me was that if you wanted to achieve your goal, you have to put the work in," said Jeanette, who struggled with asthma throughout her running career. "I had to overcome some obstacles, but I didn't let them hold me back. In track and field, it's all on you. You're the one on the line. You have to take responsibility."
Jeanette's family cheered her on from the stands in Los Angeles as she won a gold medal in the 4x100 meter relay in 1984. After competing as a professional athlete, Jeanette transitioned to a successful coaching career, including roles as head coach for the women's track and field team representing the U.S. internationally, and a head coach at UCLA and University of Central Florida.
But her heart always led her back to the corner of 27th Street and Central Avenue. "Through my career as a coach and athlete, the bakery was my mainstay. I was always there but could never be invested 100 percent because I was doing other things," said Jeanette, who is a wife and mother of twins. "It dawned on me when my twins, my nieces and my nephew all started working there. I knew that if the bakery was going to continue for the fourth and fifth generations, someone was going to have to maintain it."
That someone was her. In 2008, she took over the bakery's ownership from her late mother and brother, with her grandfather's insistence on hard work ringing in her ears.

Jeanette took over the bakery with her husband and sister in 2008.
Though Jeanette had grown up in the bakery, managing it was another matter — especially during the hectic holiday season that runs from Halloween through the new year. "Coaching a team to an NCAA championship? That was tough. But the bakery during the holidays? There's no comparison," she said, laughing. "It's twenty-four-seven, all-hands-on-deck work." Still, Jeanette says the holiday rush is one of her favorite parts of the job. "It's hard to take care of, but I like the messiness and chaos of the bakery. I like coming together with my staff to make sure our pie puts a smile on someone's face. We make it work."
This year, Jeanette is juggling both the upcoming holiday season and the personal and professional stress of COVID-19. "It seemed like everything happened in one week," she said. When the pandemic began, "People were not coming to the business. Our eatery sales were coming down. It was devastating. You think to yourself: 'What are we going to do?'"
Jeanette struggled to keep the doors open and continue paying her employees, some of whom had worked at the bakery for over two decades. In addition to lost revenue, the bakery's pie press machine broke down this spring — an untimely expense.

The PayPal Empowerment Grant allowed Jeanette to purchase a new pie press machine.
She had applied for several different loans but found the process needlessly difficult. "I was on the phone for hours, and then I had a website crash on me when I was about to finish an application. When I finally had it up and running again, it was after the deadline and they wouldn't accept [my application]." Discouraged, she had almost given up on loan applications, until a fellow small business owner pointed her to the PayPal Empowerment Grant. (The $10 million grant program, in partnership with the Association for Enterprise Opportunity, has since paused accepting new applications due to an overwhelming response). 
"I thought in my head, 'Oh no, another grant application…' but I actually got through!" Jeanette said. When she received the grant a few weeks later, Jeanette was overjoyed, knowing she could use the funds to buy a new pie press machine, which would allow the bakery to produce roughly twice the amount of pies.
"This pie press machine allows us to think about the future. When we are done making pies for the day, we have time to work on new recipes," she said. Jeanette and her team are perfecting a sweet potato empanada recipe the bakery plans to offer starting this fall. With the pie press up and running, the bakery is equipped to handle the rush of orders this holiday season.
Through it all, Jeanette feels more committed to the bakery and neighborhood than ever. After generations of her family supporting the community, she said the community has returned the favor during the pandemic.

27th Street Bakery has been a part of the Los Angeles community for over 60 years.
"The community supported us 100 percent. I think people started getting upset that the large corporations were receiving a lot of money, so people started switching it up and supporting small businesses," she said. "I had one lady come in and order a pie for $2.25. She gave me a $100 bill without accepting any change." That giving spirit — both from grants and Jeanette's community in Central Los Angeles — is what has helped the business survive.
After going through the process herself, Jeanette wants to help other Black and legacy business owners apply for grants as well. "Leadership in the Black community means coming together to support one another. It's the little things we can do that help people navigate these situations," she said.
Jeanette is committed to ensuring 27th Street Bakery remains a legacy small business for another sixty years. As she remembers her youth at the bakery and the lessons learned, she hopes to pass her love of cooking and the community down to the next generation.
"We want to be a mainstay here in Los Angeles. she said. "We want to keep sharing our pies with the community. I want my two-year-old grandson to say, 'Look at what my grandmother did, and my great-great-grandmother did.'"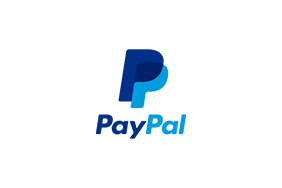 PayPal