Published 11-04-20
Submitted by Gen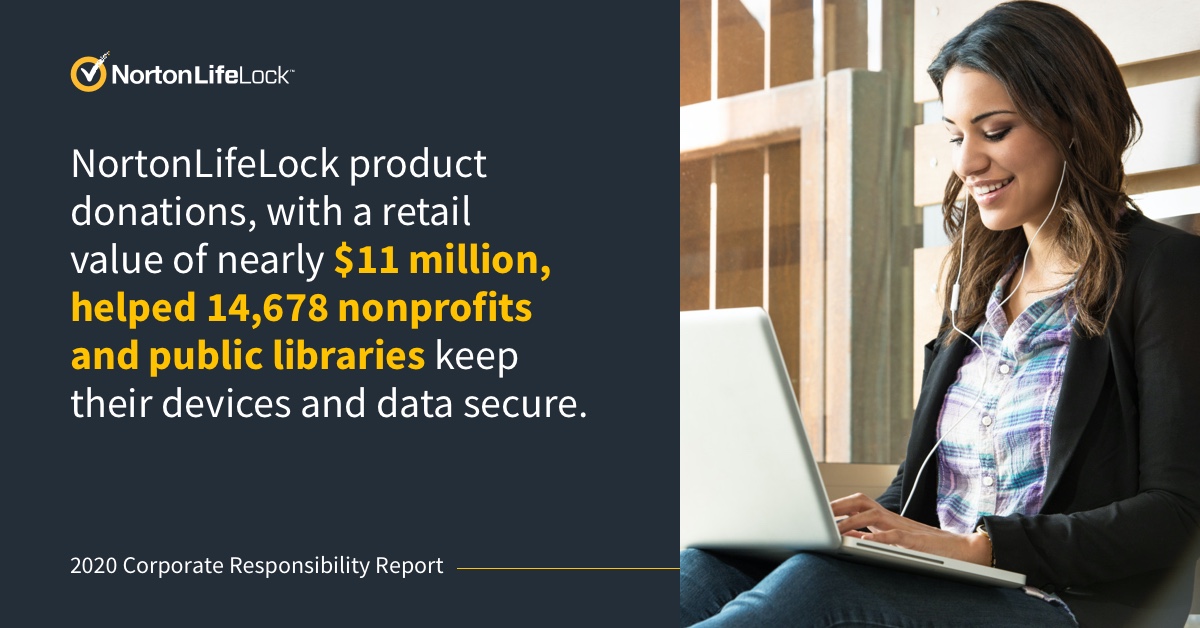 NortonLifeLock Blog | Corporate Responsibility
By Krista Todd, Head of Marketing & Communications
At NortonLifeLock, our vision is to be the trusted brand in Cyber Safety by protecting consumers and helping give them control of their digital lives. The very nature of our business—helping protect all areas of consumers' online lives—also requires a global culture of responsibility. This culture of responsibility is core to our business strategy and is realized in the positive contributions we make to the customers, employees, communities, shareholders, and stakeholders that we serve.
We operate ethically, safeguard our customer, partner, and employee data, support the communities where we live and work, minimize our environmental footprint, and are committed to building a strong, diverse, and passionate team.
We are proud of our progress delivering positive environmental, social, and governance (ESG) impacts, which are highlighted in our 2020 Corporate Responsibility Report released today, and we know there is more to do. We remain committed to building on our impacts and being responsive to our employees, consumers, and communities. Here are a few highlights from our 2020 report:
Helping people keep their home and family Cyber Safe: In partnership with National Parent and Teacher Association (PTA), we created The Smart Talk, an interactive tool that encourages children and their caregivers to set tech ground rules together. In FY20, 160 PTAs across the U.S. held a Safer Internet Day event focused on The Smart Talk.
Using product donations to support nonprofits: In FY20, we donated products, with a retail value of nearly $11 million, to help 14,678 nonprofits and public libraries spend less time responding to malware attacks and more time helping their communities thrive.
Focusing on environmental stewardship: In FY20, we started work to refresh our greenhouse gas emissions strategy and goals. We're also proud to report that 32% of all NortonLifeLock products are currently made with and packaged in Forest Stewardship Council (FSC) certified paper.
Building an inclusive, diverse workforce: In FY20, global gender diversity was 31% female and our annual pay equity review found that our pay ratios are equitable across all workforce levels (executives, management, non-management). We also continued to fund nonprofits focused on diversifying tech, including Reboot Representation and NPower.
Responding to COVID-19: Through virtual volunteering, financial donations, free guidance to help people stay safe online, and increasing safety protocols for our employees, we are committed to doing our part to respond to the impacts of COVID-19.
We encourage you to read our 2020 Corporate Responsibility Report to learn more about the positive impact we've made for our customers, communities, and the world we live in.

Gen
Gen
Gen (NASDAQ: GEN) is a global company dedicated to powering Digital Freedom through its trusted Cyber Safety brands, Norton, Avast, LifeLock, Avira, AVG, ReputationDefender and CCleaner. There's a new generation, and it's not Gen X, Y, or Z. It's Gen D: Generation Digital. Gen's family of consumer brands is rooted in providing safety for the first digital generations. Now, Gen empowers people to live their digital lives safely, privately, and confidently today and for generations to come. Gen brings award-winning products and services in cybersecurity, online privacy and identity protection to more than 500 million users in more than 150 countries. Learn more at GenDigital.com.
More from Gen