Published 11-02-20
Submitted by Global Compact Network Canada
November 2, 2020 /CSRwire/ - Global Compact Network Canada (GCNC), the Canadian chapter of the United Nations Global Compact, will be hosting an innovative virtual forum, Business for Gender Equality: A forum to fast-forward progress in the Canadian private sector on December 2, 2020, from 12 pm-6 pm EST.  
The virtual forum is designed to showcase outstanding action being taken to break barriers and fast-forward gender equality progress in the Canadian private sector. The goal of the forum is to map the opportunities, challenges, and practical steps that will help shape the future of gender equality in Canada. Additionally, the event will feature the exclusive launch of GCNC's Blueprint for Gender Equality Leadership in the Canadian Private Sector, a Maturity Model self-assessment questionnaire, and a resource database.
This set of tools was created with active collaboration from private sector companies and expert organizations throughout GCNC's three-year project, Gender Equality Leadership in the Canadian Private Sector. The project was funded by the Department for Women and Gender Equality with the aim of helping organizations and individuals looking to advance gender equality in their workplaces and across Canada.
The forum will feature high-level panels with corporate leaders, gender equality allies and advocates, and diversity and inclusion experts who will be discussing topics that directly and indirectly influence the corporate environment. Michael Ward, CEO and Chief Sustainability Officer, IKEA Canada, Theresa Jang, Executive Vice President and Chief Financial Officer, Stantec and Sandra Odendahl, VP of Social Impact and Sustainability, Scotiabank, among other speakers, will be sharing their experiences with and approaches to equality, diversity, and inclusion within the Canadian private sector. 
GCNC will bring together more than 200 leaders from Canadian businesses, government, civil society, NGOs, academia, non-profits, young professionals, and the United Nations, serving as a unique opportunity for a diverse range of stakeholders to gather while discussing equality and showcasing their efforts and contributions within the Canadian workplace.
For ticket information, visit the Business for Gender Equality virtual forum website. Together we can demonstrate bold and visible action to move the dial and achieve gender equality in Canada.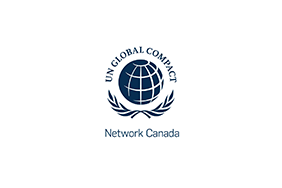 Global Compact Network Canada
Global Compact Network Canada
The UN Global Compact is the world's largest voluntary corporate responsibility initiative with over 10,000 signatories in 130 countries committing to ten universally accepted principles. The Global Compact Network Canada builds the capacity of the Canadian corporate sector to embrace sustainable business practices.
More from Global Compact Network Canada