Published 10-21-20
Submitted by Yum! Brands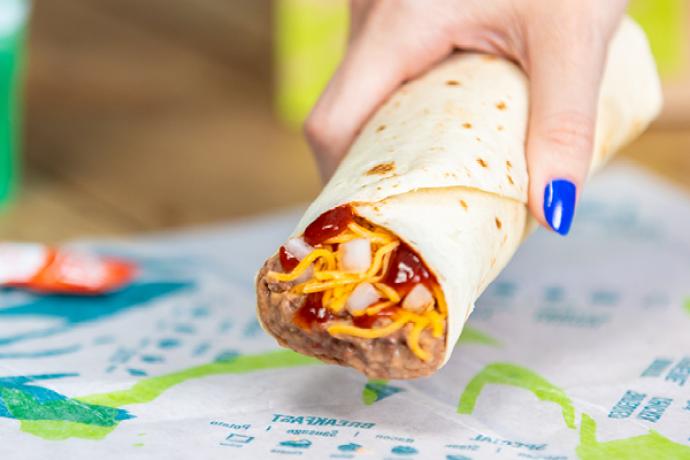 Motivated by a combination of environmental sustainability and diversity in diet, consumers are driving changes to food patterns across the world. All it takes is a glance at restaurant menus or the refrigerated sections of grocery stores to see that plant-based food is likely more than a passing trend.
Recently, Yum! Brands, the parent company of KFC, Pizza Hut, Taco Bell and The Habit Burger Grill, published its 2019 Recipe for Good report, which looks back on its progress in the areas pertaining to Yum!'s people, planet and food. One of the key areas highlighted is each brand's embrace of menu diversification and the expansion of its vegetarian and plant-based options.
"Consumers are making their preferences known by how and where they spend their dollars," said Missy Schaaphok, registered dietitian nutritionist and Taco Bell's senior manager of Global Nutrition and Sustainability. "In fact, Taco Bell has been a leader in the plant-based space for years; more than 14% of all items ordered in the United States are vegetarian or made so through substitution or removal of an ingredient."
For Yum!'s Mexican-inspired brand, plant-based proteins have had a starring role on the menu since its doors opened in 1962; the Bean Burrito is even among the top five most-ordered items on the U.S. menu. Taco Bell's vegetarian menu is certified by the American Vegetarian Association, and the brand recently made it easier to identify and order vegetarian options by displaying "V" symbols on its menu boards and mobile ordering platforms and offering "Veggie Mode" on in-restaurant kiosks. The brand's commitment to choices and innovation extends into its veggie offerings, and soon, fans will see another plant-based protein on Taco Bell's menu.
"Our consumers don't have to choose between the food they crave and responsible dining; now they can have both," added Schaaphok. "And small changes make a big difference in plant-based eating when we're able to offer nearly 1 million different combinations to our millions of customers."
Yum!'s other brands are also on the plant-based food journey. In the U.S., KFC was the first national quick-service restaurant chain to test plant-based chicken with the 2019 launch of Beyond Fried Chicken in partnership with Beyond Meat, the Los Angeles-based company that produces plant-based meat substitutes for chicken, pork sausage and beef.
"Despite many imitations, the flavor of Kentucky Fried Chicken is one that has never been replicated – until Beyond Fried Chicken," said Andrea Zahumensky, KFC U.S. chief marketing officer.
The brand's goal was to develop a plant-based, fried chicken that would appeal to flexitarians, or people who are interested in incorporating more plant-based choices into their diets without entirely giving up meat. Beyond Fried Chicken, offered as nuggets, is a wheat- and soy-based protein with the signature taste and crispy texture of KFC's world-famous fried chicken – and is absent of any genetically modified ingredients, antibiotics or hormones.
After an overwhelmingly successful launch in Atlanta, Georgia – where the test restaurant sold out of Beyond Fried Chicken in less than five hours – and in subsequent test markets Nashville, Tennessee, Charlotte, North Carolina, and Southern California, KFC is evaluating whether to expand to more locations across the U.S.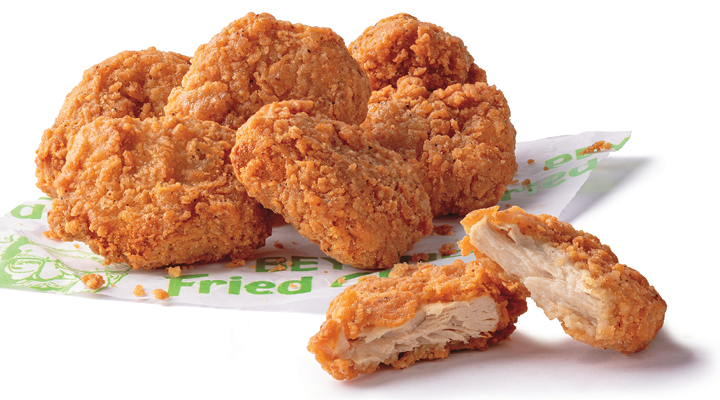 Just north in Canada – inspired by the belief that the Colonel's signature taste should have no boundaries – KFC developed new options in response to Canadians' evolving tastes and preferences for plant-based proteins. When the market tested Lightlife Plant-Based KFC in late 2019, restaurants sold more than a month's worth of sandwiches in just six hours. Fueled by proof of extraordinary demand, the team worked diligently to bring the new menu item permanently to restaurants across Canada in 2020, and fans have quickly embraced it as a KFC staple.
"Whether you enjoy a vegetarian or flexitarian lifestyle, or you're a loyal KFC fan looking for something new, Lightlife Plant-Based KFC offers a modern take on our world-famous classics," said Sam Redman, KFC Canada chief marketing officer.
KFC markets in the Netherlands, Hong Kong and China have also been developing and testing plant-based products as part of the brand's continued food innovation efforts to meet changing consumer expectations and preferences.
On the heels of KFC's progress, Pizza Hut U.S. began exploring its own partnership with Beyond Meat after a successful one-day test of Kellogg's plant-based Italian sausage Incogmeato in 2019 that resulted in attracting new customers and more than 100% of same-store sales growth for the day at the test locations. And in the past year, Pizza Hut International (PHI) has tested plant-based alternative toppings in the United Kingdom, Poland, Taiwan and Puerto Rico, with plans in four additional countries by 2021.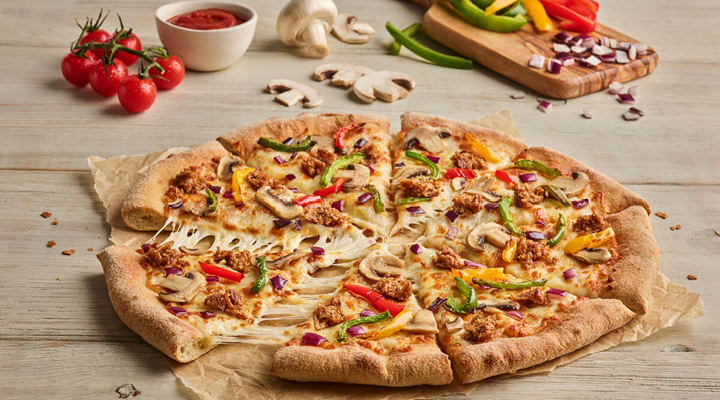 "In the future, I can easily see a good balance between selling our traditional Lover's line of pizzas – like the Pepperoni Lover's or Meat Lover's that come with more of your favorite toppings – and a line that features plant-based proteins as toppings," said Ana Maria Rodriguez, chief food innovation and quality officer for PHI. "In fact, in many markets, we sell as many vegetarian pizzas as those with meat, so we know there's a growing appetite for non-meat options. We've always been proud to offer a large variety of high quality, tasty toppings so customers can create their own pizzas, and adding best-in-class plant-based alternatives is the next step for our menu."
At The Habit Burger Grill, the newest addition to the Yum! family of brands, the menu features plant-based options like the vegan Veggie Burger and sides such as Sweet Potato Fries and Tempura Green Beans. As young generations explore protein alternatives – such as soy found in Kellogg's MorningStar vegan burgers or pea protein isolate in the Beyond Burger – The Habit's Vice President of Food and Beverage Adam Baird acknowledges that plant-based options are "clearly trending" and are a way to capture the flexitarian demographic.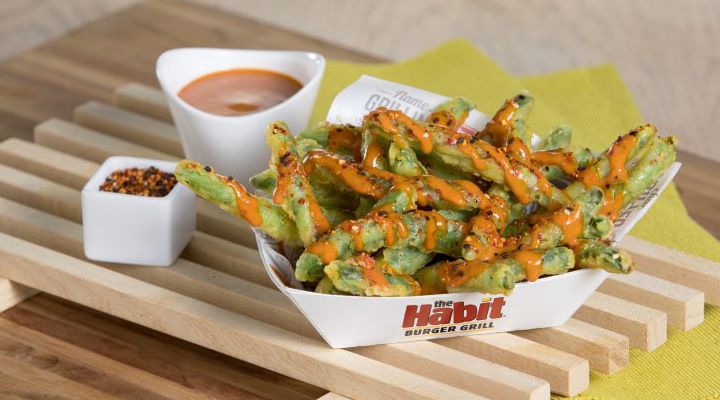 "While meat alternatives won't replace our core menu items that customers love, a person who eats burgers regularly may appreciate having the option to occasionally swap red meat for something plant-forward," Baird said. "That's why we're proud to have the vegan patty on our menu and look toward adding other items in 2021."
With customer demand for plant-based dishes rising – especially among Gen Z – Yum!'s food strategy will adapt accordingly. But brand representatives are quick to reassure that Yum!'s priority is to continue investing in classic, brand-famous food – like KFC Original Recipe and The Habit's Charburger – while ensuring the flavors people crave are hallmarks of each new plant-based offering.
"Great taste is very important, so we will settle for nothing less," said Penny Shaheen, Pizza Hut U.S. senior director of Research and Development. "We're excited about the progress we've made, and I think we will see steady increases of plant-based options over time as younger generations expect it."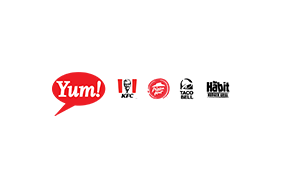 Yum! Brands
Yum! Brands
Yum! Brands, Inc., based in Louisville, Kentucky, has over 54,000 restaurants in more than 155 countries and territories, operating the Company's brands – KFC, Pizza Hut and Taco Bell – global leaders of the chicken, pizza and Mexican-style food categories. The Company's family of brands also includes The Habit Burger Grill, a fast-casual restaurant concept specializing in made-to-order chargrilled burgers, sandwiches and more. Yum! Brands was named to the 2021 Dow Jones Sustainability Index North America and was ranked on Newsweek's list of 2021 America's Most Responsible Companies. In 2022, Yum! Brands was named to 3BL Media's 100 Best Corporate Citizens.
More from Yum! Brands