Published 10-19-20
Submitted by Gen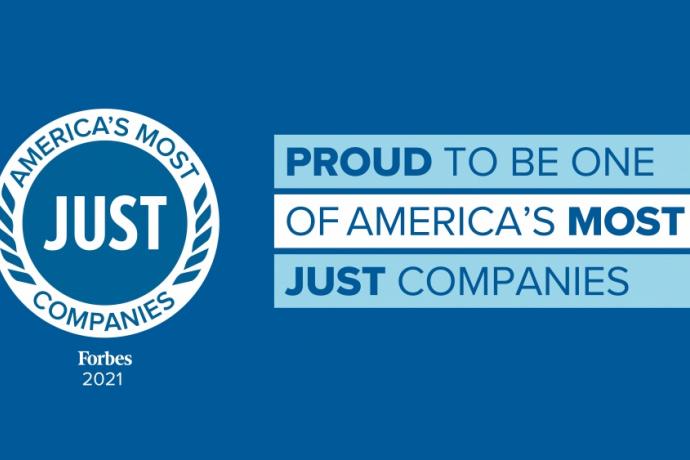 NortonLifeLock Blog | Corporate Responsibility
By Kim Allman, Head of Corporate Responsibility and Government Affairs
I am thrilled to announce that today NortonLifeLock has been named one of America's Most JUST Companies  by Forbes and JUST Capital. While Symantec made the list each year since the ranking began in 2015, we are especially proud that as a new, pure play consumer Cyber Safety company we are on this preeminent list in our own right.
The Forbes JUST 100 recognizes companies doing right by all their stakeholders – employees, customers, communities, the environment, and shareholders. The ranking includes U.S. corporations that outperform on the issues that matter most to the American public – like paying a fair wage, acting ethically and with integrity, cultivating a diverse and inclusive workplace, protecting worker health and safety, providing good benefits and work-life balance, and more.
NortonLifeLock's position as a global leader in consumer Cyber Safety depends on more than our technology—it relies on our reputation as an ethical company that operates with integrity and accountability in everything we do. We have an unwavering commitment to generating positive societal impact, bettering our planet, and to being accountable and responsive to our employees, consumers, and communities.
Below are some of the initiatives that helped make us #59 overall and #8 in the Software Industry on America's Most JUST companies list:
Supporting our team:
We support family life by offering backup child and elder care services as well as 12 weeks of paid parental leave.
We conducted a pay gap analysis in 2020 and are proud to report that our pay ratio (average female salary / average male salary) favored women at all three levels of the company: Executives, Management, and Non-management.
Supporting our communities:
To encourage employees to support the causes they care about, our benefits program includes paid volunteer time off, Dollars for Doers grants, and corporate matching. We match up to $2,000 per employee per year, and employees can choose to support their communities by volunteering their time or giving financially.
Through our partnership with the National Parent and Teacher Association (PTA), we created The Smart Talk, an interactive tool that encourages children and their caregivers to set tech ground rules together. In FY20, 160 PTAs across the U.S. held a Safer Internet Day event focused on The Smart Talk.
Along with industry peers, we are working to increase the representation of women and underrepresented minorities in technology. We recently relaunched our employee resource groups, called NortonLifeLock Communities, and continued to fund nonprofits focused on diversifying tech, including Reboot Representation and NPower.
Supporting our planet:
As a technology company, much of our energy consumption takes place in a data center environment. In FY20, we partnered with a data center vendor who is committed to increasing the use of renewable energy. 
Press Release: NortonLifeLock Named one of Americas Most JUST Companies by Forbes and JUST Capital
The annual Ranking, which evaluated the 1,000 largest public U.S. companies across 19 issues areas, expanded this year's methodology to capture 38 COVID-19 specific data points. The health and safety of our global team and customers remains a top priority and in response to COVID-19, we:
Offered a six-month complimentary subscription to Norton Family to help parents monitor and manage their children's online activities;
Published free resources, including how to protect yourself from phishing scams during COVID-19 and to keep connections secure when working remotely;
Required all employees who are able to work from home to do so;
Implemented rigorous safety protocols for team members working on-site including physical distancing measures, providing hand sanitizer and wipes, serving only pre-packaged goods at our cafeterias, and more frequent cleaning of offices and biometric scanners;
Joined COVID-19 relief efforts by donating $100,000 to the United Nations Foundation's Solidarity Response Fund and provided an additional $100,000 through employee donations and a 2:1 corporate match;
Provided COVID-19 relief grants to all eligible PTAs in Arizona that applied. Each local Arizona PTA can use the grant for food security, mental health/social emotional support, distance learning, and internet and device access.
We congratulate our fellow winners and encourage you to learn more about the JUST 100 in the November issue of Forbes and at www.forbes.com/just100. For a comprehensive interactive ranking and benchmarking platform visit www.justcapital.com.

Gen
Gen
Gen (NASDAQ: GEN) is a global company dedicated to powering Digital Freedom through its trusted Cyber Safety brands, Norton, Avast, LifeLock, Avira, AVG, ReputationDefender and CCleaner. There's a new generation, and it's not Gen X, Y, or Z. It's Gen D: Generation Digital. Gen's family of consumer brands is rooted in providing safety for the first digital generations. Now, Gen empowers people to live their digital lives safely, privately, and confidently today and for generations to come. Gen brings award-winning products and services in cybersecurity, online privacy and identity protection to more than 500 million users in more than 150 countries. Learn more at GenDigital.com.
More from Gen