Published 10-15-20
Submitted by Yum! Brands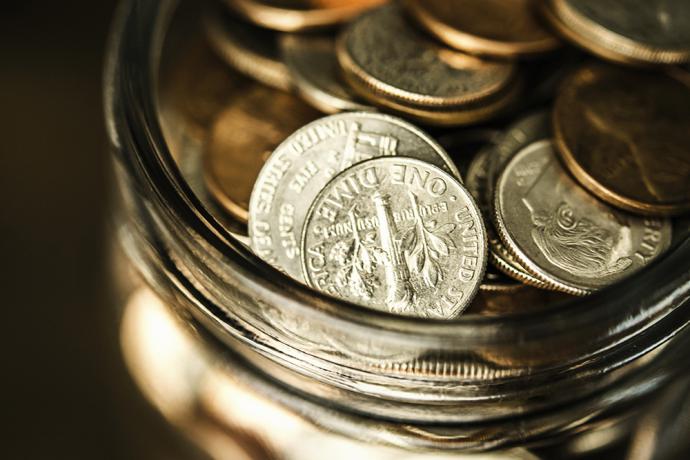 This is a story of how the donation of a few pennies led to millions of dollars in college scholarships, education grants, food for hungry children, gas cards and even natural disaster relief.
It all has to do with scale. A few pennies alone won't buy much, but when a 20-cent donation is multiplied by thousands of restaurants across the United States, the give-back potential proves enormous — especially when the act, known as "checkout charity," is executed by the world's largest restaurant company.
It all started in December 2018 when Taco Bell and its foundation launched the Round Up program, asking guests if they'd like to round up their checks to the nearest dollar. The raised funds supported the its Live Más Scholarship and educational programs, and in 2019, the brand raised more than $20 million, in addition to $10 million it raised the previous year through two national, in-restaurant fundraisers.
"Round Up was a completely new concept for us, and while we know it was going to impact how we fundraised, we didn't know the level of support we'd have from our fans," said Taco Bell Foundation Director Jennifer Bradbury. "It's amazing to see the number of customers who are willing to donate their change to support youth education, and it has made a huge difference."
With the Round Up program in full effect by early 2020, Taco Bell was poised for a breakthrough fundraising year. Then, the COVID-19 pandemic hit, and quick-service restaurant dining rooms closed around the U.S. Taco Bell and its sibling brands, which were making moves to start Round Up programs of their own, had to act fast to ensure the communities they served were being taken care of during this time of uncertainty.
Here's how they did it.
From Live Más Scholarship to No Kid Hungry
By late March 2020, several U.S. schools closed their doors to prevent the spread of the coronavirus, leaving many children without the only meal they could rely on: a cafeteria lunch. Taco Bell's drive-thrus, however, remained open, and CEO Mark King saw a solution to the many students left hungry: switch the recipient of the Round Up program funds to No Kid Hungry, a nonprofit dedicated to ending childhood hunger in the U.S.
"Since my letter to you on March 13, things have been changing on a daily basis for us all," King wrote on March 27. "But I've noticed that one thing hasn't changed: People are still coming together to help one another and show that they care."
Behind the scenes, multiple Taco Bell teams came together to make this happen — and pulled it off in less than 10 days. Previously, if the customer was in the restaurant, the kiosk or the credit card reader would ask them if they'd like to round up their check, but with dine-in closed, the operations team, with help from the Taco Bell Foundation, decided to quickly re-activate Round Up in the drive-thru by asking customers if they'd like to donate to children in need — all while maintaining the brand's impressive drive-thru speed.
"Now, when customers place their order, a team member asks if they want to donate, and if they do, the customers have time to prepare their funds before they get to the payment window. They can make their payment, get their food and be on their way," explained Taco Bell IT Business Analyst Nicole Penor. "It's quick, easy and efficient. Plus, we're eliminating stress by asking when customers place their order. They're not face-to-face with somebody at a speaker post and won't feel judged if they say no."
The technology team had to change the code on thousands of restaurants' computer systems to reflect the Round Up recipient change from the Taco Bell Foundation to No Kid Hungry, and in a matter of weeks, through Round Up, franchise donations and a gift from the Taco Bell Foundation amounted to a nearly $5.5 million donation to No Kid Hungry.
Making Round Up a 'Habit'
In September, Taco Bell's sister brand, The Habit Burger Grill, introduced its own Round Up program also benefitting No Kid Hungry, offering customers the chance to round up their checks to the next dollar via the brand's mobile app, online ordering channel, kiosk, phone orders drive-thru and in-restaurant. Director of Product Marketing and Brand Charlotte Lucich says The Habit has worked with No Kid Hungry in the past, granting diners a voucher for a free Charburger with cheese when they donated $2 to the charity.
"However, with the pandemic, it became clear that our customers didn't want to touch a paper coupon, so we took the program digital, breathing new life to the campaign," she said.
Unlike Taco Bell, only 62 of The Habit's 300 locations have drive-thrus, so implementing a digital solution to allow for social distancing was key. "Now, it's easier for our team members, because they don't have to ask customers to donate from behind masks and plexiglass shields, and for our customers, because they don't have to touch a paper coupon," Lucich said.
The fundraiser ends on October 15, but so far, the brand has surpassed its $150,000 goal, raising over $283,000 to fight childhood hunger.
"Whatever fundraising goal we set, our fans are so generous that they blow it out of the water!" Lucich said. "When No Kid Hungry came to us, they said that with COVID-19, one in four kids doesn't know where their next meal will come from. A few years ago, that statistic was one in six. We still have two weeks to go in our Round Up fundraiser, but our hope is that we'll raise enough funds to help bring that statistic back down."
Helping the Kentucky Fried family
By summer 2020, consumers had acquiesced that the COVID-19 pandemic would stick around for the foreseeable future and decided to social distance by staying home and shifting their spending online, which led to a national coin shortage.
In turn, KFC U.S. implemented its Round Up program in more than 150 of its drive-thrus in July, saving coins and giving back to its franchisees' preferred charities as well as its frontline workers through the KFC Foundation. To date, Round Up has raised more than $28,000 for the KFC Foundation, which will go toward its KFC Family Fund program to provide financial assistance to team members facing unexpected hardships and crises. Plus, additional funds were raised for other nonprofits that KFC franchisees champion in their local communities.
"Almost every restaurant has at least one, if not several, individuals who have benefited from a KFC Foundation program, so team members are really getting excited about asking customers to support their coworkers," said KFC Foundation Managing Director Emma Horn. "Round Up means a lot."
The differences between its initiative and Taco Bell's is that KFC's is completely voluntary, so franchisees can opt in or out of the program. Plus, since one of its motivations is to help with the coin shortage, customers can only round up cash payments, not credit cards, although KFC U.S. Operations Associate Manager Clint Stickdorn, who managed the project, said the brand hopes to expand the program to its digital platforms in the future.
"The best part is giving back to the employees, especially when you see the impact it's had so far," he said. "Our team members are frontline heroes, serving guests during the COVID crisis, and some of them have significant hardships. It's nice to see how they've helped their communities and now their communities are able to give back."
Rounding up on the future
With 2021 three months away, Yum! Brands is focused on more ways to give back in the future.
"While this year has been full of so much uncertainty, we are inspired by our fans, franchise partners and the Taco Bell community as a whole for continuing to rally behind supporting youth education," said Tina Nguyen, Taco Bell Foundation executive director. "We are always looking for ways to evolve our Round Up program to make it even better. When giving back is as easy as rounding up your favorite Taco Bell order to the nearest dollar, it's a win for everyone — especially the current and future scholars who will or are already changing the world with their innovations."
On the heels of its own success, KFC U.S. is examining ways to expand access to its credit/debit card terminals, kiosks and e-commerce platforms. Meanwhile, The Habit Burger Grill will continue to support its long-term relationship with No Kid Hungry through Round Up and other programs.
"Sure, it only seems like a few cents," Bradbury said. "But we're the world's largest restaurant company, so just imagine how the world can change if more than a billion customers donate a few cents each year."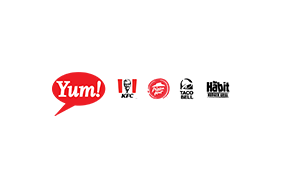 Yum! Brands
Yum! Brands
Yum! Brands, Inc., based in Louisville, Kentucky, has over 54,000 restaurants in more than 155 countries and territories, operating the Company's brands – KFC, Pizza Hut and Taco Bell – global leaders of the chicken, pizza and Mexican-style food categories. The Company's family of brands also includes The Habit Burger Grill, a fast-casual restaurant concept specializing in made-to-order chargrilled burgers, sandwiches and more. Yum! Brands was named to the 2021 Dow Jones Sustainability Index North America and was ranked on Newsweek's list of 2021 America's Most Responsible Companies. In 2022, Yum! Brands was named to 3BL Media's 100 Best Corporate Citizens.
More from Yum! Brands