Published 10-12-20
Submitted by Paramount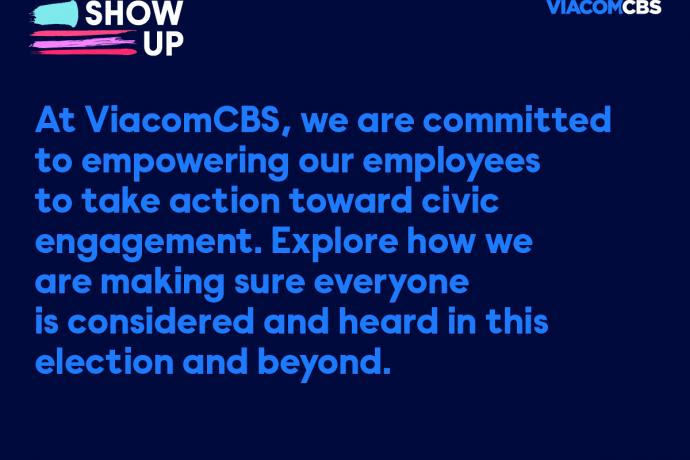 As a civic-minded company, time after time ViacomCBS has demonstrated its commitment to empowering audiences and employees to exercise their rights, represent their interests and vote.
This election is critical. From COVID-19 to the ongoing fight for social justice, it's never been a more important time for voters to have their voices heard. With the election weeks away, ViacomCBS is ensuring that employees have the flexibility and support they need to do their civic duty and get engaged in the democratic process: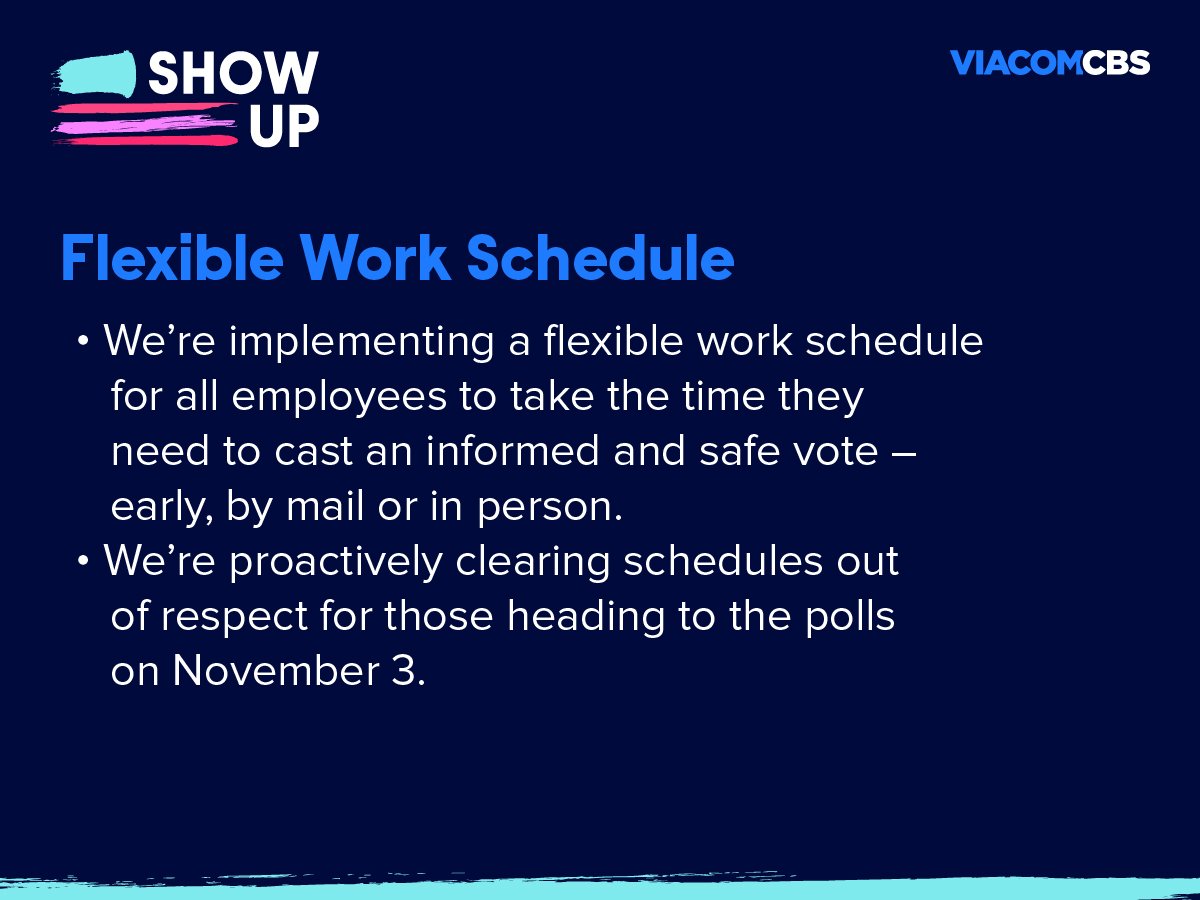 Flexible-Work Schedule: Many will have the option to vote early this year – by mail or in person – while others will choose to vote at their local polling location on Election Day. For this upcoming election, the company is implementing a flexible-work schedule to allow the day that works best for each employee to cast a safe vote.
Election Day: For employees who are planning to head to the polls on Election Day, supervisors and teams will limit or proactively not schedule any meetings for Tuesday, November 3rd and begin the process of rescheduling any meetings that are currently planned for that day.
Poll Worker Time Off: In addition to flexible time for voting, ViacomCBS is encouraging interested and eligible employees to consider working as poll workers for the upcoming election. COVID-19 has created a shortage of poll workers and many of the company's brands have been working to Power the Polls by recruiting new poll workers to ensure polling sites stay open and operate efficiently across the country.
New Civic Hours Program:  ViacomCBS is proud to be launching a new Civic Hours Program running through Tuesday, November 3rd. Through this program, all full-time, benefit-eligible employees will be able to track volunteer time for charitable dollars. For every hour volunteered with a nonpartisan, 501c3 organization working on civic engagement, ViacomCBS will award a $25 credit to the employee's charitable giving account, which can then be donated to any eligible 501c3 organization within its existing ViacomCBS Gives charitable contributions system, up to 10-hours per employee.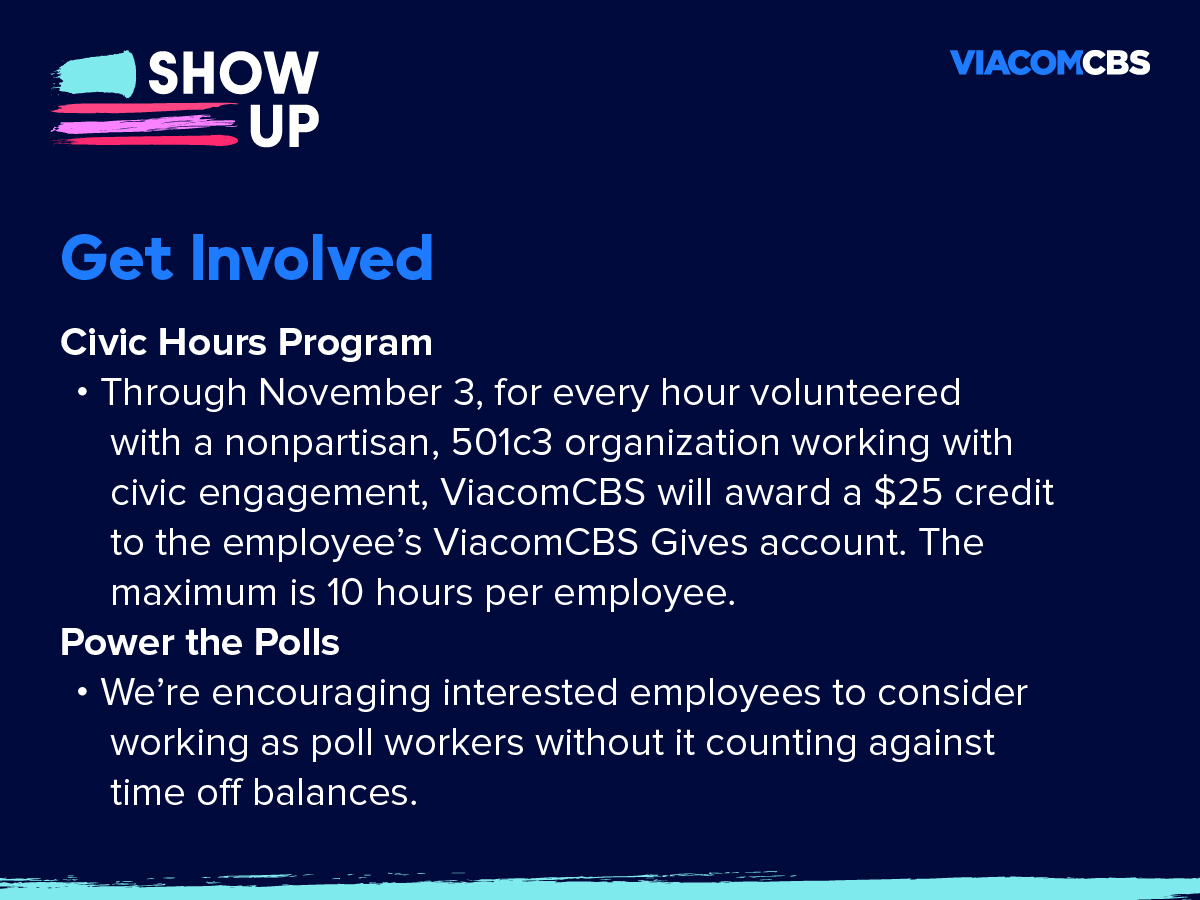 ViacomCBS and its brands have also continued to come together to support and inspire audiences to vote. Here's a snapshot of all the great work happening:
BET: In partnership with the National Urban League and other key civil rights organizations, BET launched its #ReclaimYourVote campaign to harness the Black collective power and increase participation in the election. As part of the campaign, it held the first-ever National Black Voter Day on September 18th to aid Black citizens against suppression tactics and ensure that their votes count.
CBS: The Late Show with Stephen Colbert launched Better Know A Ballot, a nonpartisan voter information campaign featuring customized messages from Colbert for all 50 states and Washington, D.C. explaining how to register, vote early by mail or vote in person. The campaign also launched www.betterknowaballot.com, which includes specific voter information for all 50 states. 
CBS News: CBS News, CBSN, CBS News Radio, CBSNews.com, NewsPath and our local CBS Television Stations will offer definitive coverage of the election. CBS News' "America Decides: 2020" will dedicate special coverage to voter integrity; the use of misinformation aimed at influencing the electorate; and listening to voters around the country. Combined with the CBS News Battleground Tracker, which will continue to offer the most extensive polling in the industry, CBS News' multiplatform, division-wide coverage will help inform Americans as election day approaches. CBSNews.com/politics will offer continuous coverage of the Election including a state-by-state informational guide on how and where to vote.
Entertainment & Youth Group: In partnership with the Ad Council and led by our Entertainment and Youth Group, ViacomCBS also just announced the launch of Vote For Your Life, a mass voter registration, early voting, and get-out-the-vote campaign crafted to respond to the specific challenges of the 2020 election season. As part of this campaign, MTV is funding the cost of ballot application printing and postage for 100,000 voters at www.VoteForYourLife.com and www.VoteEarlyDay.org.
Nickelodeon: Nickelodeon's Kids Pick the President campaign will also be offering kids a voice and a choice. Since the campaign's inception in 1988, kids have correctly picked the winner six out of the last eight cycles.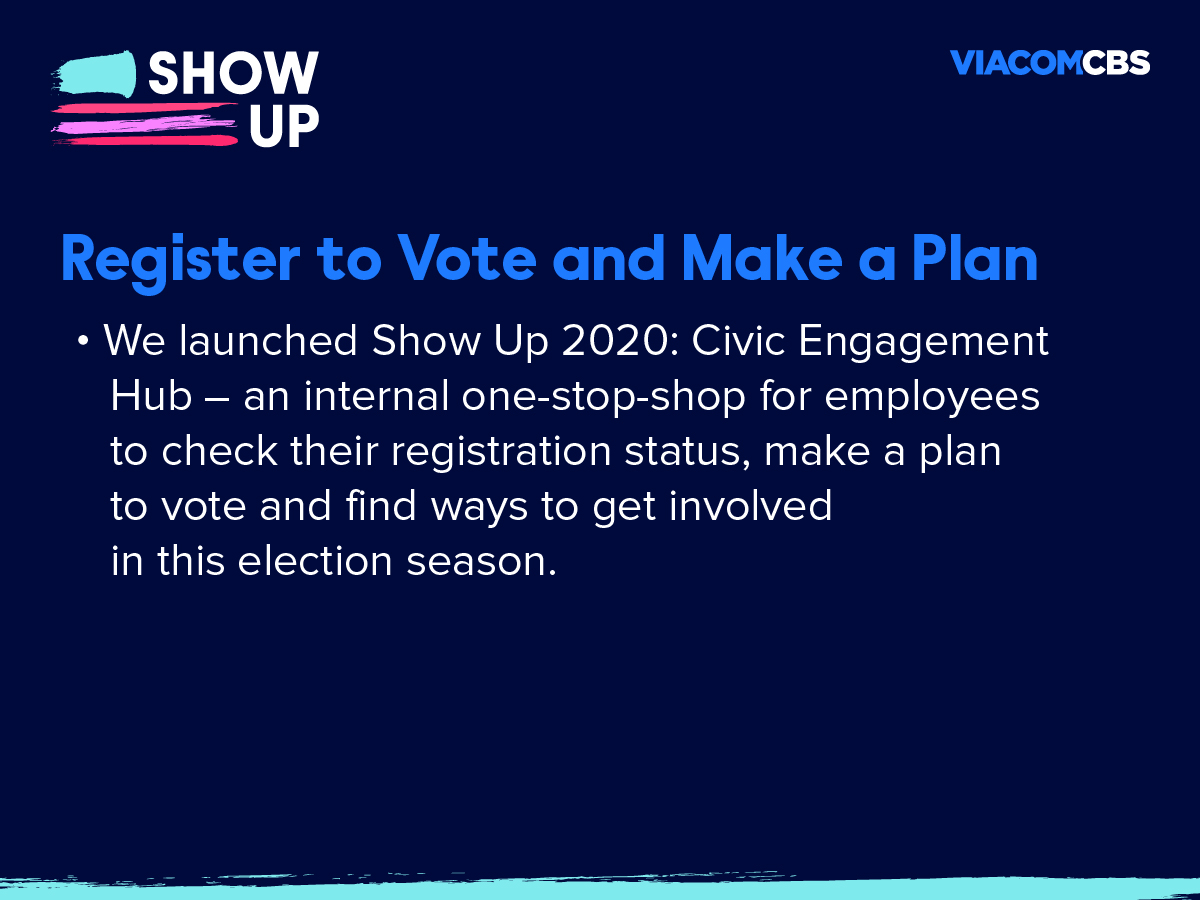 Civic engagement is in ViacomCBS' DNA, and the company is proud of everything its teams are doing to encourage a strong turnout and ensure a safe and fair election for all voters.
Click here to check your voter registration status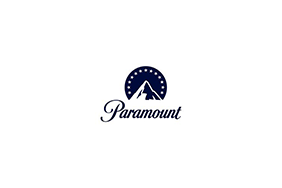 Paramount
Paramount
About Paramount Global
Paramount Global (NASDAQ: PARA, PARAA) is a leading global media and entertainment company that creates premium content and experiences for audiences worldwide. Driven by iconic studios, networks and streaming services, its portfolio of consumer brands includes CBS, Showtime Networks, Paramount Pictures, Nickelodeon, MTV, Comedy Central, BET, Paramount+, Pluto TV and Simon & Schuster, among others. The company delivers the largest share of the U.S. television audience and boasts one of the industry's most important and extensive libraries of TV and film titles. In addition to offering innovative streaming services and digital video products, Paramount Global provides powerful capabilities in production, distribution and advertising solutions.
More from Paramount