Published 10-08-20
Submitted by Net Impact
October 8, 2020 /CSRwire/ - While the mission and work of Net Impact have long included a focus on race and equity, on our journey towards anti-racism, Net Impact understands that we can and must continuously improve. In September 2020, thirteen founding members, along with Net Impact Board Advisors, Cecily Joseph, and Randy Strickland introduced the Net Impact Black Professional Chapter (NIBPC).
The NIBPC founding members will work to develop its specific chapter mission and focus areas in its inaugural year, serving as a catalyst to increased value and alignment across the greater Net Impact community. Founding member and Founder & CEO at J Aduke Consulting, Jochebed Bogunjoko shares, "It's an honor to be included in this renewed commitment to equity by Net Impact, and I'm elated to have the opportunity to help the broader Net Impact community move forward in our collective journey towards a just world." The NIBPC will help support and encourage Net Impact Central, its partners, and members in fulfilling their commitments to amplify the voices of BIPOC, and making decisions that promote greater equity.
"I appreciate the new visibility and platforms BIPOC are being granted, but it can't stop there," says Jarami Bond, founding member and Chief Storyteller at Bond Studio. "I'm excited to roll up my sleeves and help Net Impact influence greater and continued allyship amongst corporations and catalyze new narratives for black professionals in the impact sector."
In addition, the NIBPC will be stewards for the growing HBCU community within Net Impact and together, we will continue to build relationships, identify and inspire meaningful actions that enable Net Impact and other businesses, agencies, and institutions to truly becoming anti-racist.
Net Impact is honored to announce the founding members of the NIBPC:
Chutney Harper, Agricultural Business Lead at Bayer
Danielle Kayembe, CEO and Founder at GreyFire Impact
David Stevens, Founding Partner and CEO at Broaden Impact
DeJuan Woods, Director of Corporate Relations at Wayne State University
Ella Clausen, Red Tab Foundation at Levi Strauss & Co.
Jamerus Payton, Author, Entrepreneur, and Co-Founder of HBCU Wall Street
Jarami Bond, Chief Storyteller at Bond Studio
Jochebed Bogunjoko, Founder and CEO at J. Aduke Consulting
Keith E. Whitfield, Ph.D., 11th President of the University of Nevada Las Vegas
Melynnie Rizvi, Deputy General Counsel and Senior Director of Employment, Inclusion and Impact at SurveyMonkey
Philip L. McKenzie, Cultural Anthropologist/Strategist and Executive Director at AdvancingDiversity.org
Stefanie A. Thomas, Impact Venture Investor at Impact America Fund
Yusuf George, Managing Director of Corporate Engagement at JUST Capital
NIBPC advisors include: 
Cecily Joseph, Former Vice President of Corporate Responsibility & Chief Diversity Officer at Symantec Corporation and Advisor, Initiative for Equity and Social Justice at the Presidio Graduate School | Net Impact Board Chair
M. Randall (Randy) Strickland, Director at Cornerstone Capital Group, LLC and Adjunct Professor in the Sustainable MBA program at Bard College | Net Impact Board Member
Melynnie Rizvi, founding member and Deputy General Counsel and Senior Director of Employment, Inclusion and Impact at SurveyMonkey, says of their involvement, "I am honored to be selected to join this group of dynamic social impact leaders and excited to work together to advance racial equity in the broader Net Impact community."
The Net Impact Black Professional Chapter invites those in the sustainability and social impact ecosystem, who identifies as a Black professional, to join the Chapter. More details on programs, events, and initiatives lead by the NIBPC will be announced as they become available.
About Net Impact
Net Impact is a global community of students and professionals who aspire to be effective drivers of economic, social, and environmental change. Our programs—delivered from our headquarters in Oakland, CA, as well as globally through our 400+ Chapters—connect our members to the skills, experiences, and people that will allow them to have the greatest impact. With over 140,000 members, Net Impact takes on social challenges, protects the environment, invents new products, and orients business toward the greater good. In short, we help our members turn their passions into a lifetime of world-changing action. Visit www.netimpact.org.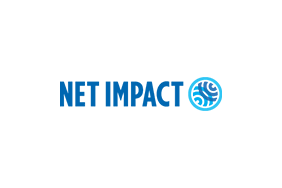 Net Impact
Net Impact
Net Impact is a global nonprofit inspiring a new generation to use their careers to tackle the world's toughest social and environmental problems. We empower student and professional leaders to act locally through our vibrant chapter network and connect globally online and through our flagship conference. By 2020, we will mobilize a million new leaders to drive positive change in the workplace and the world. For more information, please visit netimpact.org.
More from Net Impact