Published 10-07-20
Submitted by Action for Healthy Kids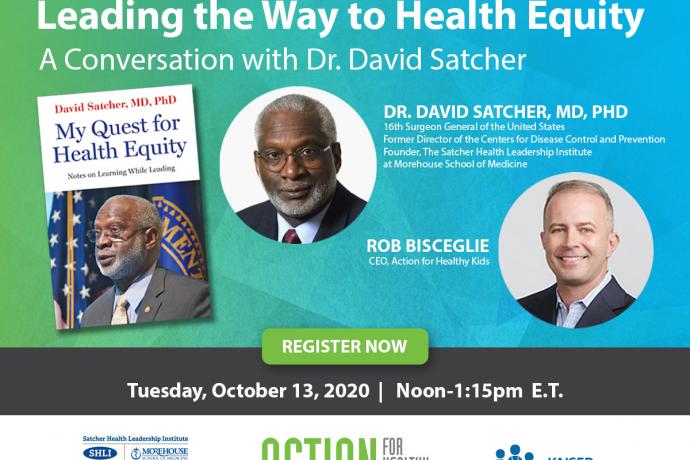 A Conversation with Dr. David Satcher on Health Equity
CHICAGO, Oct. 07 /CSRwire/ - Action for Healthy Kids (AFHK) will host a timely conversation on October 13 about health equity between CEO Rob Bisceglie and the organization's founder, Dr. David Satcher,16th surgeon general of the United States, former director of the Centers for Disease Control and Prevention, and founder of the Satcher Health Leadership Institute at Morehouse School of Medicine. One of the most widely known and respected health leaders of our time, Dr. Satcher will share insights from his recently released book, My Quest for Healthy Equity: Notes on Learning While Leading, as the keynote event to kick off the National School District Wellness Coalition's eighth annual convening. The virtual keynote, "Leading the Way to Health Equity: A Conversation with Dr. David Satcher," will take place Tuesday, October 13 from 11 a.m. to 12:15 p.m. C.T. Anyone interested in attending can register at actionforhealthykids.org/satcher-keynote.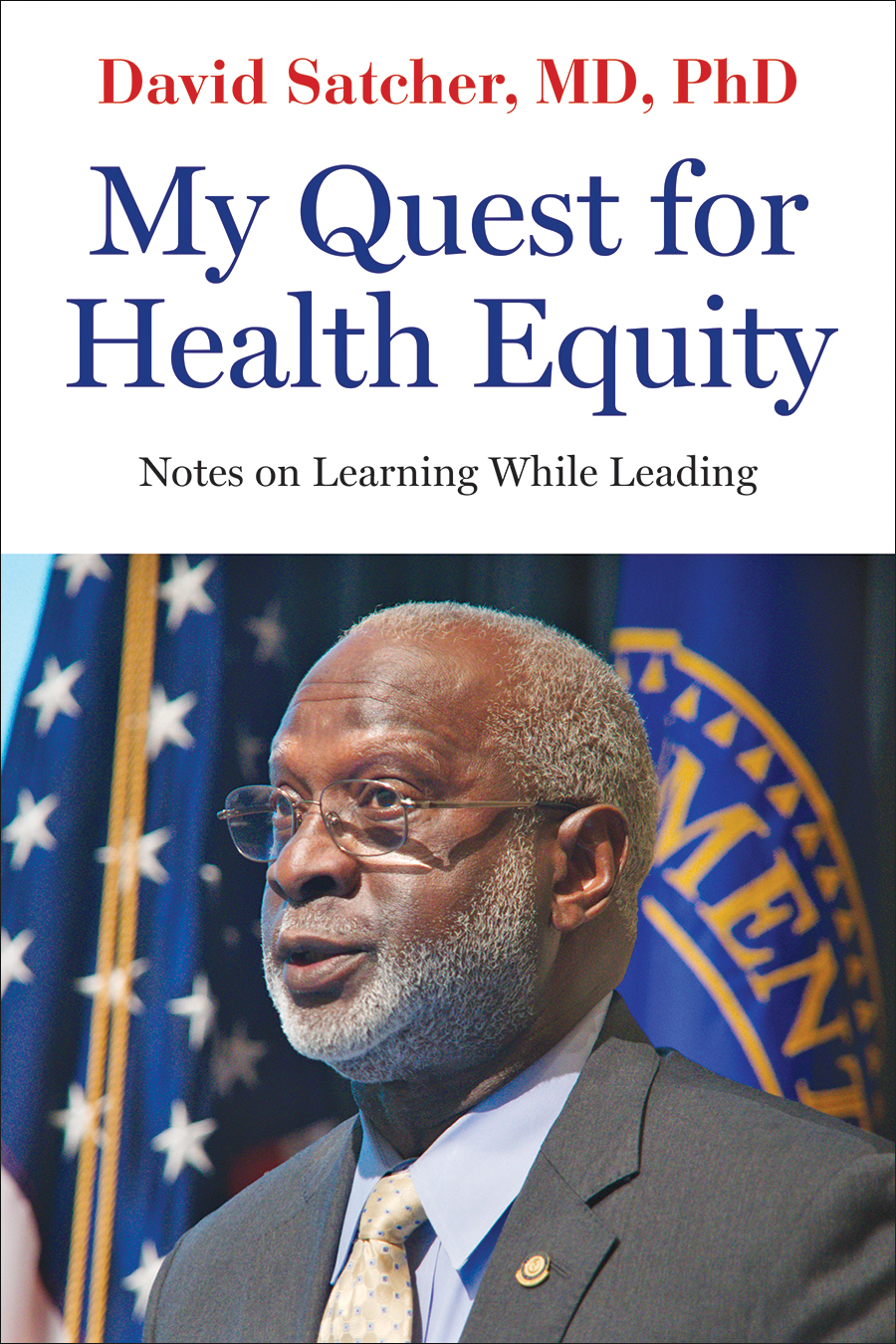 In spite of—or perhaps because of—a childhood unjustly lacking in quality healthcare and opportunity, Dr. Satcher committed his life to overcoming health inequities. His lessons of leadership come from his days as a young civil rights activist hearing Martin Luther King, Jr. speak and joining the Great March on Washington, to revitalizing struggling hospital systems and becoming the 16th Surgeon General of the United States, to founding Action for Healthy Kids and the Satcher Health Leadership Institute at the Morehouse School of Medicine.
In this discussion, Dr. Satcher and Mr. Bisceglie will discuss:
The most pressing health problems facing youth and the dire consequences of ignoring them
The leadership necessary to eliminate health disparities
Dr. Satcher's perspective as an early civil rights activist on tackling systemic racial injustice today
Leadership that moves the needle versus leadership that maintains status quo
Dr. Satcher's insights and wisdom will inspire a group of more than 100 health and wellness leaders from more than 30 of the nation's largest school districts gathering virtually Oct. 13-23 for the National School District Wellness Coalition convening. In 2013, AFHK founded the Urban School Wellness Coalition to help support large, urban districts in meeting the unique health and well-being needs or urban students through a collective impact approach. In 2020 the coalition became the National School District Wellness Coalition to expand and include rural and suburban school districts to come together and advance the implementation of comprehensive school wellness policies in their districts and nationwide in support of the Whole School, Whole Community, Whole Child (WSCC) model. 
Additional keynote speakers during the convening will include: Sean Slade, Senior Director of Global Outreach at ASCD on Leading with the WSCC Model During Uncertain Times; and Alicia Monroe, Ed.D., CEO/Founder, Solutions for Sustained Success LLC and Adjunct Professor, College of Humanities and Social Sciences & College of Education, Rowan University speaking on Navigating the WSCC Framework through a Lens of Equity.
Anyone may register for these open sessions at connect.space/nsdwc-2020-convening. School districts interested in joining the coalition and participating in the convening are invited to visit actionforhealthykids.org/NSDWC for more information. 
The keynote event featuring Dr. Satcher is sponsored by Kaiser Permanente, a sponsor of AFHK and the National School District Wellness Coalition convening, and by Morehouse School of Medicine and the Satcher Health Leadership Institute. CSX is also a sponsor of AFHK and the convening.
Attendees of the keynote event will receive a code for a 30% discount off the purchase of My Quest for Health Equity: Notes on Learning While Leading, available at Johns Hopkins online at jhupbooks.press.jhu.edu. 
About Action for Healthy Kids®​
Action for Healthy Kids is a national nonprofit organization committed to the belief that healthy kids create a better world. As kids today face more challenges than ever to their physical and emotional health and well-being, we mobilize family-school partnerships that prepare them to be healthy in body and mind. Through a holistic approach that offers funding opportunities, technical assistance, content, trainings, and a network of parent leaders, we collaborate with families, schools and school districts in underserved communities to support three key areas of child health: food access and nutrition education; physical activity and active play; and  social emotional learning and risk behavior prevention. To learn more, donate, and get involved, visit us at actionforhealthykids.org.
###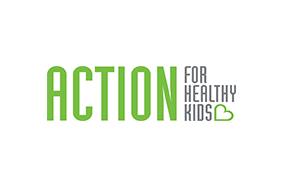 Action for Healthy Kids
Action for Healthy Kids
Action for Healthy Kids is dedicated to improving children's health and well-being by bringing together educators, families and other key stakeholders to help children lead healthy lives. Through our flagship programs, Game On and Parents for Healthy Kids, programmatic support, and funding opportunities, we impact more than 20 million children in 55,000 schools nationwide and in underserved communities where we can have the greatest impact. Action for Healthy Kids is the organizational home of Active Schools, formerly known as Let's Move! Active Schools, a collective impact movement of public and private sector partner organizations working to prioritize physical education and physical activity in schools. To learn more about the ways our growing network of 140,000+ volunteers and champions is helping to make sure every kid is healthy, active and ready to learn and thrive, visit us at actionforhealthykids.org.
More from Action for Healthy Kids