Published 09-30-20
Submitted by Mohawk Industries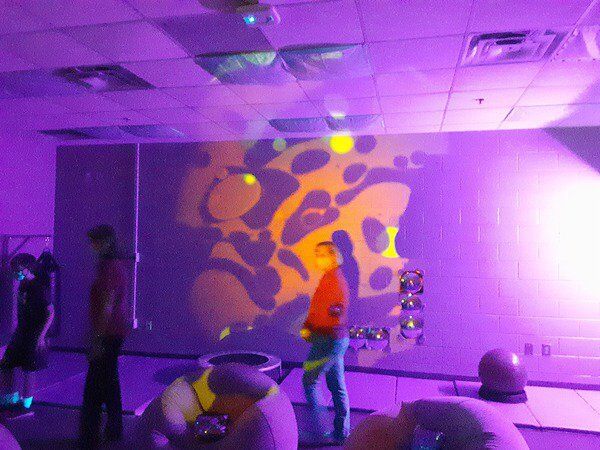 Images projected on a wall in the sensory room of New Hope Middle School
Originally published by Daily Citizen-News
New Hope Middle School officially opened its new Kodiak Calming Cove, a sensory room for children with special needs, recently, and "it'll make a big difference for students to have a safe space they can go into," said Belinda Sloan, the school's principal.
"They can go in, then back out into the learning environment, (as) our goal is for them to be here at school," Sloan said. Using the sensory room will help these students foster better relationships with teachers and peers, as "we have the autism resource class for middle school in our system, and we have a self-contained special education class."
Even before the 2020-21 school year began, several families were privy to a sneak peek, and "they loved the space,'' Sloan said, adding, "This room is unbelievable."
The school began using the room with the students on the first day of school, she said. "We couldn't wait to use it, and we've loved every minute of it."
It's been "emotional for me to see kids come in and use it," said teacher Cami Baldivid, who wrote the application for a Georgia United Credit Union Foundation School Crashers grant. "It's a safe space in the school for them to develop body awareness, discover calming strategies and learn how to maintain focus."
The sensory room contains a wide range of features for students with special needs, from a chair that pulsates along with the beats of music, to a punching bag, swing and trampoline. The room can be darkened as a relaxation tool, while rainbow colors shine from coruscating lights.
"Teachers had a wish list, and it was accomplished, so we're very excited," Sloan said. Students can even relax in cushy chairs with weighted blankets, and because the room has no outside windows, "we can really create a calming environment."
Images projected on a wall "are never the same, and kids like that," Baldivid said. "It's a lot like a lava lamp."
The chair that vibrates with music is already a favorite of several students, and "that was a 'Santa Claus thing,'" Baldivid said. "We put it on the list, but didn't really think we'd get it, so it's amazing we did, and this room is so special."
Chase Vowels, 12, demonstrated several of the room's offerings, and he noted the chair is his favorite feature.
"He likes (everything)" in the sensory room, though, not solely that chair, and "he tells me about it every day," said his father, Gary. "This is awesome."
The remodeling of the room was completed this summer, courtesy of a $20,000 School Crashers grant from Georgia United, said Liz Riffert, community development officer for Georgia United. This was the seventh year of School Crashers, and while nearly 300 schools applied for grants, New Hope Middle School boasted "an excellent application (that detailed) how this room would really benefit students."
Baldivid, Sloan and teacher Krisie Howard crafted an application that "really spoke to the judges," as they outlined not only what they'd put in the sensory room, but precisely how those items would help students, said Kim Wall, director of business and community development for Georgia United. "It's cool to see it go from concept to reality."
This was the first time Georgia United awarded a School Crashers grant to "create such a truly unique space," said Aaron Chestnut, chief marketing officer for Georgia United. "We are excited to see the many students with exceptionalities that range from autism, intellectual disorders and physical impairments to visual impairments and oppositional defiant disorders benefit from this incredible sensory room experience."
"We take great pride in being an active and impactful member of our community and believe that giving back is not only the right way, but the only way," Chestnut added. Georgia United is a longtime supporter and partner of education, driven to "provide students with enjoyable environments that inspire them to learn and play."
Several community partners also assisted with the room, including the Whitfield County maintenance department, which anchored the punching bag and swing, among other contributions, and Mohawk Industries, which donated the flooring and provided employees who helped with painting the walls and other tasks.
"Mohawk is a 200-year-old publicly traded company, and giving back is in our DNA," said David Dembowitz, senior vice president of sales. "It makes us feel really good to see how this is impacting students," and with so many Mohawk employees from North Georgia, there's no doubt children of some of those staff hemembers "come through these halls."
"Education is foundational in our community for all children, and we believe in educational equality," Dembowitz said. "We're excited to see students thrive here."
Sloan was tasked with identifying a room for this new space, and she selected what had been a computer lab.
Because the school and system are transitioning more to personal devices like Chromebooks, computer labs with bulky desktops are becoming anachronisms, and those computers were "really, really old," Sloan explained this summer. "We were going to dismantle the lab, anyway, because it would have cost too much to renovate."
Baldivid had been aware of School Crashers, and Sloan had sent a reminder to staff about grant opportunities, including this one, Baldivid explained this summer. She also had recently watched a video about a sensory room as part of her professional development, so "I thought 'Wouldn't it be great if we had a sensory room for our children?'"
In the sensory room, "everything has a remote so we can control it, and everything is portable so we can move it around," Baldivid said. "There's nothing in here I didn't ask for, and I'm so happy for our school."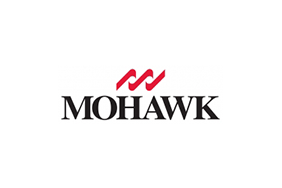 Mohawk Industries
Mohawk Industries
Mohawk Industries: Mohawk Industries is the leading global flooring manufacturer that creates products to enhance residential and commercial spaces around the world. Mohawk's vertically integrated manufacturing and distribution processes provide competitive advantages in the production of carpet, rugs, ceramic tile, laminate, wood, stone and vinyl flooring. Our industry-leading innovation has yielded products and technologies that differentiate our brands in the marketplace and satisfy all remodeling and new construction requirements. Our brands are among the most recognized in the industry and include American Olean, Daltile, Durkan, Karastan, Marazzi, Mohawk, Mohawk Group, Pergo, Unilin, Quick-Step and IVC. During the past decade, Mohawk has transformed its business from an American carpet manufacturer into the world's largest flooring company with operations in Australia, Brazil, Canada, Europe, India, Malaysia, Mexico, New Zealand, Russia and the United States.
More from Mohawk Industries