Published 09-30-20
Submitted by Adobe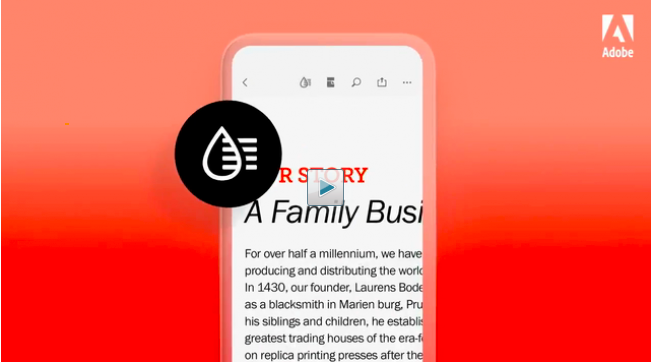 Digital experiences have never been more critical — cutting across all industries and impacting daily work and personal lives. And this has never been more apparent than the demand we're seeing for our Document Cloud products and services, which have skyrocketed. Adobe Sign usage has risen more than 200 percent, and Acrobat DC monthly active users have more than doubled in 2020, reflecting the growing role PDF plays across all segments of the economy. In fact, we estimate that there are more than 2.5 trillion PDFs in the world today.
Building on this continued momentum, today we're excited to unveil Liquid Mode — the first step in a multi-year vision to fundamentally change the way people consume digital documents, and how organizations extract document intelligence to gain a competitive advantage. Leveraging the power of Adobe Sensei — our cutting-edge AI framework — to understand the structure of PDFs, we have begun to reimagine how people read and interact with digital documents, starting with reinventing mobile productivity beyond the 8.5x11 page.
Introducing Liquid Mode
Manifesting the future of PDF, Liquid Mode delivers a breakthrough reading experience that enables a much easier way to read documents on mobile. Consuming content on mobile has long been a painful experience — especially if a document is long and wordy. In fact, new Adobe research shows that 65 percent of Americans find it frustrating; 45 percent stopped reading or didn't even try; and 72 percent say they would work on their mobile device more if it were easier to read documents.
For that reason, we're debuting Liquid Mode first in the free Adobe Acrobat Reader mobile app for iOS and Android, including Google Play Store-compatible Chromebooks, then bringing it to desktops and browsers.
With the push of a button, Liquid Mode automatically reformats text, images, and tables for quick navigation and consumption on small screens. Powered by Adobe Sensei, Liquid Mode uses AI and machine learning in the background to understand and identify parts of a PDF, like headings, paragraphs, images, lists, tables, and more. It also attempts to understand the hierarchy and ordering of those parts to reformat a static PDF into a more dynamic and customizable experience.
Liquid Mode simultaneously creates an intelligent outline, collapsible and expandable sections, and searchable text for quick navigation. Users can even tailor font size and spacing between words, characters, and lines to suit their specific reading preferences. This is especially useful for those who may see text as too small, squished together, tight, or jumbled. With Liquid Mode, pinching and zooming is no longer necessary. Words are resizable and reflowable, images are tappable and expandable, and tables are responsive.
We've gone to great lengths to be thoughtful and methodical in addressing the most common reading pain-points, but it is still early days for the technology behind Liquid Mode. Like all machine learning, the more documents pass through Liquid Mode, the more knowledge it will gain to expand its functionality and improve its reliability.

Adobe
Adobe
Adobe is changing the world through digital experiences. For more information, visit www.adobe.com.
More from Adobe