Published 09-29-20
Submitted by Biogen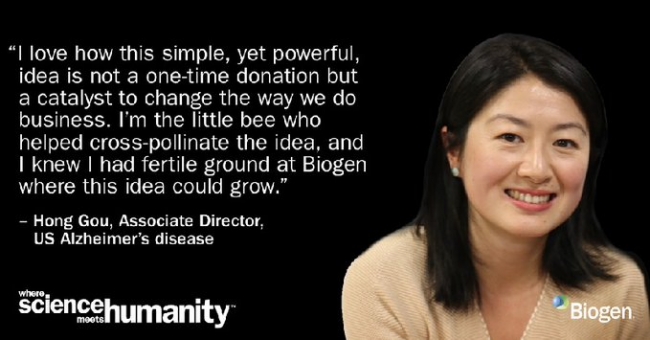 Hong Gou had only been with Biogen for three months when she received a message from a former business school classmate. The classmate, who works at Netflix, submitted a proposal directly to CEO Reed Hastings for the media and production company to deposit its cash into minority-owned banks to promote economic empowerment. Now the classmate was encouraging similar action among his network.
"I wasn't sure how to approach the idea," said Gou, an Associate Director in the U.S. Alzheimer's marketing team.
It was around that time that Alisha Alaimo, President of the Biogen U.S. Organization, held an open forum about racial injustice. "I hadn't met her yet, but because of her leadership and her opening up about the racial issue surrounding George Floyd's death, I felt comfortable bringing up this idea and knew she would do something about it," Gou said.
In August, Biogen deposited $10 million at OneUnited Bank, the largest Black-owned bank in America. The $10 million deposit allows the bank to focus on Black and African-American economic empowerment, allowing its customers to gain better control and organization of the $1.2 trillion in Black and African-American annual spending.
"With this sizable deposit and support, Biogen leads by example, understanding that national corporate support for Black-owned businesses is good for America," said Kevin Cohee, Chairman and CEO of OneUnited Bank.
Currently, there are only 21 Black- and African-American-owned banks in the United States, a decline from the 36 a decade ago. Collectively they control $4.8 billion, less than 1% of the nation's banking assets.
"OneUnited has the important role of helping to finance growth in Black and African-American communities. We are proud to do our part to support families and businesses on their financial journey, especially during these difficult economic times," says Mike Dambach, Vice President of Treasury.
Dambach and his team are hoping to develop a relationship with a minority-owned bank in North Carolina.
"I love how this simple, yet powerful, idea is not a one-time donation but a catalyst to change the way we do business. I'm the little bee who helped cross pollinate the idea, and I knew I had fertile ground at Biogen where this idea could grow. Mike was the one who shaped the idea and made it happen," Gou said.
A key pillar of Biogen's enhanced Diversity, Equity & Inclusion strategy is to Promote Economic Empowerment, also aiming to grow the company's supplier diversity program, sourcing from minority-owned, women-owned, veteran-owned and small businesses.
For more information, please contact:
There is currently no contact information.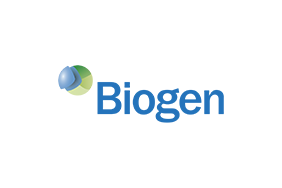 Biogen
Biogen
At Biogen, our mission is clear: we are pioneers in neuroscience. Biogen discovers, develops and delivers worldwide innovative therapies for people living with serious neurological and neurodegenerative diseases as well as related therapeutic adjacencies. One of the world's first global biotechnology companies, Biogen was founded in 1978 by Charles Weissmann, Heinz Schaller, Kenneth Murray and Nobel Prize winners Walter Gilbert and Phillip Sharp. Today Biogen has the leading portfolio of medicines to treat multiple sclerosis, has introduced the first approved treatment for spinal muscular atrophy, commercializes biosimilars of advanced biologics and is focused on advancing research programs in multiple sclerosis and neuroimmunology, Alzheimer's disease and dementia, neuromuscular disorders, movement disorders, ophthalmology, immunology, neurocognitive disorders, acute neurology and pain. We routinely post information that may be important to investors on our website at www.biogen.com. To learn more, please visit www.biogen.com and follow us on social media - Twitter, LinkedIn, Facebook, YouTube.
More from Biogen