Published 09-28-20
Submitted by The Mosaic Company
Not only are we committed to helping the world grow the food it needs at Mosaic, we are also dedicated to helping to provide the food our communities need to thrive. September is Hunger Action Month – a time when everyone can take action and a stand against food insecurity. Millions of families struggle to find their next meal, so whether it is donating, volunteering, or just sharing to bring awareness, we can all do our part. And as an employee, you can be proud that Mosaic has taken a stand by supporting organizations across the world.
Supporting Through the Pandemic:
During these unprecedented times, food insecurity is at an all-time high. Feeding America estimates that 54 million people in the U.S. may be food insecure in 2020, including 18 million children. The Mosaic Company, The Mosaic Company Foundation and The Mosaic Institute in Brazil have donated more than $1.5 million to help feed the hungry and provide critical supplies to farmers and neighbors. In Brazil, Mosaic purchased 20,000 food baskets and 30,000 hygiene and personal care kits from local, small businesses to be donated to families in need. The baskets included essential items like rice, beans, oil, sugar, salt, fruits and vegetable, sanitizers, cleaning products and more. The baskets and kits were distributed by the Mosaic Brazil Volunteer Program and Governmental Social Protection Agencies.
Year-round Support:
Mosaic donated more than $2.5 million to hunger relief across the globe. Here are just a few of the organizations we partnered with last year:
North America
On average in North America, Mosaic supports more than 136 organizations investing nearly $1.7 million annually. Nearly 3 million meals have been provided to families in need in Canada where we invest in food security and education initiatives.
U.S. – Florida
Mosaic renewed its partnership with the Tampa Bay Lightning and the Goals for Food program. Prior to the National Hockey League (NHL) pause, Mosaic was set to donate $70,000 tied to Lightning goals scored during the 2019-20 regular season. Due to the pandemic, Mosaic added an additional $130,000 for a grand total of $200,000. To date, Mosaic has provided 6 million meals to local families in Florida and contributed over $250,000 to hunger relief programs in Saskatchewan through partnerships with the NHL's Tampa Bay Lightning and the Western Hockey League's (WHL) Regina Pats and Moose Jaw Warriors. 
Mosaic proudly supports several local high schools in our operating areas. One we've partnered with for years is Hardee High School in Hardee County, Florida, where our South Fort Meade mine is located. The first bell of the 2020-2021 school year rang on Aug. 12, making it very important to restock the school's food pantry to serve the high school's student population who are food insecure. The food pantry opened two years ago with support from Mosaic. It continues to operate with Mosaic's contributions and with the willingness of the school's staff and service clubs to keep the pantry stocked during the school year. To learn more about the food pantry at Hardee High, watch the video here.
The Mosaic Company Foundation made a $500,000 grant to Meals on Wheels of Tampa to support their More-Than-A-Meal capital campaign to build a new LEED Silver certified facility. Slated to open in 2020, the new building will nearly double in size – from 4,670 square feet to over 8,000 — and allow the organization to increase services from 1,350 to 3,000 meals a day to seniors and homebound neighbors.
U.S. – Minnesota
Our Minnesota employees, along with family and friends, took part in the Walk to End Hunger supporting Second Harvest Heartland. Mosaic is proud to sponsor this annual event which raises funds and awareness about food insecurity.
Canada - Saskatchewan
A proud supporter of the Saskatoon Food Bank & Learning Centre's Garden Patch program. The Garden Patch grows thousands of pounds of produce for the Emergency Food Basket Program at the Saskatoon Food Bank, providing roughly 85,750 baskets to the city annually, directly impacting over 233,000 families. In addition, The Gardens Patch runs workshops, tours, and garden work experience programs sponsored in part by The Mosaic Company.
Since 2006, we have hosted the Mosaic Extreme School Makeover Challenge in partnership with the Saskatchewan School Boards Association. Each year, ten schools receive $10,000 to improve their school nutrition program. The Challenge helps to encourage grassroots nutrition-focused initiatives in Saskatchewan.
Mosaic made a $100,000 grant to Carmichael Outreach to support construction of a full commercial kitchen in their new building on 12th Avenue in Regina. The new kitchen will allow Carmichael to serve meals indoors, as opposed to operating as a take-out kitchen for years prior. This new space will also provide Carmichael an opportunity to run their nutrition courses more efficiently, providing patrons with the skills and knowledge needed to prepare healthy, affordable meals on their own.  
Souls Harbour Rescue Mission received a $150,000 grant to help build a dining hall in the new building on Angus Street in Regina. The space allows the organization to serve twice the number of people and doubles as a men's shelter each evening, doubling the capacity of their previous shelter from 12 to 24 spaces.
Employees in Belle Plaine hosted the 4th annual Chili Cook-off which raised a record amount for Chili For Children – a non-profit organization that provides nearly 900 children with hot lunches daily at schools in the city's inner-city neighborhoods. In addition, since the start of the pandemic, Chili for Children stepped up for the community in a big way, alongside other local organizations, with the city's Bagged Lunch Program. With the help of Mosaic's $50,000 donation towards the initiative, about 1000 bagged lunches are delivered daily across Regina, 200 of those lunches were through Chili for Children. In 2019, Mosaic also donated to the organization to help outfit their mobile concession trailer with a hot water system allowing them to serve lunches to more students.
Mosaic committed $375,000 over three years to Regina Education and Action on Child Hunger (REACH) in support of community kitchens, nutrition and cooking classes, and the Mosaic-branded van for delivery of the Mobile Markets. All of this allows families to be self-sufficient by meeting both dietary and financial needs through non-emergency sources. This benefits over 12,000 individuals per year, over half of which are children.
Brazil
The Mosaic Fertilizantes Volunteer Program (Programa Voluntários Mosaic Fertilizantes) has supported World Food Day in 2019 with deliveries from their Food Collection Campaign. In total, Mosaic Fertilizantes collected 190 tons of shelf-stable groceries in less than a month through employee food drives, a match from Mosaic Fertilizantes' foundation (Mosaic Institute) and the Alimentação program.
For more information, please contact:
There is currently no contact information.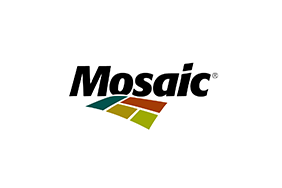 The Mosaic Company
The Mosaic Company
The Mosaic Company is the world's leading combined producer and marketer of concentrated phosphate and potash, two of the primary nutrients required to help the world grow the food it needs. Mosaic engages in every phase of crop nutrition, from the mining of resources to the production of crop nutrients, feed and industrial products for customers around the globe. Our customer base includes wholesalers, retail dealers and individual growers in more than 40 countries.
Headquartered in Plymouth, Minn., Mosaic employs approximately 8,000 people in eight countries. Our shares trade on the New York Stock Exchange under the ticker symbol MOS.
More from The Mosaic Company