Published 09-23-20
Submitted by Moody's Corporation
The Network for Teaching Entrepreneurship (NFTE) today announced that its World Series of Innovation is now open to teams of young social entrepreneurs to partake in any of the competition's nine customized challenges, including two challenges from Moody's. Now entering its eleventh year, the World Series of Innovation has grown into a global online competition that attracts thousands of young people from dozens of countries. The competition helps participants learn more about the United Nations Sustainable Development Goals (SDGs) while developing entrepreneurial skills such as opportunity recognition, creativity, collaboration, critical thinking, and problem solving.
Teams competing in this challenge cycle are being asked to come up with innovative ideas for products, services, policies, or initiatives that could advance one or more of the UN SDGs. The prize pool totals $21,600 and Moody's challenges include:
Additional challenges include:
NFTE president and CEO, Dr. J.D. LaRock, said, "In these uncertain times, more young people are embracing entrepreneurship as way to take ownership of their futures. Competitions such as the NFTE World Series of Innovation not only provide opportunities for learners to develop their entrepreneurial mindset, but also to see how their passions for social and environmental justice can drive innovation. That's empowering for young people. It's also inspiring for us. We are seeing an emerging generation of impact entrepreneurs."
The World Series of Innovation challenges are open to youth who are at least 13 years old but not more than 24 years old as of December 31, 2020. The submission period is open, and entries can be submitted now through 11 p.m. Eastern Standard Time on December 14, 2020. Prizes will be awarded in 2021. For full details on the challenges, sponsors and prizes, visit innovation.nfte.com.
About NFTE
Network for Teaching Entrepreneurship (NFTE) ignites the entrepreneurial mindset with unique learning experiences that empower all students to own their futures. Research shows the entrepreneurial mindset—a set of skills including initiative, self-reliance, adaptability, creativity, critical thinking, problem solving, communication, and collaboration—leads to lifelong success. Empowered by the entrepreneurial mindset and equipped with the business and academic skills NFTE teaches, program alumni are prepared to thrive. NFTE works with schools and community partners across the U.S. and alliances with global youth development organizations bring NFTE programs to additional young people in ten countries around the world. NFTE has served well over a million students since its founding. Learn more at nfte.com.
About Moody's
Moody's (NYSE: MCO) is a global integrated risk assessment firm that empowers organizations to make better decisions. Our data, analytical solutions and insights help decision-makers identify opportunities and manage the risks of doing business with others. We believe that greater transparency, more informed decisions, and fair access to information open the door to shared progress. With over 11,200 employees in more than 40 countries, Moody's combines international presence with local expertise and over a century of experience in financial markets. Learn more at moodys.com/about.
Moody's builds toward a world where more people have access to opportunity, and where everyone has what they need to grow and thrive. We are committed to opening the door to brighter futures through our global corporate social responsibility programs connecting people around the world with the knowledge and resources they need to succeed. For more information visit moodys.com/csr.
---
Contact
Jordan Brueckner
Communications
jordan.brueckner@moodys.com
(212) 553-7931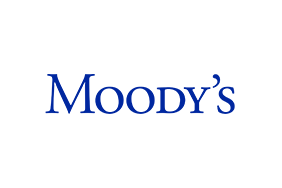 Moody's Corporation