Published 09-10-20
Submitted by 3BL Media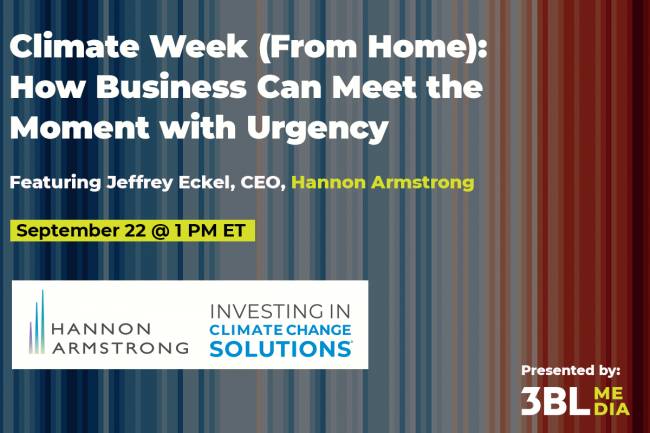 Register now for "Climate Week (From Home): How Business Can Meet the Moment with Urgency" on September 22 at 1 p.m. ET.  
Record-breaking wildfires are raging through California, temperatures in Colorado have plunged from sweltering to freezing and Los Angeles County set a new high temperature of 121 degrees.  
In the moment we're in today — months away from a pivotal presidential election, in the midst of a global pandemic and a reckoning around social and racial justice in our country — many are concerned that climate issues may be pushed to the back burner. 
Despite this, we've seen many climate activists become further galvanized by all that's happening, pointing out how climate justice and racial justice are inextricably linked and warning that the horrors of the coronavirus pandemic are merely a dress rehearsal for what's to come in a scenario of unchecked climate change. 
Join Hannon Armstrong CEO Jeffrey Eckel and 3BL Media on September 22 at 1 p.m. ET for a conversation on how business leaders can harness the moment we're in to push for greater urgency on climate action.  
Hannon Armstrong is the first U.S. public company solely dedicated to investments in climate change solutions, providing capital to leading companies in energy efficiency, renewable energy, and other sustainable infrastructure markets.
Eckel will also discuss why he penned an open letter to Mark Zuckerberg advocating for Facebook to flag and remove misinformation about climate change and how business can play a role in "Building Back Better" by creating new systems with eyes toward environmental justice and decarbonization.
About 3BL Media
3BL Media delivers purpose-driven communications for the world's leading companies. Our unrivaled distribution, leadership and editorial platforms inspire and support global sustainable business. Learn more here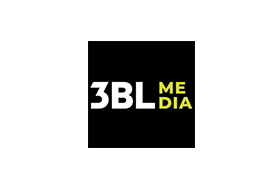 3BL Media
3BL Media
3BL Media is the world's leading communications partner for purpose-driven organizations. Through content distribution, multi-media promotion and hands-on learning experiences, we connect organizations to an unrivaled network of sustainability professionals, journalists, bloggers, investors, academics, policymakers and influencers who are passionate about engaging on topics like education, environment, community involvement, supply chain and circular economy, volunteering and the Sustainable Development Goals.
More from 3BL Media