Published 08-27-20
Submitted by Taproot Foundation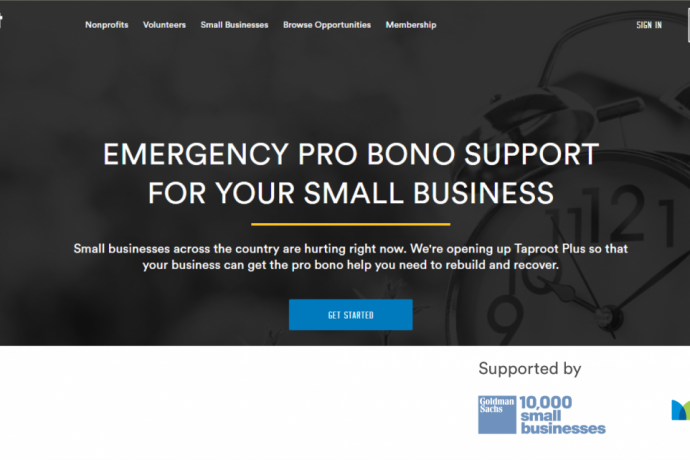 In response to the dire economic challenges presented by COVID-19, Taproot Foundation, a national nonprofit that connects organizations with volunteers sharing their professional expertise pro bono, today announced it will open its online volunteer matchmaking program to small businesses in need of professional consulting support. Taproot Plus for Small Business is made possible in part by support from MetLife Foundation and Goldman Sachs 10,000 Small Businesses.
Taproot Plus, Taproot's open-access online platform, launched in 2015 and has since directed over $35 million worth of pro bono services to organizations in need. Through Taproot Plus for Small Business, businesses can request 60-minute virtual consultation sessions with experts to troubleshoot and brainstorm in the areas of marketing, HR, technology, strategy, or finance.
In 2018, the U.S. Small Business Administration reported that there were 30.2 million small businesses in the U.S., making up over 99.9 percent of all businesses[1]. Recently, nearly half of these small businesses reported that they are very concerned about the impact of COVID-19[2] and could benefit from guidance in areas like financial planning and modifying business models, as well as technical training for social media and website development[3].
Since the organization's founding in 2001, Taproot has partnered with foundations and corporations across the globe to develop and implement pro bono programs to provide the necessary professional expertise and capacity that organizations need to thrive.
"The difficult situation that so many small businesses are in is affecting every other part of our society's fragile ecosystem, and in particular disproportionately impacting communities of color," said Taproot Foundation President & CEO, Lindsay Firestone Gruber. "We believe equitable access to resources is essential to rebuilding our communities. With the power of our scaled, open-access platform at their disposal, businesses can get immediate access to resources they so desperately need to recover and restore economic stability."
"We've seen firsthand that pro bono volunteer service can provide valuable insights and an expanded network that help small businesses grow." said Jessica Taylor, National Director of Goldman Sachs 10,000 Small Businesses. "Our 6-year partnership with the Taproot Foundation has yielded tremendous results for the entrepreneurs we serve, and we are eager to support them in sharing this resource with the thousands of small businesses in our network."
"Small businesses form the backbone of local communities," said Dan Kamins, Director of Employee Engagement and Volunteerism, MetLife. "MetLife Foundation is supporting the expansion of Taproot's pro bono program so that as small businesses recover from the impact of the COIVD-19 pandemic and begin to plan for the future, they can benefit from the expertise of skilled volunteers."
To learn more about corporate memberships for Taproot Plus visit taprootplus.org/membership.
To learn more about accessing help for a small business visit taprootplus.org/smallbusiness.
About the Taproot Foundation
Taproot Foundation, a U.S. based nonprofit, connects nonprofits and social change organizations with passionate, skilled volunteers who share their expertise pro bono. Taproot is creating a world where organizations dedicated to social change have full access—through pro bono service—to the marketing, strategy, HR, and IT resources they need to be most effective. Since 2001, Taproot's skilled volunteers have served over 7,500 social change organizations providing more than 1.7 million hours of work worth over $204 million in value. Taproot has offices in New York City, Chicago, San Francisco, and Los Angeles, and co-founded a network of global pro bono providers in over 30 countries around the world. www.taprootfoundation.org  @taprootfound
---
[1] U.S. Small Business Administration 2018 Small Business Profile
[2] U.S. Chamber of Commerce and MetLife Small Business Coronavirus Impact Poll, June 2020
[3]National Main Street Center, The Impact of COVID-19 on Small Businesses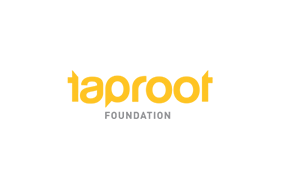 Taproot Foundation
Taproot Foundation
The Taproot Foundation is the provider of pro bono services to the nonprofit sector. It works to engage the country's millions of business professionals in pro bono service, building the infrastructure of organizations we rely on to strengthen and support our communities. Their pro bono model leverages the best practices of leading professional services companies to deliver reliable and quality marketing, human resources and technology services using corporate employees. Since 2002, the Taproot Foundation has recruited over 3,500 business professionals to awarded over $12 million in pro bono services to nonprofits in New York, Chicago and the San Francisco Bay Area.
More from Taproot Foundation