Published 08-18-20
Submitted by Green Mountain Energy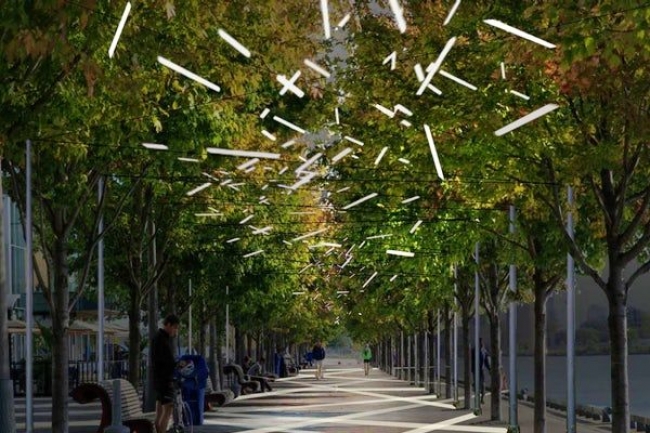 Discovery Green, the 12-acre park in the heart of downtown Houston, announced The Green Mountain Energy Sun Club Allée, a project funded by a $300,000 grant from The Green Mountain Energy Sun Club. Welcoming visitors entering at the northwest corner of the park, the new allée features approximately 70 LED light fixtures of varying lengths suspended from the tree canopy, projecting a lattice design onto the walkway below. The lights are designed to evoke memories of the childhood favorite game of pick-up sticks.
The project, completed by Forney Construction LLC, is the latest in a $13.3 million park-wide master plan that includes new trees, an updated playground, expanded restrooms and improved lighting. The Discovery Green Conservancy and The Green Mountain Energy Sun Club along with Mayor Sylvester Tunrer announced the allée during a performance featuring The Voice season 15 contestant and Kinder HSPVA senior Sarah Grace that was streamed on the park's Facebook page on Monday, August 17. The new allée is now open to the public.
"Over the years, the neighborhood surrounding Discovery Green has changed to include more residential buildings and entertainment venues," said Barry Mandel, President of Discovery Green. "These changes are drawing more visitors to enjoy the park later in the evenings. Thanks to the generosity of The Green Mountain Energy Sun Club, we've been able take the next step in our park-wide improvement plan to increase security and ensure the park remains a well-lit and fun space for Houstonians at all times."
Since the park opened in 2008, Discovery Green has maintained a commitment to the highest standards of sustainability in its design and operations. Green Mountain Energy is Discovery Green's official green energy provider powering the park for the past 12 years with 100 percent renewable energy, which offsets carbon dioxide (CO2) pollution. The use of energy-efficient LED lighting fulfills that mission while enchancing the beauty and safety of the public space. With the support of The Green Mountain Energy Sun Club, the grand allée's lighting will conserve 3,592 kilowatt hours annually, keeping 3.6 metric tons of carbon dioxide out of Houston's environment each year.
"Since 2002, Green Mountain Energy Sun Club has been committed to advancing sustainability in our communities and this year marks a special milestone for us, as we have now reached $10 million in sustainability grants for nonprofit organizations," said Mark Parsons, vice president and general manager at Green Mountain Energy. "The Green Mountain Energy Sun Club Grand Allée improves walkability, pedestrian and cyclist safety in the heart of Downtown. Powered by renewable energy, Discovery Green stands as an example of environmental best practices as we work together to reduce greenhouse gas emissions and achieve the goals of the Houston Climate Action Plan."
The Green Mountain Energy Sun Club was formed in 2002 by Green Mountain Energy, the nation's longest-serving renewable energy retailer. Over the past 18 years, the Sun Club has supported more than 122 projects from nonprofit organizations seeking to enhance their own sustainability goals while reinforcing Green Mountain's mission to change the way power is made. The success of Sun Club is greatly dependent on the generous support of our Green Mountain Energy, its employees and its customers in Texas and the Northeast.
The Green Mountain Energy Sun Club Allée will be lit every evening from dusk to dawn. Discovery Green remains open during the pandemic, but the Conservancy encourages all park guests to follow CDC health guidelines when visiting the park, including keeping a distance of 6 feet from others when possible, washing hands regularly, and wearing face coverings. Find more information about Discovery Green's efforts to keep the park a safe place for Houstonians during COVID-19 at https://www.discoverygreen.com/faq.
View a video of the unveiling here. A digital press kit with high-res images is available at: https://bit.ly/3fYTSTy.
ABOUT GREEN MOUNTAIN ENERGY SUN CLUB
The Green Mountain Energy Sun Club is a nonprofit organization committed to advancing sustainable communities. As a 501(c)(3) organization, the Sun Club® invests in nonprofits and focuses on projects related to renewable energy, energy efficiency, resource conservation and environmental stewardship. Since the program's founding in 2002, the Sun Club has donated $10 million to more than 122 projects from nonprofit organizations across Texas and the Northeast. To learn more about the Sun Club or to apply for a Sun Club grant, visit gmesunclub.org.
ABOUT DISCOVERY GREEN
Discovery Green is a highly acclaimed 12-acre park created by a public-private partnership between the City of Houston and the nonprofit Discovery Green Conservancy in downtown Houston, Texas. Since opening in April 2008, the park has welcomed more than 13.5 million visitors. Discovery Green features sprawling lawns, a one-acre lake, an interactive fountain, a playground, public art installations, gardens and an allée of century-old live oaks. The Discovery Green Conservancy works with hundreds of programming partners to present more than 700 artistic, musical, educational, family-friendly and health-focused events each year, most of which are presented free to the public. The park also features two on-site restaurants, the award-winning destination restaurant The Grove and the fast-casual The Lake House, providing visitors with an array of dining options. As a nonprofit organization, the Conservancy raises all the funds needed for the programming that Houstonians enjoy through contributions from park users, foundations and sponsors. For more information, please visit www.discoverygreen.com.
Discovery Green. Reg. U.S. Pat. & Tm. Off.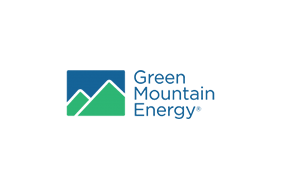 Green Mountain Energy
Green Mountain Energy
Green Mountain Energy Company was founded in 1997 with the mission to change the way power is made. Today, we remain 100% committed to this mission, which makes us the nation's longest serving renewable energy retailer and a clean energy pioneer. We provide customers with electricity products made from renewable resources like wind and solar and carbon offsets that help neutralize carbon emissions.
We live our commitment to sustainability inside and out: Every single product offered by our company has an environmental benefit, and our company operates with a zero-carbon footprint - distinctions that make us proud!
More from Green Mountain Energy