Published 08-13-20
Submitted by Franklin Templeton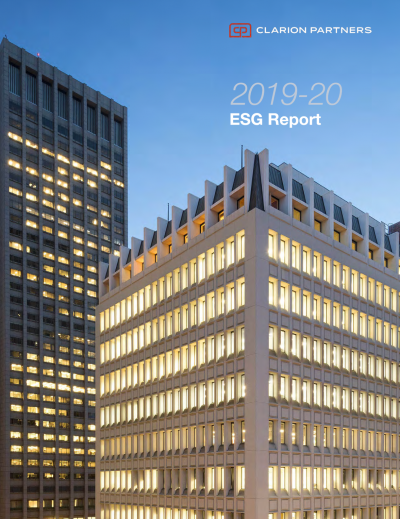 Clarion Partners LLC, an independent investment manager of Franklin Templeton, has issued its annual report on the firm's substantial environmental, social and governance (ESG) initiatives. In addition to being a leading commercial real estate investor on behalf of its clients, Clarion strives to own and operate buildings that provide tenants with healthy and efficient spaces while actively embracing, promoting and supporting impactful initiatives that advance the firm's key values of diversity, respect, inclusion and sustainability.
The Clarion Partners 2019-20 ESG Report can be accessed here.
ESG is ingrained in the firm's work: Clarion's Executive Board oversees the firm's formal ESG strategy, which includes a mission statement, policies and environmental performance targets.
"Clarion Partners recognizes that environmental, social and governance principles play an important role in providing a path forward to a more sustainable and equitable future," writes Chief Executive Officer and Chief Investment Officer David Gilbert.
"Clarion has a long-standing tradition of responsible investing. And while there is always more work to do, I am proud of our efforts to further integrate ESG into all aspects of our business to the benefit of our clients, tenants, employees and the environment."
Metrics bear out Clarion's commitment. At year-end 2019, the firm's 304 employees managed 1,260 properties with 262 million leasable square feet, with assets under management of $53.6 billion. Clarion's offices span the globe, in Berlin, Boston, Dallas, London, Los Angeles, New York, Paris and Washington, D.C. The firm offers a broad range of real estate strategies across the risk/return spectrum to more than 350 domestic and international institutional investors.
"We provide investors with long-term real estate solutions to support their investment objectives, mindful of our commitment to accountability, transparency and integrity," the report states.
Clarion Partners is distinguished by a performance-driven approach, accountability to clients and exceptional customer service for tenants. The firm's strategic and thoughtful decision making, as well as integration of ESG principles across the portfolio, has earned Clarion a variety of industry awards and recognition. A few highlights include:
Maintained an A+ rating for Strategy and Governance and an A for Real Estate from the United Nations' Principles for Responsible Investment (UNPRI)
Seven properties (up from five in recent years) were rated in the Top 1% of the Online Reputation Assessment (ORA) Industry Leaders Survey
2019 Multi-Housing News (MHN) Property Management Company of the Year Award for Clarion's Gables Residential business, the firm's fourth in seven years
The firm also maintains a Women's Leadership Network (CPWLN) to support and enhance the professional advancement of women within the firm through education and business development opportunities that are aligned with Clarion's organizational goals and objectives.
Clarion reported supporting an even broader range of charities this year, including Direct Relief, which works to equip doctors and nurses with life-saving medical resources, and the Thurgood Marshall College Fund, the U.S.'s largest organization exclusively representing the Black College Community.
In addition, the firm is a founding leader and participant in the PREA Foundation's SEO Real Estate program, a first-of-its-kind real estate training and internship program for qualified Black, Hispanic and Native American undergraduates.
The 48-page report provides governance information on risk management, transparency and reporting, ESG integration and sustainable development goals. For environmental, it details performance metrics, lists initiatives and certified properties, and offers two case studies. Social initiatives are grouped under workforce, employee community involvement and occupation health and well-being initiatives, listing industry leadership and partnerships with one case study.
About Clarion Partners
Clarion Partners, LLC, an SEC registered investment adviser with FCA-authorized and FINRA member affiliates, has been a leading U.S. real estate investment manager for more than 38 years. Headquartered in New York, the firm has offices in major markets throughout the U.S. and Europe. With $56.4 billion in total assets under management, Clarion Partners offers a broad range of both debt and equity real estate strategies across the risk/return spectrum to its more than 350 domestic and international institutional investors. More information is available at www.clarionpartners.com.
About Franklin Templeton
Franklin Resources, Inc. [NYSE:BEN] is a global investment management organization with subsidiaries operating as Franklin Templeton and serving clients in over 165 countries. Franklin Templeton's mission is to help clients achieve better outcomes through investment management expertise, wealth management and technology solutions. Through its specialist investment managers, the company brings extensive capabilities in equity, fixed income, alternatives and custom multi-asset solutions. With offices in over 30 countries and 1,300 investment professionals, the California-based company has more than 70 years of investment experience and approximately $1.4 trillion in assets under management as of July 31, 2020. For more information, please visit franklinresources.com.
CONTACT
Darrell Oliver
+1 (646) 784-7601
Darrell.Oliver@frankintempleton.com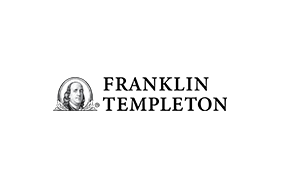 Franklin Templeton