Published 08-04-20
Submitted by Nexas America

Nexas America, LLC, Hampden, MA announces spotcheckhub.com, a new web and mobile platform designed to help restaurants and restaurant patrons alike as dining restrictions are lifted in the post-COVID shutdown era.  Focusing on rebuilding customer confidence, and on American generosity, SpotCheckHub brings together two proven web-based concepts -- community reviews and crowdfunding.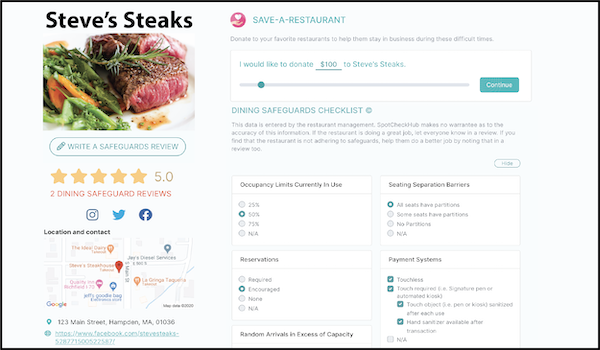 As restaurants re-open, diners are making cautious dining venue decisions.  The best way for diners to feel comfortable as they select a place to dine is for them to know up-front exactly what to expect for health safeguards before they enter a restaurant.  SpotCheckHub provides a free user-friendly website that lets any restaurant post their safeguards on a standardized copyrighted checklist that itemizes exactly what the restaurant is doing for social distancing, disinfecting, hand sanitizing and more.  By viewing this checklist, diners easily know up-front what to expect at a specific restaurant; and the standardized approach also makes it easy for patrons to compare venues. A community review section lets diners share their dining safety experience with others. These reviews will help build customer confidence and provide restaurant management with actionable items for improvements.
Persuading customers to return is only one hurdle to recovery.  Restaurants continue to face multiple financial challenges.  These include past due bills, new costs for COVID-19 guideline compliance, and seating limitations that may reduce overall revenue potential. As restaurants rebuild over the next several months, many people may want to make financial contributions to help their favorite dining spots recover financially or to stay in business.  To assist with this, SpotCheckHub's mini crowdfunding feature, Save-A-Restaurant, provides an easy way for people to direct a donation to one or more specific restaurants.  They can even donate anonymously if desired. Restaurants can accept donations with a free sign-up and opt-in procedure. 
Perception is key.  When a diner considers going to a restaurant, the perception of safety may be as important as the actual safeguards put in place.  These perceptions may be subtle, but nonetheless important. SpotCheckHub has developed a Dining Safeguards Survey and is seeking public input to help quickly identify the safeguards people want the most, then share those safeguard priorities with restaurants. Results will be shared on the SpotCheckHub website and updated frequently.  Knowledge of people's safeguard priorities will help restaurants optimize their safeguard actions and minimize expenses.
To participate in the Dining Safeguards Survey, click here!
To learn more about how spotcheckhub.com is helping dining out return to normal, check out our FAQ.
To get a quick review of what SpotCheckHub is, check out our Youtube video here!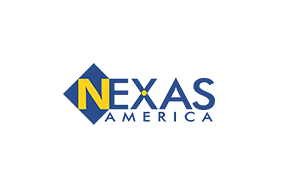 Nexas America