Published 07-31-20
Submitted by Mohawk Industries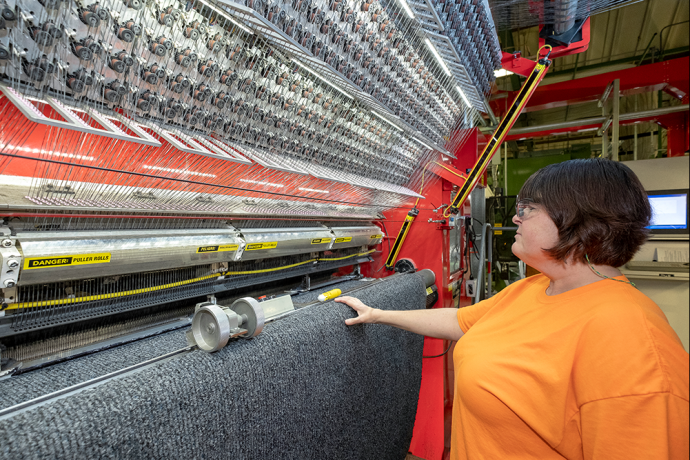 As part of its commitment to support the communities where employees live, work and play, Mohawk Group and its associates participate in events like renovation builds with Habitat for Humanity. Photo: Kevin Blackburn Photography
Originally published on Trim Tab
About the author: Rami Vagal is the senior manager of sustainability at Mohawk. With a strong background in corporate sustainability and architecture, Rami has a keen sense of strategic planning and implementation of multiple sustainability initiatives. She has successfully led and participated in numerous ILFI programs for Mohawk, including adopting the Living Product Challenge and Living Building Challenge certifications
Mohawk Group, the world's leading producer and distributor of quality commercial flooring, believes that better floor coverings emerge from better design, innovation, sustainability, project solutions and operational excellence. As the commercial division of Mohawk Industries, the company has a heritage of craftsmanship that spans more than 130 years. Mohawk's sustainability initiatives are designed with a holistic approach to creating a positive impact on the environment and communities. Mohawk Group's investment in product transparency and social responsibility initiatives extends not only to look at our short-term sales, but the long-term vision of creating a regenerative future for all. That is why we are not just solely focused on product development and environmental health, but in the communities where we live, work, and play. We believe they are intertwined, and one cannot be successful without the other. The Living Product Challenge is an exemplary platform that allows us to truly act on that commitment through this framework of Petals and Imperatives. Mohawk has come a long way since our journey with ILFI began with the Declare program back in 2012. Our journey has only begun, continuing most recently with the Living Product Challenge certification of one of our full product platforms.
A JOURNEY TO NET POSITIVE
The Living Product Challenge provides a framework for manufacturers to reimagine the design and construction of products to function as elegantly and efficiently as anything found in the natural world. All Living Products are created to be net positive and benefit people and the environment. Adopting the same framework as the Living Building Challenge, the Living Product Challenge program makes manufacturers rethink the entire manufacturing process – from raw materials to facility and employee health to environmental aspects as well as to life cycle and social equity issues. It is also one of the most integrated processes in which design, product management, innovation, sustainability, marketing, supply chain, manufacturing, all stakeholders must be involved from the beginning. This inclusion creates a sense of common purpose and ownership among all participants.
Mohawk Group offers a broad portfolio of Living Product Challenge Petal-certified flooring options. We adhere to multiple "handprint" requirements that ask us to give back to the environment more than it takes to make the product from extraction to distribution. The handprint represents the good that otherwise would not have happened because the Living Product Challenge requires that you grow those handprints to outpace your footprint and become measurably Net Positive. As an example, for most of Mohawk Group's Living Products, we have partnered with colleges and universities to establish a water handprint. We have worked closely with Morehouse College, Benedict College, Hampton University, and Alabama State University to retrofit dormitories with low-flow showerheads. This action was designed to not only create a water handprint, but also promote social co-benefits, which take into account the human context of how a handprint is created to have benefit beyond the environmental impact. The showerheads not only save millions of gallons of water annually, but also allow the institutions to save money and reallocate those funds to scholarships and programming, and also educate students on regenerative sustainability through real-life examples.
Mohawk Group readily looks at opportunities to expand our Living Product offerings as part of our continuous efforts to manufacture responsibly and holistically with positive environmental and social impacts. We regularly seek new partners for collaborative efforts in sustainable operations, as we believe true success can only be measured when we can positively impact our partners and collaborators. Another example of successful environmental and social partnership is working with Groundswell to bring renewable energy to areas of the United States that often do not receive the first-hand benefits of sustainability. Through this partnership, we have already brought Smartflower solar energy units to The Renaissance Collaborative in Chicago, Empowerment Temple in Baltimore, and Rockingham County school district in North Carolina. These represent the first series of Smartflowers that have been installed at schools in North America. Once again, these innovative solar energy "flowers" not only bring monetary savings but also allow students the opportunity to experience sustainable solutions with their own eyes while learning about careers in science and renewable energy.
While our handprinting efforts have been successful, they have not all been easy, because certain elements of the program can be challenging. Due to the comprehensive approach of the program, it has requirements for manufacturers to make monetary, sales-based donations to certain imperatives. This is not uncommon in other programs but can present challenges for companies that are smaller and/or those expected to tie the investment back to direct profits. Mohawk Group's approach has been to find pathways through a systems-thinking model that aligns with the company's corporate strategy and arrives at solutions that can address multiple aspects.
Through my work over the past several years on multiple ILFI programs, I have witnessed the potential they have for inspiring their communities to create measurable, positive impacts in the built environment and beyond. The emphasis on beauty, biophilic design, social equity, place and ecoregion, in addition to commonly found categories of energy and water, was something very unique that I had not witnessed in other certifications. I have met extremely talented and wonderful individuals through this network who share the same vision and goals for the well-being of the environment and society. Throughout, it has helped me expand my knowledge and understanding of so many different elements of sustainability and has been one of the most fulfilling experiences so far in my professional journey.
The LPC has transformed our company and our culture in multiple ways and has provided avenues to explore sustainability in a more comprehensive manner. Through this program, multiple teams have come together to engage, collaborate, innovate, and develop solutions that have established Mohawk as a transformational market leader in the flooring industry. When you bring people from multiple disciplines together to achieve a common goal with such high standards to meet, it is an amazing feeling to see the magic unfold in front of your eyes. The technicalities of the program are certainly important – but what LPC does wonderfully is connecting people within participating organizations to people in their surrounding communities.
The LPC makes for a strong business case due to its holistic nature, including an overall decrease in cost and reduced environmental impact. To achieve a net positive impact, we first need to determine and reduce our footprint. This requires us to take a deep dive into our processes and make them efficient which over time are better for the environment and consume fewer resources, therefore reducing operational costs. The next step encourages you to help someone else reduce their impact as well – those footprint reductions, increase your handprint!
Increased customer satisfaction is an important aspect of any business. Customers are more than willing to purchase products that are manufactured responsibly and are net positive. Increased brand awareness results in building loyalty and trust that influences business in the long run. Even better, by making these products equitably without an increased cost, manufacturers can make it accessible to all.
Another advantage that companies receive is achieving competitive differentiation. While sustainability should never be used as a tool to express someone or something is better than the other, the goal is for every one of us to do better towards a collective mission for the planet and society. Healthy competition, however, can create increased awareness and encourage more people to adopt sustainable practices while being differentiated and recognized for their work. 
A large part of a business's success is its investment in people, their employees, and the communities they serve. Increased employee satisfaction is therefore of paramount importance. The employees and associates making these products and the ones working in the company develop a sense of satisfaction in their job knowing that the company is committed to the goal of making the environment and its inhabitants better. Knowing the impact they can have by working for a responsible manufacturer, employees have a positive working experience which directly ties into overall well-being and productivity, and arguably, retention. 
When it comes to specific products and spaces, what role do we think design plays into overall sustainability and profitability? An integrated approach forms the key to be successful in implementing sustainability. Design, sustainability, and profitability are connected in more than one way. Design has a tremendous ability to influence behavior and behavioral change is one of the key aspects of adopting and implementing sustainability. For companies to implement and invest in sustainability programs, behavior and mindset changes are required, which takes years to transform. But if they are consciously made part of an integrated approach from the initial phase, then it becomes a habit before we know it. As an example, if sustainability aspects such as circularity, recyclability, biophilia, and others are integrated into the design process from the beginning, over a period of time it will be ingrained into the company's approach to everything. When these elements are well thought out in the initial phases, it saves time and money because companies then do not have to go back and make changes. In addition, with profit benefits, companies may have an easier job acquiring capital for more fundamental and costly changes for product innovation and manufacturing.
A PATH FORWARD AND A PATH WITH PURPOSE
To achieve ambitious goals in an urgent manner, it is highly important that organizations identify every stakeholder that has a role to play. Without having all hands on deck, setting goals does not yield long-term results. In addition, it has been proven multiple times that transformational changes happen when there is a huge market demand for it. The more demand the customers make, the more manufacturers will respond and determine ways for us to address demand. And then there is also the manufacturer's responsibility to constantly work on innovation to create products that move away from doing less bad to giving back more resources. Furthermore, it is also important to analyze the short and long-term risks, current challenges, and the why behind current processes. As an example, analysis of logistics for bringing the product back to manufacturing sites for recycling is necessary to get the complete picture of life cycle impacts without which meaningful solutions cannot be derived. Without an understanding of the existing landscape, planning for changes and inventions does not set it up for long-term success.
Mohawk's product and innovation teams are consistently researching, testing and developing solutions that advance process improvement and touch all aspects of comprehensive sustainability. From offering hard surfaces with woven textures, developing the next generation of innovative carpet fiber, to science-based product collaborations and multiple Living Product-certified offerings, Mohawk is consistently developing solutions that have groundbreaking implications for the built environment. An extremely large part of this equation is education and awareness of customers and the industry, and while we have come a long way in the past decade, there remains a lot of work to be done. One of the ways we do that is by educating our customers through various ILFI programs across platforms such as social media channels, in-person and web-based events, presentations, and CEUs, all while encouraging customers to make better choices. As a responsible manufacturer, we keep challenging ourselves to create better design, better quality, better innovation and better service. But in addition to environmental success, it is important that the customers make a conscious decision to choose these products so we can demonstrate economic success. Behavioral change is the key here. The balance of people + product + planet equation is an important driver for true sustainability and corporate responsibility.
Due to increased visibility and awareness across multiple platforms, the hope is that this momentum continues to build up and we see urgency from multiple sectors of the industry. The challenge is convincing the naysayers and getting them to adopt these fundamentals, without which we would only be half as successful. Without a shift in behavior and attitude from the sectors that do not believe in the global issues we all are facing, the journey upward becomes steeper. However, the "2020s" are being predicted as the definitive decade of adaptation of climate change by many organizations and agencies. A report published by the NOAA and NASA confirmed that 2010 to 2019 was the hottest decade since record-keeping began 140 years ago, with 2019 being the hottest year recorded. This decade many people around the world woke up to a grim reality: Climate change is here, it is happening now, and it could very easily get much, much worse. The COVID-19 crisis proved in more than one way that we are all interlinked and more connected than we ever imagined, and that there is a relationship between the climate crisis and the population that is worst hit by the pandemic. We hope and are certain that everyone will wake up to this phenomenon and work together in a cohesively to address these global issues.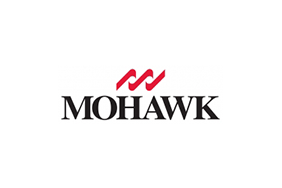 Mohawk Industries
Mohawk Industries
Mohawk Industries: Mohawk Industries is the leading global flooring manufacturer that creates products to enhance residential and commercial spaces around the world. Mohawk's vertically integrated manufacturing and distribution processes provide competitive advantages in the production of carpet, rugs, ceramic tile, laminate, wood, stone and vinyl flooring. Our industry-leading innovation has yielded products and technologies that differentiate our brands in the marketplace and satisfy all remodeling and new construction requirements. Our brands are among the most recognized in the industry and include American Olean, Daltile, Durkan, Karastan, Marazzi, Mohawk, Mohawk Group, Pergo, Unilin, Quick-Step and IVC. During the past decade, Mohawk has transformed its business from an American carpet manufacturer into the world's largest flooring company with operations in Australia, Brazil, Canada, Europe, India, Malaysia, Mexico, New Zealand, Russia and the United States.
More from Mohawk Industries