Published 07-24-20
Submitted by Cox Enterprises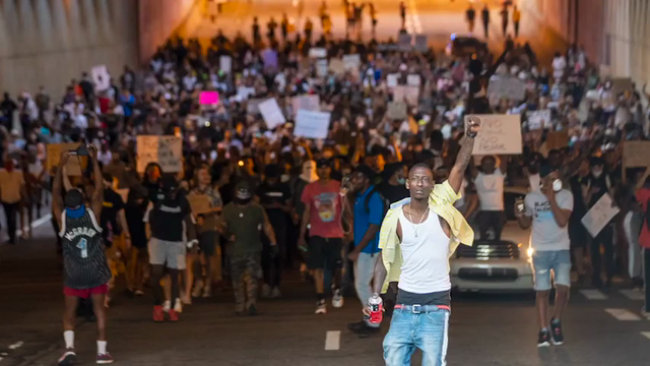 Click here to watch video
Originally published by Cox Enterprises
Multimedia journalists can't stay outside the fray if they want to tell stories that are impactful and visually appealing. That was certainly true for The Atlanta Journal-Constitution's Alyssa Pointer, who found herself at the center of the action (and not for the first time) when covering protests over racial injustice and police brutality in Atlanta.  
Alyssa's tireless commitment to capture moments both profound and personal during this tumultuous period are a great example of our company's intention to be a force for good in the world and to document what's truly going on in our community. For this reason, she has been named a recipient of the highest honor for a Cox Enterprises employee, the Governor James M. Cox Award.  
A City in Turmoil 
As in other cities across the country, demonstrators took to the streets in protest on June 1 to express outrage over the death of George Floyd in Minneapolis. Alyssa volunteered to cover the protests even before it was clear it would become a big deal, said her editor Sandra Brown.  
"She's a go-getter, she is always looking for different ways to tell stories and get the best visuals that she can," said Sandra.  
Her images capture scenes from the demonstrations — torched patrol cars, shouting protesters, a wall of police wielding shields against an angry citizenry — with astonishing clarity.  
See a photo gallery of Alyssa's coverage.  See Alyssa in the picture below wearing the baseball cap and taking pictures near the center-right. 
A Consummate Storyteller 
Amid the nationwide protests, Alyssa also volunteered to cover scenes from outside the courthouse in Brunswick where a hearing was held for the alleged shooters in the Ahmaud Arbery case. She not only took photos, she captured audio for the newspaper's podcast and was a guest on the podcast — showing her dedication to being a multimedia journalist in every sense of the term.  
Alyssa grew up in suburban Atlanta and interned at the city's alternative publication, Creative Loafing, along with the Milwaukee Journal Sentinel, the Louisville Courier-Journal and the Chicago Tribune. Since joining the newspaper in 2017, she has become known for exploring different ways to tell stories, Brown said.  
During the coronavirus coverage, she spotted a woman in Atlanta's West End neighborhood taking pictures of people who were going about their lives during the lockdown. These "Pull-Up Portraits" – which Alyssa teamed up with a reporter to turn into a feature article, uniquely documented daily life during the pandemic.  
In an AJC interview, Alyssa remarked on her recent experiences.  
"As a Southern, African American, female photojournalist, I find it extremely important to make sure that my perspective is taken into consideration while documenting these historic times," Alyssa said. "My hope is that the images I create, along with the images of other photojournalists, no matter their racial or gender identity, will allow our nation to reflect."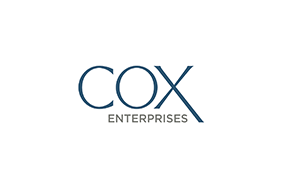 Cox Enterprises
Cox Enterprises
Cox Enterprises is one of the nation's leading media companies and providers of automotive services, with 2006 revenues of $13.2 billion and more than 80,000 employees. Major operating subsidiaries include Cox Communications, Inc. (cable television distribution, telephone, high-speed Internet access, commercial telecommunications, advertising solutions and Travel Channel); Cox Newspapers, Inc. (newspapers, local and national direct mail advertising and customized newsletters); Cox Television (television and television sales rep firms); Cox Radio, Inc. ([NYSE: CXR] broadcast radio stations and interactive Web sites); Manheim, Inc. (vehicle auctions, repair and certification services and web-based technology products) and Cox Auto Trader (automotive publications and a majority stake in AutoTrader.com).
More from Cox Enterprises