Published 07-23-20
Submitted by JetBlue Airways
JetBlue (Nasdaq: JBLU) today released its 2018-2019 Social Impact Report, as well as its abbreviated 2019 Environmental Social Governance (ESG) Report.
The annual reports outline the JetBlue For Good pillars – community, youth and education and the environment. The social impact report focuses on how and where JetBlue crewmembers volunteered for one million hours of caring and the airline's philanthropic efforts, while the ESG report identifies key sustainability factors that affect the airline's business and financial performance.
"The JetBlue experience keeps people and culture at the heart of everything we do," said Icema Gibbs, director corporate social responsibility and diversity, equity & inclusion, JetBlue. "Over the past few months, we've realized that our mission of inspiring humanity is more essential than ever. As a values-based airline, we have a long history of using our voice to unite our crewmembers, customers and communities during difficult times. We try to make change in ways that are authentic to us. Bringing our mission of inspiring humanity to life isn't new. These reports showcase our ongoing work to make a positive impact for the environment, in our communities and beyond."
JetBlue For Good 2018-2019 highlights –
Youth and Education
JetBlue's Soar with Reading program brought the magic of reading to children in areas known as book deserts in San Francisco, Oakland, and New York City. To date, JetBlue has donated $3.75 million worth of books to kids in need.
Through the 2018 and 2019 Swing For Good campaigns, JetBlue and its business partners raised much-needed funds for youth and education focused charities and distributed more than $2 million to DoSomething.org, First Book, Together We Rise, Feeding Children Everywhere and the JetBlue Foundation.
The JetBlue Foundation continued its work to add more diversity in science, technology, engineering and math (STEM) and aviation by supporting education programs focused on girls and women, people of color and other communities who are under-represented in these areas. The JetBlue Foundation has supported more than 90 STEM and aviation programs with $1.7 million in grants, in-kind support and mentoring.
Environment
JetBlue recently announced plans to achieve carbon neutral flying for its domestic routes later this year as a critical and measurable step toward reducing its contribution to global warming. JetBlue aims to avoid emissions through a new, fuel-efficient fleet and optimized operational efficiency and by pursuing sustainable aviation fuel (SAF) where feasible. Over the past five years, JetBlue has achieved consistent reductions in Scope 1-3 emissions on an intensity basis, and improved 2.2 percent from 2018 to 2019.
For emissions that cannot be avoided, JetBlue will soon offset CO2 emissions from jet fuel for all domestic flights. Leading up to this launch, JetBlue has offset more than 2.6 billion pounds of CO2 emissions in partnership with Carbonfund.org since 2008. More details will be announced shortly.
By converting to electric ground service equipment (eGSE) at New York's JFK Airport, JetBlue is projected to cut four million pounds of CO2 greenhouse gas emission per year, reduce ground fuel usage by approx. 200,000 gallons fuel and improve its bottom line with more than $500,000 in ground fuel savings annually.
Community
In the wake of Hurricane Maria, crewmembers rose to the occasion and provided more than 450 relief flights and $1.2 million in grants from the JetBlue Crewmember Crisis Fund to impacted crewmembers located in Puerto Rico and the Caribbean.
In 2019, JetBlue added a new destination to its network – Destination Good, flying 100 customer volunteers to a surprise location for four days of service on Giving Tuesday.
Looking ahead to 2020 and beyond -
Between the coronavirus pandemic and the civil outcry for racial justice and equality, 2020 has challenged JetBlue to shift gears to meet immediate needs. This included flying nearly 2,000 medical professionals to areas in need to support relief effort, transporting personal protective equipment to New York City and delivering critical supplies to health care facilities, and donating one million TrueBlue to the American Red Cross and other organizations to aid in relief work.
"Thank you to our crewmembers for their dedicated service during the pandemic getting essential personnel and travelers, for whom travel was not an option but a necessity, to their destinations safely," said Gibbs. "Our crewmembers also sought out ways to help in their local communities, all while taking care of their own families and personal needs during this trying time."
JetBlue is also working to ensure that Black Lives Matter and are equally valued, and eradicating racism. JetBlue has committed to fight against racial injustices and reduce bias and barriers starting with accelerating its diversity and inclusion equity action plan to better support people of color within the airline such as expediting a concerted effort for more leadership diversity.
To start, these efforts incorporate but are not limited to:
Reviewing training modules for cultural sensitivity
Identifying opportunities to reshape policies and talent processes to reduce bias and demonstrate inclusivity
Expanding opportunities for minority and women-owned business partners
Investing in students from underrepresented communities through the JetBlue Foundation to reduce the barriers to entry and create educational and employment opportunities in the aviation industry
Want to get in on the good? – If you would like to join JetBlue in doing good, loyalty members can donate points through the TrueBlue Points Donation Platform to a variety of social justice charities that are working to help eradicate racism. JetBlue is encouraging giving by donating one million points each to the New York Urban League and long-standing partner – Organization of Black Aerospace Professionals (OBAP) to help their work for racial equality and justice. Points go directly to the selected charity, and each may use them for travel for their organization. For more information or to donate points visit trueblue.jetblue.com/donate-points.
JetBlue's 2018-2019 Social Impact Report can be found here and the 2019 ESG Report can be found here.
Giving back is part of JetBlue's DNA and is core to its mission of inspiring humanity –
Centered around volunteerism and service, JetBlue For Good focuses on the areas that are most important to the airline's customers and crewmembers - Community, Youth/Education and the Environment. JetBlue's core programs and partnerships directly impact the areas where its customers and crewmembers live and work by enhancing education and providing access to those who are traditionally underserved. Signature programs include the award-winning Soar with Reading initiative, which has provided more than $3.75 million worth of books to kids who need them most and Blue Horizons For Autism, which helps introduce air travel in a realistic environment to families and children affected by autism. Join the #JetBlueForGood conversation on Twitter, Instagram and Facebook, check for regular updates, and get involved.
About JetBlue Airways
JetBlue is New York's Hometown Airline®, and a leading carrier in Boston, Fort Lauderdale-Hollywood, Los Angeles, Orlando, and San Juan. JetBlue carries customers across the U.S., Caribbean, and Latin America. For more information, visit jetblue.com.
CONTACT
JetBlue Corporate Communications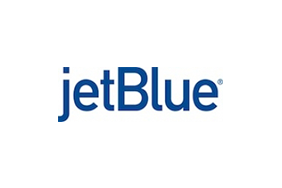 JetBlue Airways
JetBlue Airways
JetBlue is New York's Hometown Airline, and a leading carrier in Boston, Fort Lauderdale/Hollywood, Los Angeles (Long Beach), Orlando and San Juan. JetBlue carries more than 30 million customers a year to 87 cities in the U.S., Caribbean, and Latin America with an average of 825 daily flights. For more information please visit JetBlue.com.
More from JetBlue Airways