Published 07-15-20
Submitted by Biogen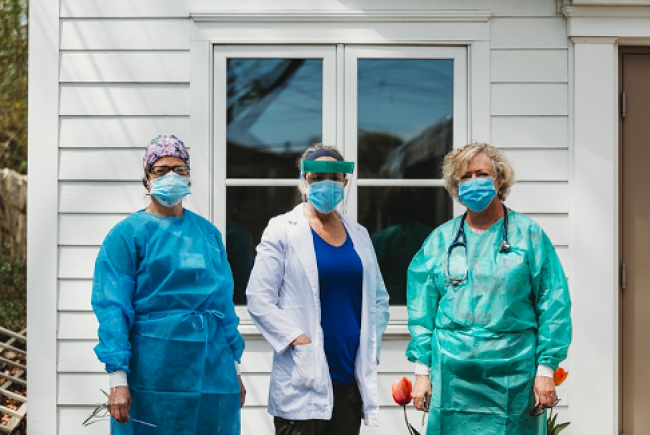 Dr. Larisa Lucas and her team. Image credit: Susannah Bothe Photography
Originally published by Biogen
"If we had relied solely on temperature and respiratory symptom screening for COVID-19, we would've put our people and patients at risk," said Dr. Larisa Lucas, the Medical Director of several skilled nursing facilities that participated in the Massachusetts Senior Care Association surveillance testing pilot program. "Broad surveillance testing was especially critical early on to help us identify asymptomatic COVID patients so that we could prepare facilities for patient care and help staff protect themselves in their interactions with residents."
Since the outset of the COVID-19 pandemic, long-term nursing facilities in Massachusetts have faced adverse challenges to keeping their residents and the heroes that care for them safe. In response, Tara Gregorio, President of the Massachusetts Senior Care Association (MSCA), launched an innovative surveillance testing pilot program to conduct regular testing of nursing home patients and staff at six local facilities over the course of six weeks.
The goal with surveillance testing is to detect the virus earlier by routinely testing both symptomatic and asymptomatic nursing home residents and staff, a critical measure to saving lives. By testing everyone living and working under one roof, MSCA was able to understand how to contain the spread of the virus by creating separate cohorts for those that tested negative and positive for the virus and consolidating the PPE to take care of COVID positive patients throughout their quarantine.
The pilot, which was funded in part by the Biogen Foundation, provided weekly polymerase chain reaction (PCR) testing to all patients and staff members at participating facilities. Regular testing of nursing home staff was a key component of this pilot because these front-line workers are at particular risk during the COVID crisis as many take on extra shifts or work at multiple facilities with a population that is already susceptible to the virus. By providing staff with weekly PCR testing, they were able to take extra precautions in their shifts and go home to their families with less worry about working around COVID patients. The success of the initial six-week pilot has led to an extension of testing and introduced bi-weekly serology testing, commonly known as anti-body testing, to help detect previous infection in people who had few or no COVID-19 symptoms.
"Biogen's support directly benefitted nursing homes and showed documented proof to state leaders what can be done with surveillance testing," said Simon Johnson, MIT Professor and co-chair of the COVID-19 Policy Alliance. "This advocacy through action helped demonstrate the need to scale these programs state and nation-wide."
Biogen is honored to support organizations like the Massachusetts Senior Care Association that are not only helping to protect the most vulnerable during the crisis, but that are contributing to a better national conversation about COVID-19 and how society can manage spread of the virus. This pilot has led to ongoing conversations with other states about surveillance testing, including a presentation to the National Governor's Associations, and the Massachusetts Department of Health issuing a memorandum that skilled nursing facilities adopt surveillance testing programs.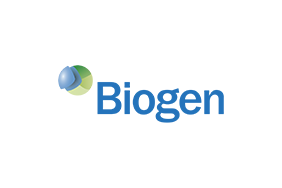 Biogen
Biogen
At Biogen, our mission is clear: we are pioneers in neuroscience. Biogen discovers, develops and delivers worldwide innovative therapies for people living with serious neurological and neurodegenerative diseases as well as related therapeutic adjacencies. One of the world's first global biotechnology companies, Biogen was founded in 1978 by Charles Weissmann, Heinz Schaller, Kenneth Murray and Nobel Prize winners Walter Gilbert and Phillip Sharp. Today Biogen has the leading portfolio of medicines to treat multiple sclerosis, has introduced the first approved treatment for spinal muscular atrophy, commercializes biosimilars of advanced biologics and is focused on advancing research programs in multiple sclerosis and neuroimmunology, Alzheimer's disease and dementia, neuromuscular disorders, movement disorders, ophthalmology, immunology, neurocognitive disorders, acute neurology and pain. We routinely post information that may be important to investors on our website at www.biogen.com. To learn more, please visit www.biogen.com and follow us on social media - Twitter, LinkedIn, Facebook, YouTube.
More from Biogen