Published 06-30-20
Submitted by NRG Energy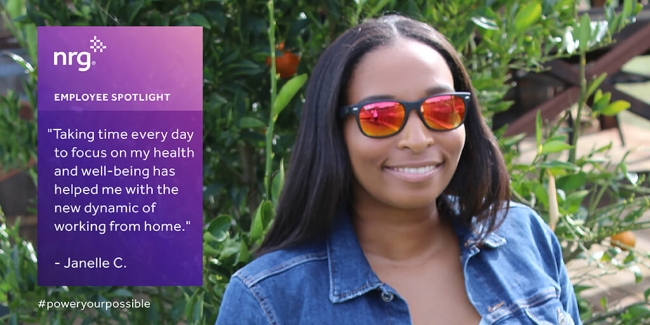 Safety and Well-being are part of the core values at NRG and have always been a priority. As many team members adjust to a new home workplace dynamic, this value has taken on strengthened meaning. Working behind the scenes is benefits analyst, Janelle C., who supports many of our employee programs, including those related to wellness.
Janelle collaborates with vendors and helps employees take advantage of programs that support their overall mental and physical well-being. One example is the Virgin Pulse Global Challenge, known to NRG employees as the GET MOVING Challenge, with teams currently competing across the company. Last year's winning team was from the Limestone Generating Station in Texas.
Janelle says some of her personal go-to wellness activities include "taking my dog for long walks, staying connected with friends via Zoom, and stepping away from my desk for short meditation sessions." 
A home fitness app is a new tool she's embraced. "It creates a personalized fitness training program based on your goals and the equipment you have readily available." Currently, all NRG employees have free access to the app.
Beyond helping our employees stay active and healthy, Janelle's ideal summer day includes the sun, the beach, and a good read.
About NRG Power Values
Here at NRG, five key power values drive our company forward:  Safety and Well-Being, Customer-Focus, Inclusion and Diversity, Accountability, and Collaboration.
More specifically, it's our employees who empower these values in meaningful ways, bringing the power of energy to our organization and to the customers we serve. Each month, we profile an individual employee, showing how our values are uniquely taking hold each day.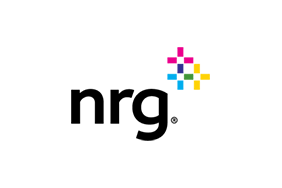 NRG Energy
NRG Energy
NRG is the leading integrated power company in the U.S., built on the strength of the nation's largest and most diverse competitive electric generation portfolio and leading retail electricity platform. A Fortune 200 company, NRG creates value through best in class operations, reliable and efficient electric generation, and a retail platform serving residential and commercial businesses. Working with electricity customers, large and small, we continually innovate, embrace and implement sustainable solutions for producing and managing energy. We aim to be pioneers in developing smarter energy choices and delivering exceptional service as our retail electricity providers serve almost 3 million residential and commercial customers throughout the country.
More from NRG Energy