Published 06-25-20
Submitted by Yum! Brands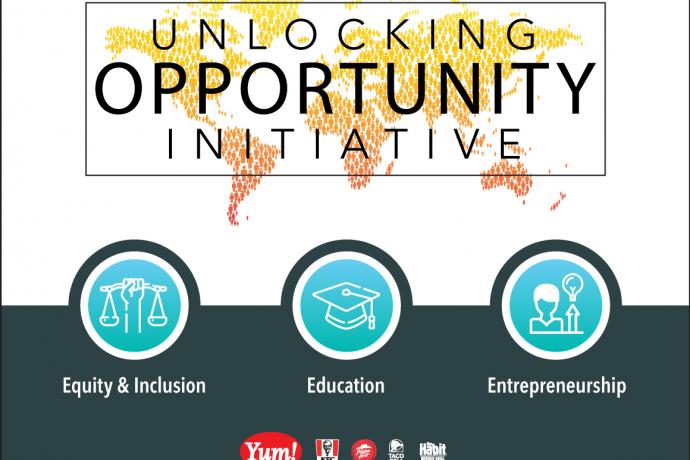 Hello everyone, 
The events of 2020 have made it even clearer that one of the most pressing issues we face together in society is inequality and the lack of access and opportunity that goes with it. Around the world, this unfortunate reality has many faces, and it pressures the lives of too many individuals, families and communities. Though addressing inequality is challenging and complex and there is no easy fix, as the world's largest restaurant company, we're at an inflection point where our actions can, and should, make real and lasting change.
A global initiative
Today, I'm proud to announce Yum! Brands' global Unlocking Opportunity Initiative with a $100 million commitment over the next five years. This initiative builds on more than 20 years of investing in our people-first culture. Across KFC, Pizza Hut, Taco Bell and The Habit Burger Grill, and alongside our franchisees, we will tackle inequality with an emphasis on three areas that can unlock opportunity for our employees, frontline restaurant teams and communities around the world: equity and inclusion, education and entrepreneurship.
Equity & Inclusion

Difference should not stand in the way of opportunity. Every day our brands have the privilege to serve and employ people of every race, ethnicity, gender identity, sexual orientation, age and background. As such, we remain steadfast against all forms of discrimination and inequality – both conscious and unconscious – that thwart opportunity for our people. We are deepening our investments in efforts to produce equity, fairness, inclusion and belonging inside our company, across ALL aspects of our brands and throughout our franchise businesses. I'm pleased this effort will build on work already in progress to advance gender parity in leadership and continue expanding our inclusive leadership training across all corporate offices, franchisees and restaurants around the world.


Education

Everyone should have the opportunity to build a positive future. However, far too many lack access to the kind of education and on-the-job and transferable skills training that can change the trajectory of lives, families and communities. We commit to be a force for change in this area while we continue our multimillion-dollar scholarship programs and the rollout of our world-class Heartstyles leadership development program. In addition, we will expand access and funding of education and skills training, which both empower restaurant team members to build their best lives and uplift our communities.


Entrepreneurship

Entrepreneurship and small businesses are essential to create opportunity and resilient communities. Each of our brands was created by entrepreneurs with a dream to share a delicious meal and make a better life. Many of our franchisees share the same passion, whether they started with our brands as restaurant employees, customers or growth-minded businesspeople. To unlock opportunity, we will create pathways to entrepreneurship for restaurant employees wanting to lead a business, franchise or social enterprise, as well as for small businesses and social entrepreneurs looking to make a meaningful difference in their communities. 

With the unwavering support of our Board of Directors and Global Leadership Team, and working with our 2,000-plus franchisees, we plan to advance these efforts inside our brands and beyond our business in communities and with key partners addressing the regional and local challenges of inequality. As we have for many years through the Yum! Foundation, we will also find opportunities to partner with our franchisee community to unlock opportunity for those most affected by inequality. 
Tackling inequality and racial injustice in the United States
Our global efforts will start in the U.S., our largest market comprising more than 40% of our global sales and half of our franchisees. In addition, the majority of restaurant employees within our system in the U.S. are people of color, which makes fighting systemic inequality and racism a top priority. The three levers of our Unlocking Opportunity Initiative will guide our efforts.
The past few weeks have shown me the immediacy of the need to address inequality in the U.S., and I have been enlightened and humbled by conversations with many employees. They have opened my eyes to the resolve we will need in order to grow through our collective discomfort and arrive squarely on the side of history that uplifts Black communities and others in crisis along with everyone else. Building on our ongoing inclusion efforts, starting from the inside out, Yum! and our U.S. brands will:
1. Increase representation of Black, Latinx, people of color and women among our executive and management ranks, franchisees and suppliers. This builds on our initiative to advance women in leadership. In the coming months, we will set targets that inspire and hold us accountable for aggressive progress over time.
2. Continue rolling out inclusive leadership and anti-racism training across our system, including company and franchise restaurants.
3. Partner with U.S. franchisees on implementing the Unlocking Opportunity Initiative, leveraging and expanding involvement in Yum!'s inclusion advisory group – the Leading Inclusion for Today & Tomorrow (LIFT2) Council.
4. Ensure Black, Latinx and diverse representation in leadership and account teams at our U.S. agencies.
5. Invest in entrepreneurship, education and social justice in communities throughout the U.S. that have been historically marginalized and cities where our corporate offices are located, including Louisville, Kentucky.
While the road ahead will not be easy, I'm more confident and convicted than ever that with the strength of our culture, we will meet the challenges head-on. I am proud to see our company courageously coming together to shape a future with more equality, fairness and opportunity for all. We simply can't miss this historic moment to do our part to unlock opportunities that improve the lives of the people who run our restaurants and serve our local communities.
Thank you to those of you who are asking questions.
Thank you to those of you who have had the courage to speak up and share your concerns.
Thank you to those of you who have brought forward solutions.
Thank you to those of you who are educating yourselves and others.
Thank you to those of you who are committed to being allies to your colleagues with different backgrounds.
Thank you to those of you who are simply keeping open minds.
Thanks to you, we will seize this moment.
We need each and every one of you on this journey to make a difference for our frontline team members and communities and leave a legacy of meaningful opportunities for the next generation.
—  David Gibbs, Yum! CEO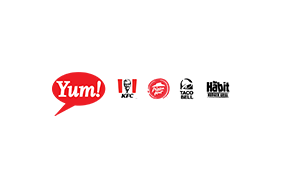 Yum! Brands
Yum! Brands
Yum! Brands, Inc., based in Louisville, Kentucky, has over 54,000 restaurants in more than 155 countries and territories, operating the Company's brands – KFC, Pizza Hut and Taco Bell – global leaders of the chicken, pizza and Mexican-style food categories. The Company's family of brands also includes The Habit Burger Grill, a fast-casual restaurant concept specializing in made-to-order chargrilled burgers, sandwiches and more. Yum! Brands was named to the 2021 Dow Jones Sustainability Index North America and was ranked on Newsweek's list of 2021 America's Most Responsible Companies. In 2022, Yum! Brands was named to 3BL Media's 100 Best Corporate Citizens.
More from Yum! Brands