Published 06-16-20
Submitted by The Mosaic Company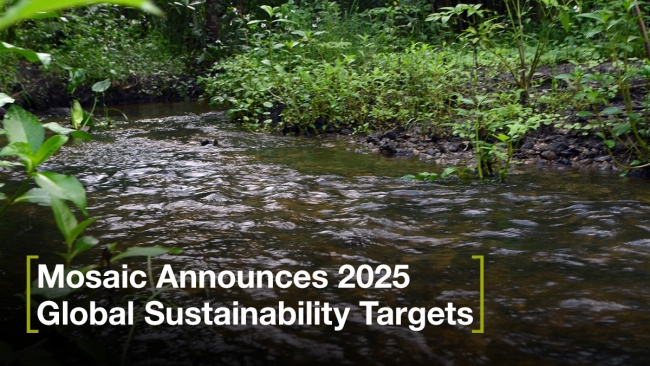 Originally published by The Mosaic Company
Constant progress is the hallmark of Mosaic's sustainability journey. From our earliest sustainability disclosure in 2010 to our first quantified targets in 2015, we've been on a path of progress – committed to engagement, transparency, accountability, and improved performance in the areas that matter most to us and our constituents.
Our latest milestone – the launch of our 2025 Environmental, Social and Governance Performance Targets – is another important step forward. Beyond driving value for our company, the 2025 targets are a vehicle for maximizing our positive impact on society. Aligned to our focus areas of People, Environment, Society and Company, the targets support our company's broad thinking about sustainability. We believe that for our business to thrive in the long-term, we must be good stewards of the natural, human and social resources we rely upon to execute our mission to help the world grow the food it needs. It is both our responsibility and our opportunity.
We are proud of this work and what it represents for our diverse constituents, and we feel simultaneously challenged and invigorated by what lies ahead. Our targets are only one of the ways we are living responsibility as one of our strategic priorities; we encourage our stakeholders to view our 2019 sustainability disclosure for more information about our leadership in this area.
Take a look at our 2025 targets. While each target was created primarily to support one focus area, there are interconnections between all of them. We choose to focus our efforts on areas with broad reaching companywide and societal impacts.
We're strengthening our commitment to reducing our environmental impact with bold reductions in greenhouse gas emissions and water use — in addition to a dozen other critical targets.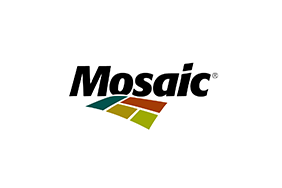 The Mosaic Company
The Mosaic Company
The Mosaic Company is the world's leading combined producer and marketer of concentrated phosphate and potash, two of the primary nutrients required to help the world grow the food it needs. Mosaic engages in every phase of crop nutrition, from the mining of resources to the production of crop nutrients, feed and industrial products for customers around the globe. Our customer base includes wholesalers, retail dealers and individual growers in more than 40 countries.
Headquartered in Plymouth, Minn., Mosaic employs approximately 8,000 people in eight countries. Our shares trade on the New York Stock Exchange under the ticker symbol MOS.
More from The Mosaic Company