Published 06-09-20
Submitted by CreateAthon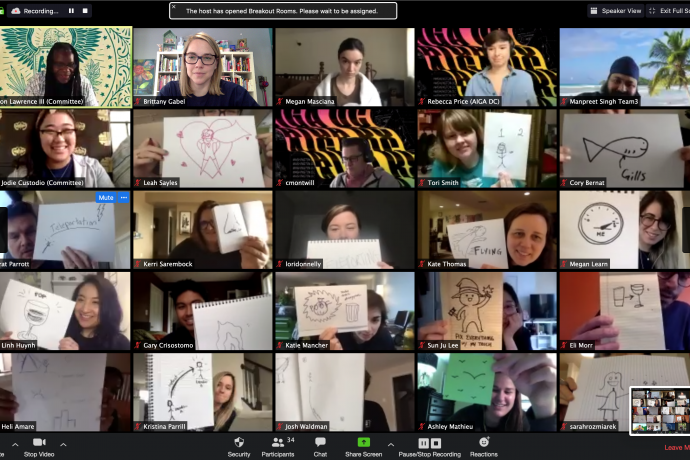 AIGA DC takes a break for a creative thinking game from sponsor InnovatorsBox during its 24-hour virtual CreateAthon event.
In the wake of the COVID-19 pandemic, many nonprofits across the country need immediate professional help in addressing rapidly evolving, and often complex, communications needs. CreateAthon® is issuing a call to arms for marketing professionals – within corporate marketing departments, agencies and professional organizations – to get involved by virtually donating their time and talents to help nonprofits remain sustainable.
One of the most long-standing pro bono marketing programs in the country, CreateAthon is a 24-hour marathon during which marketing professionals and university students develop strategic and creative marketing deliverables for nonprofits that could otherwise not afford them. The program was founded by Riggs Partners in 1998 and has attracted more than 100 agencies, corporate marketing departments, professional organizations and universities as partners. Altogether, CreateAthon partners have served more than 1,700 nonprofit organizations in the United States, Canada, Puerto Rico, the United Kingdom and Romania, delivering more than 4,000 pro bono marketing projects at a value of more than $25 million. 
"Now more than ever, nonprofits need our expertise and help," said Teresa Coles, CreateAthon co-founder and president of Riggs Partners. "They're facing impossible choices – about funding, how to secure the technology to work remotely, caring for their communities, how to communicate with their varied constituencies. The conversation has moved from sustainability for many nonprofits to survivability. As a communications industry, we can have significant impact right now by putting our expertise to work for good. CreateAthon is calling on all corporate marketing departments and marketing organizations across the country to join us in making an immediate difference for local nonprofits."
There is no fee to join the CreateAthon partner community, and the network has recent, successful models regarding how to hold a virtual creative marathon. Here are examples of how CreateAthon partners are helping nonprofits during COVID-19.
AIGA DC — CreateAthon DC 2020
The local American Institute of Graphic Arts (AIGA) chapter for more than 1,000 professionals in Virginia, Maryland and the District of Columbia, AIGA DC held its 2020 CreateAthon event remotely in April, coming to the aid of five nonprofits. "If necessity is the mother of invention, then making the decision to abandon an in-person CreateAthon for one in the virtual space was indeed a momentary stroke of genius," said Leon Lawrence III, AIGA DC board member and chair of Design for Good/CreateAthon DC. "The District of Columbia transformed into a shelter-in-place city overnight. My team adapted to the rapidly changing situation, and we flipped the switch from an in-person event to a solely online one. Turns out you don't need to share four physical walls to collaborate for a good cause. You just need to share common goals, hopes and dreams."
EGC Group — #BornUnited
Longtime CreateAthon partner and New York-based agency EGC Group channeled its pro bono marathon powers for good and came to the aid of the United Way of Long Island. Their #BornUnited campaign addressed the unique needs of newborns and their parents in the COVID-19 environment through integrated tactics including video, social media, print and radio messaging.
CreateAthon@VCU
When the COVID-19 pandemic forced the Virginia Commonwealth University (VCU) Richard T. Robertson School of Media and Culture to cancel its annual CreateAthon@VCU event, students reimagined an alternative approach and held it virtually. This first-ever virtual CreateAthon was VCU's 13th annual creative blitz for nonprofits, and the students collaborated remotely to deliver creative products for five Richmond, Virginia-area nonprofits in April.
To learn more about CreateAthon or how your organization can help nonprofits right now, please visit www.createathon.org or email us at info@createathon.org.
About Riggs Partners
Riggs Partners is a creative marketing consultancy that specializes in helping clients build Responsible Brands, aligning organizational health, business strategy and brand marketing. Riggs founded CreateAthon in 1998 as an innovative and scalable way to provide pro bono marketing services to nonprofit organizations. For more information, visit www.riggspartners.com.
###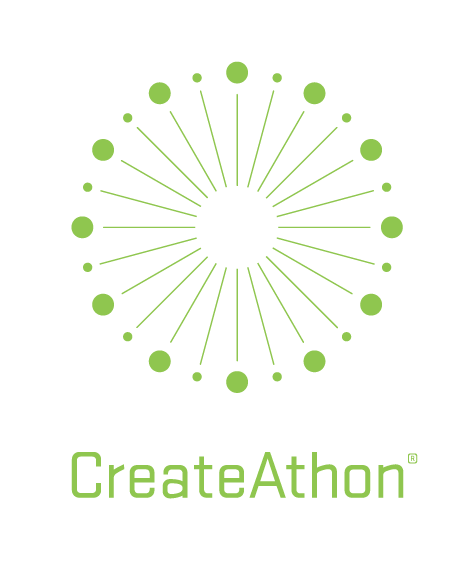 CreateAthon
CreateAthon
CreateAthon® is a 24-hour pro bono marketing event that delivers professional marcomm services to nonprofit organizations that could otherwise not afford them. The program was founded by Riggs Partners in 1998 as a single event and has grown into a national 501(c)3 nonprofit that has recruited more than 100 CreateAthon partner agencies, universities, professional trade organizations and corporate marketing departments into service, with volunteer teams that bring CreateAthon events to their respective markets. To date, the program has served nonprofits in the US, Canada, Puerto Rico and the UK, delivering more than $25 million in pro bono marketing services to the nonprofit sector. To learn more about becoming a CreateAthon partner, visit www.createathon.org.
More from CreateAthon