Published 05-27-20
Submitted by Bechtel
Bechtel, a global engineering, procurement, and construction leader, has ranked No. 1 on the Engineering News-Record list of Top 400 U.S. contractors for the 22nd consecutive year. Engineering News-Record (ENR), the industry's leading publication, compiled the rankings based on companies' 2019 construction revenues.
"We thank our customers for trusting us to help them achieve their goals in 2019, and for their continued partnership as we work closely together to navigate the impact of the coronavirus pandemic," said company Chairman and CEO Brendan Bechtel. "This recognition is a testament to the resilience, talent and commitment of our people, who align with our customers to design and build projects that make the world safer, more productive, and more sustainable." 
Bechtel ranked among the top-performing companies in several market sectors. The company maintained its No. 1 ranking in the Power market sector and improved to No. 1 in both the Industrial and Hazardous Waste sectors. The company improved to second in the Petroleum sector. 
Bechtel also was the No. 1 American contractor working outside the U.S.
Last year yielded significant progress for Bechtel customers whose projects will improve mobility, increase the supply of safe and affordable energy, eliminate hazardous waste, and improve economies. Among the highlights:
New partnerships secured in 2019 position Bechtel for continued growth. Among them:
NASA chose Bechtel to design, construct, and commission Mobile Launcher 2, which will be used to assemble and launch the next version of the Space Launch System rocket;

The Serbian government selected a Bechtel-ENKA joint venture to build the country's first 5G-ready motorway;

And Bechtel and General Motors began exploring the construction of a national network of electric-vehicle charging stations.
ABOUT BECHTEL
Bechtel is a trusted engineering, construction and project management partner to industry and government. Differentiated by the quality of our people and our relentless drive to deliver the most successful outcomes, we align our capabilities to our customers' objectives to create a lasting positive impact. Since 1898, we have helped customers complete more than 25,000 projects in 160 countries on all seven continents that have created jobs, grown economies, improved the resiliency of the world's infrastructure, increased access to energy, resources, and vital services, and made the world a safer, cleaner place.  
Bechtel serves the Infrastructure; Nuclear, Security & Environmental; Oil, Gas & Chemicals; and Mining & Metals markets. Our services span from initial planning and investment, through start-up and operations. www.bechtel.com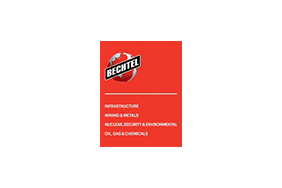 Bechtel
Bechtel
Bechtel is among the most respected engineering, project management, and construction companies in the world. We stand apart for our ability to get the job done right—no matter how big, how complex, or how remote. Bechtel operates through five global business units that specialize in civil infrastructure; power generation, communications, and transmission; mining and metals; oil, gas, and chemicals; and government services. Since its founding in 1898, Bechtel has worked on more than 25,000 projects in 160 countries on all seven continents. Today, our 53,000 colleagues team with customers, partners, and suppliers on diverse projects in nearly 40 countries. www.bechtel.com
More from Bechtel