Published 05-13-20
Submitted by Moody's Corporation
Village Capital today announced the launch of applications for Finance Forward Latin America 2020, the second iteration of an investment-readiness program for early-stage financial health startups in Mexico, Brazil, Chile, Argentina, Colombia and Peru.
"This program comes as the coronavirus pandemic is spreading across Latin America. This has had a profound impact on not only healthcare but also the financial health of people across the region," said Allie Burns, CEO at Village Capital. "According to the IDB, more than 140M Latin Americans are informally employed, which results in major instability for them and their families, much more so during this crisis".[3]
Twelve startups will be selected to participate in three workshops focused on supporting entrepreneurs in Latin America who are working on solving systemic inequalities that have existed for a long time and have become even more apparent during the COVID-19 pandemic. Participating startups will benefit from twelve days of training with a focus on improving their investment readiness and making their solutions available for those who need them most in the current economic climate. Each company will work closely with mentors, potential clients and partners, as well as investors they need to scale their impact. The top two peer-selected companies will be eligible to receive $50,000 each in grant funding from MetLife Foundation.
"Financial services act as a stabilizing force for low- and moderate-income people, enabling them to build resilience for a more confident future," said Nalleli García, CSR and Manager at MetLife Foundation. "Challenging times further underscore the importance of being prepared to face financial shocks. We look forward to applications from startups that are committed to serving lower-income segments of the market."
"Fintech can be a powerful force for economic stability and mobility in Latin America" said Daniel Cossío, Regional Manager at Village Capital in Latin America. "We've already seen how this crisis has had the most devastating financial effect on the low-income population. Now more than ever we need tech-driven innovation to help small businesses stay afloat and help families manage their income and support the region in what is bound to be a challenging recovery."
The program is a part of Finance Forward, a multi-year global coalition led by founding partners MetLife Foundation and PayPal to support entrepreneurs on four continents who are building tech-enabled solutions to place-based challenges around financial health. Last year's program, Finance Forward Latin America 2019, supported ventures from Brazil, Chile, Mexico, Colombia and Peru.
"At PayPal we are always working to help people join the global economy and achieve financial health. We are happy to collaborate one more year with Village Capital to support these new startups and entrepreneurs that are the strongest pillars of our economies. Given the struggle and challenges businesses are facing across the world, alliances like this are more important than ever and it is a privilege to be part of this," said Julie Vennewitz-Pierce, Head of Philanthropic Programs at PayPal. 
"Entrepreneurs and small businesses in Latin America continue to be adversely disrupted by COVID-19," said Arlene Isaacs-Lowe, Global Head of CSR and President at Moody's Foundation. "As the region navigates its relief and recovery efforts, access to capital and investment-readiness programs will be paramount for entrepreneurs looking to safeguard and scale their operations. We're proud to partner on Finance Forward Latin America 2020 and look forward to supporting the selected participants during this unprecedented crisis." 
All startups that apply to the program will be invited to join Abaca, Village Capital's global online network that helps entrepreneurs evaluate their business and identify the next milestones they need to obtain to keep scaling, and matches them with the right investors and resources.
Applications close on May 15 2020. Full details and eligibility criteria can be found at this link.
About Village Capital
Village Capital is the largest organization in the world supporting impact-driven, seed-stage startups. Since 2009 our team has directly worked with more than 1,100 entrepreneurs in 28 countries, and our affiliated fund, VilCap Investments, has invested in 110 startups that have gone on to raise more than $500 million in follow-on capital. To learn more, visit www.vilcap.com or follow @villagecapital.
About MetLife Foundation
At MetLife Foundation, we believe financial health belongs to everyone. We bring together bold solutions, deep financial expertise and meaningful grants to build financial health for people and communities that are underserved and aspire for more. We partner with organizations around the world to create financial health solutions and build stronger communities, engaging MetLife employee volunteers to help drive impact. MetLife Foundation was created in 1976 to continue MetLife's long tradition of corporate contributions and community involvement. Since its founding through the end of 2019, MetLife Foundation provided more than $860 million in grants and $85 million in program- related investments to make a positive impact in the communities where MetLife operates. To date, our financial health work has reached 9.9 million low-income individuals in 42 countries. To learn more about MetLife Foundation, visit metlife.org.
About PayPal
PayPal has remained at the forefront of the digital payment revolution for more than 20 years. By leveraging technology to make financial services and commerce more convenient, affordable, and secure, the PayPal platform is empowering more than 300 million consumers and merchants in more than 200 markets to join and thrive in the global economy. For more information, visit www.paypal.com.
About Moody's Corporation
Moody's (NYSE:MCO) is a global integrated risk assessment firm that empowers organizations to make better decisions. Our data, analytical solutions and insights help decision-makers identify opportunities and manage the risks of doing business with others. We believe that greater transparency, more informed decisions, and fair access to information open the door to shared progress. With over 11,000 employees in more than 40 countries, Moody's combines international presence with local expertise and over a century of experience in financial markets. Learn more at moodys.com/about.
Moody's builds toward a world where more people have access to opportunity, and where everyone has what they need to grow and thrive. We are committed to opening the door to brighter futures through our global corporate social responsibility programs connecting people around the world with the knowledge and resources they need to succeed. For more information visit moodys.com/csr.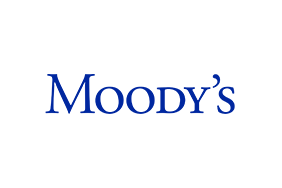 Moody's Corporation