Published 05-13-20
Submitted by VF Corporation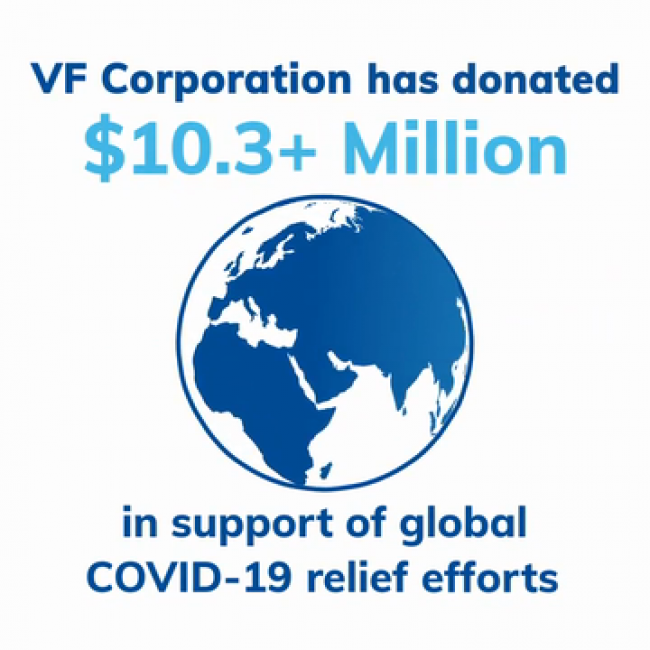 Click here to watch video
Known for producing some of the world's most iconic apparel and footwear, VF Corporation has quickly pivoted in recent weeks to help stem the urgent needs of healthcare workers and those struggling to cope in the face of a historic pandemic.
Since early March, VF Corporation, The VF Foundation, and the VF family of brands have used a people-first approach to make critical decisions about how to do the most good battling COVID-19. The result: more than $10.3 million worth of support in the fight against COVID-19.
"Through the efforts of our family of brands and the VF Foundation, we are using our size, scale and purpose-led commitments to be a force for good," said Steve Rendle, VF Chairman, President and Chief Executive Officer. "Collectively, our aim is to help millions of people around the world, especially those who are on the frontlines and in the most vulnerable communities."
Supporting those in need, now
VF has donated more than $7 million in cash to directly support emergency responders, provide testing kits, medical supplies and help the financially vulnerable access food and social services. The donations include more than $2 million from VF Corporation and The VF Foundation to provide medical supplies, aid to healthcare workers, and food and social services in countries without strong social support systems.
Meanwhile, Altra®, Dickies®, Eagle Creek®, Icebreaker®, JanSport®, Smartwool®, The North Face®, Timberland®, and Vans® will collectively donate as much as $5 million in funds to help fight the pandemic.  
Through the "Foot the Bill" program, Vans will donate up to $4 million to help keep local skate shops afloat through the crisis. Vans partnered with local and community-driven skate shops, restaurants, art galleries, and music venues to design Vans Custom footwear. Net proceeds from the sale of each pair of the custom shoes will go directly to small business partners in this critical time of need.
VF outdoor brands will also donate nearly $55,000 to the Outdoor Industry Association (OIA). The funds will directly support OIA's small business members by providing the necessary tools, resources, and advocacy to help them get through the COVID-19 crisis, as well as help sustain OIA's core work.
Through its social impact and advocacy platform – The Explore Fund – The North Face committed $1 million to support outdoor communities that make exploration possible worldwide. Working with national and local outdoor officials, The North Face will make sure those funds meet the most critical, immediate needs through recovery.
The need for products is also pressing. Working with World Central Kitchen, JanSport® donated 12,000 backpacks to help feed families across the country.
"Every day, the National School Lunch Program serves more than 30-million meals to children in our schools. With schools closed, millions of kids will go hungry," said Monica Rigali, Senior Director of Marketing, JanSport®. "Working with World Central Kitchen, we are packing our backpacks with needed food and supplies to make sure these children continue to receive nutritious meals throughout the pandemic."
In total, VF brands have donated more than $3.2 million worth of products providing warmth and protection to frontline healthcare and essential workers. Donations include: 
60,000 pairs of gloves from The North Face

40,000 pairs of Vans shoelaces for face masks

24,000 pairs of Vans shoes

12,000 Jansport backpacks

7,000 Kipling waist packs

15,000 pairs of Smartwool socks

1,475 pairs of Timberland PRO nursing shoes and Timberland work boots

130 The North Face down jackets
Pivoting to Personal Protective Equipment (PPE)
VF was able to take advantage of the existing expertise of Dickies and VF workwear brands, which already manufacture protective gear such as scrubs, lab coats, and disposable coveralls, to help the company pivot quickly to making isolation gowns. Last month, VF and Dickies began producing urgently needed medical gowns for U.S. healthcare workers with the capacity to manufacture 3.4 million gowns by September. The gowns will be distributed to communities throughout the U.S. in cooperation with federal and state government leaders.
"Dickies has stood alongside generations of workers, and in light of these unprecedented times, we're joining in the effort to help healthcare professionals on the frontlines," said Denny Bruce, Dickies Global Brand President. "As a heritage brand that goes to work, especially when the work gets tough, we are committed to equipping these workers with the critical medical garments they need to protect themselves as they continue the fight against this pandemic."
VF teams are making other forms of PPE as well, bringing PPE production to 3.6 million total pieces, including:
Taking Care of VF's Essential Workers
VF is also taking care of essential workers keeping the company's distribution and manufacturing centers open and running. These associates ensure consumers, medical professionals, first responders and essential workers have the gear they need including scrubs, overalls, and other required apparel. The company is providing up to 14 days of emergency leave pay to distribution center employees in the U.S. and Canada. In other regions, VF continues to provide full compensation to distribution center workers in accordance with local laws.
Distribution centers implemented increased safety protocols and procedures that include mandatory use of face masks, fewer people on each shift, and strict physical distancing at workstations, in common areas and throughout the facilities. Sanitation procedures are more stringent, and associates receive temperature screening before entering the facilities. VF also provided training videos, fliers, and posters with health and safety information.
Factories manufacturing PPE are also practicing high safety standards to protect workers in instances beyond the requirements of local and national guidance. Factories implemented safety protocol and procedures that include strict social distancing in buses transporting workers to and from the factory, in the facility, and common areas such as the cafeteria. Sanitation procedures are more stringent, and workers and visitors receive temperature screening before entering the facilities. VF also provided training videos, fliers, and posters with health and safety information.
VF is committed to supporting essential manufacturing associates financially during the crisis. While its owned factories in Mexico, the Dominican Republic, and Honduras were closed, associates continued to receive compensation at or above government guidelines. As associates return to work to make isolation gowns in Mexico, they have the opportunity to increase their earnings to production hourly rates. For a small subset of workers who cannot return to work because they are high-risk or must self-isolate, VF is also continuing pay at or above government guidelines.
Fulfilling Commitments
VF continues to take a people-first approach with its international suppliers and remains committed to ensuring that workers are paid for the manufacturing of its products. VF is paying suppliers for all orders that have already been produced, as well as honoring all valid purchase orders with a factory release date before June 1, 2020. And, when a shipment must be delayed, VF engages with its suppliers to determine if the delay will create a cashflow challenge for the supplier. If so, VF will work with the supplier to support their financial needs through a variety of potential solutions. 
VF is also a signatory of the International Labor Organization's Global Call to Action for Garment Industry Workers along with the IOE, IndustriALL, and other international apparel brands.    
The VF Foundation also donated $200,000 to support COVID-19 relief efforts in Bangladesh, Cambodia, India and the Philippines, some of the most vulnerable countries in VF's supply chain and home to millions of people who make up the garment industry. These countries are seeing widespread layoffs with no system of national support to help the unemployed meet basic needs.
Supporting the Enterprise
While helping healthcare workers and the COVID-19 response is critically important, VF continues to focus on protecting and supporting the global enterprise and all VF associates.
In early April, Rendle announced he would temporarily reduce his base salary by 50% while the VF executive leadership team would receive a 25% salary reduction. VF's Board of Directors also agreed to forgo their cash retainers. The money saved will help provide continued pay and benefits to VF's employees.
Retail associates in North America will receive 100% pay and benefits through May with further monitoring and evaluation moving forward.
In EMEA, where employees will soon return to work with restrictions, government support programs helped protect pay for all employees in the region. VF temporarily reduced work hours for employees while keeping salaries at or above 95% of regular pay for office workers, and wholesale and distribution center employees. Retail workers received full compensation.
Associates Supporting Their Neighbors
VF is supporting COVID-19 relief efforts at every opportunity, even at an individual level. VF employees worldwide are contributing to the cause in inspiring ways, including 3D-printing supplies, hand-making cloth masks, delivering food to people in need, donating personal funds to non-profit agencies, organizing group workout sessions to keep people healthy and engaged, sharing their artwork, and so much more.
To learn more about VF, The VF Foundation and its family of brands, please see the VFC.com.
###
About VF Corporation: 
Founded in 1899, VF Corporation is one of the world's largest apparel, footwear and accessories companies connecting people to the lifestyles, activities and experiences they cherish most through a family of iconic outdoor, active and workwear brands including Vans®, The North Face®, Timberland® and Dickies®. Our purpose is to power movements of sustainable and active lifestyles for the betterment of people and our planet. We connect this purpose with a relentless drive to succeed to create value for all stakeholders and use our company as a force for good. For more information, please visit VFC.com.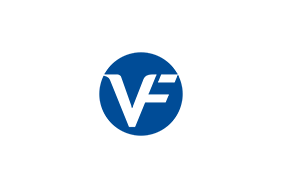 VF Corporation
VF Corporation
VF Corporation outfits consumers around the world with its diverse portfolio of iconic lifestyle brands, including Vans®, The North Face®, Timberland®, Wrangler® and Lee®. Founded in 1899, VF is one of the world's largest apparel, footwear and accessories companies with socially and environmentally responsible operations spanning numerous geographies, product categories and distribution channels. VF is committed to delivering innovative products to consumers and creating long-term value for its customers and shareholders. For more information, visit www.vfc.com
More from VF Corporation