Published 05-12-20
Submitted by Cox Enterprises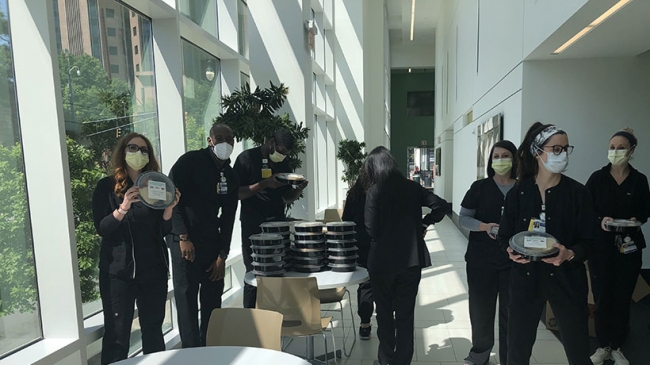 Originally published by Cox Enterprises
Feed the Frontline, the initiative established in April by the James M. Cox Foundation and Emory Healthcare to provide meals to Atlanta's frontline workers, is now on track to serve almost 10,000 meals each week.  
The program now has more than 1,300 donors including individuals, foundations and corporate contributors and has raised over $1 million. Originally set to serve through May 1, the initiative will extend through May 31 and still needs additional donations in order to reach the program's goal to feed all frontline workers through the end of the month.  
Feed the Frontline's mission is to offer nourishment and comfort to Atlanta's frontline healthcare workers serving in emergency rooms, ICUs and critical care wards at 19 Atlanta hospitals — as well as Atlanta police and fire rescue first responders.  
As the world continues to deal with the effects of the COVID-19 outbreak, the opportunity to unite through generosity has emerged with Giving Tuesday Now, the global day of giving on May 5. To donate directly to Feed the Frontline and help provide meals to Atlanta's frontline, visit http://feedthefrontline.emory.edu/.  
Helping the Helpers 
Across the country and in Georgia, medical professionals continue to adjust to long hours, increased stress and a new way of working to prevent the spread of COVID-19.  
Gaurav Budhrani, doctor of anesthesiology and critical care at the Atlanta VA Medical Center, said the meals provide a needed morale boost.  
"Serving the healthcare needs of our sick patients in the ICU during these times can be rewarding but is also extremely challenging on both physical and emotional levels," Budhrani said. "To leave the ICU momentarily and to be surprised with a delicious meal is a huge morale boost, and for that you have my gratitude." 
Since April 3, thousands of meals have been delivered to Atlanta-area hospitals including Emory Healthcare, Grady Health System, Piedmont Health, the Atlanta VA Healthcare System, Children's Healthcare of Atlanta, Northside Hospital and WellStar Health System. The meals come at no cost to the workers.  
"There are so many things to worry about right now and by having the Feed the Frontline program available to us, it gives us one less thing to worry about," said Katelyn Camuso, a radiation therapist at the Winship Cancer Institute. "Taking care of our patients is our No. 1 top priority. I have benefited from the Feed the Frontline program by being able to have a meal freshly prepared and waiting for me during my lunch. This enables me to be fully prepared to tackle the rest of my day."  
Feed the Frontline's food service partners include Avalon Catering, Bazati Atlanta, Chef Linton and Gina Hopkins, Chez Montier Catering, DAS BBQ, Fifth Group/Bold Catering, Local Three, Southern Proper Hospitality and Tamarind Restaurant Group. 
About the James M. Cox Foundation 
The James M. Cox Foundation is named in honor of Cox Enterprises' founder and provides funding for capital campaigns and special projects in communities where the company operates. James M. Cox was Ohio's first three-term governor and the 1920 Democratic nominee for president of the United States. The Foundation concentrates its community support in several areas including: conservation and environment; early childhood education; empowering families and individuals for success; and health.   
Media Contact 
Leticia McCadden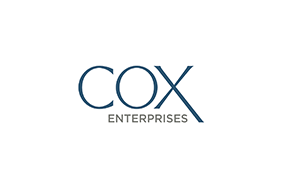 Cox Enterprises
Cox Enterprises
Cox Enterprises is one of the nation's leading media companies and providers of automotive services, with 2006 revenues of $13.2 billion and more than 80,000 employees. Major operating subsidiaries include Cox Communications, Inc. (cable television distribution, telephone, high-speed Internet access, commercial telecommunications, advertising solutions and Travel Channel); Cox Newspapers, Inc. (newspapers, local and national direct mail advertising and customized newsletters); Cox Television (television and television sales rep firms); Cox Radio, Inc. ([NYSE: CXR] broadcast radio stations and interactive Web sites); Manheim, Inc. (vehicle auctions, repair and certification services and web-based technology products) and Cox Auto Trader (automotive publications and a majority stake in AutoTrader.com).
More from Cox Enterprises