Published 05-07-20
Submitted by Alliance for Water Efficiency
In response to a Federal Register Notice on the WaterSense® Program published on April 10, 2020, the Alliance for Water Efficiency (AWE) is now calling on water and sustainability professionals to answer with a strong show of support for the WaterSense labeling program and the objective, scientific evidence on which product specifications are based.
AWE has prepared detailed comments and encourages all supporters of the voluntary WaterSense program to join in the effort to maintain rigorous, science-based performance standards.  More information on how to send letters and to join the AWE letter can be found here.
Background:
The EPA WaterSense program has been a tremendous success. Public and private utilities in all 50 states tailor successful water conservation programs around consumer use of WaterSense-labeled products. And because of the connection between water and energy use, the 3.4 trillion gallons of water saved to date by WaterSense have resulted in 462.5 billion kilowatt-hours of energy that don't have to be used to treat, pump and heat water.  These savings have resulted in an average financial benefit to consumers of $380 annually and $84.2 billion total in avoided water, sewer, and energy bills since the program was created in 2006.
WaterSense bases its product specifications on measured values of performance that are tested in a laboratory and certified by a third-party certifying body.   Testing includes the volume of water used to flush a toilet, or the maximum flow rate of a showerhead or faucet aerator under specific pressure conditions. These measured test values ensure that products receiving the WaterSense label are capable of meeting established, measurable performance criteria.  
The Federal Register Notice asks if the EPA should veer from reliance on measurable performance metrics to include "customer satisfaction" criteria in the WaterSense product specifications and guidelines. AWE believes this to be particularly problematic because customer satisfaction with a plumbing fixture depends greatly on the quality of manufacturing, the cost, the customer's own expectations, the actual installation of the fixture, the water pressure in the building, and the appearance of the fixture. These are all difficult to measure. Including customer satisfaction criteria in the WaterSense specification process could thus introduce uncertainty and bias into what has until now been a fair and scientific process. Customer satisfaction is a comparatively vague concept which cannot be measured in a laboratory the same way as flush volumes and flow rates can. This type of research instead examines the nexus between customer expectations, perceived quality, and perceived value, all subjective findings.
"Customer satisfaction criteria do not belong in WaterSense product specifications themselves," said AWE President and CEO Mary Ann Dickinson. "But there are reasonable and important uses for customer satisfaction information within WaterSense, such as informing the EPA about Americans' opinion of the WaterSense brand and their experience with WaterSense labeled products in homes and businesses. This information could help EPA guide the direction of the WaterSense brand and program. However, it would not be reasonable or correct for EPA to include customer satisfaction requirements within individual product specifications," Dickinson added.
ENERGY STAR hired JD Power and Associates and other specialized firms to conduct customer satisfaction surveys about products that receive the ENERGY STAR label.  All of these surveys were focused on satisfaction with partnerships, utility programs, and the ENERGY STAR brand, and did not cover topics like the wattage of light bulbs, the duration of dishwasher cycles, or any product-specific information. Recent JD Power research answered the question, "Does an ENERGY STAR Partnership Increase Customer Satisfaction?"
The Federal Register Notice also included a summary of the review of WaterSense product performance criteria, conducted as required under the authorizing legislation, the America's Water Infrastructure Act (AWIA) of 2018. Based on this review, the EPA made the decision not to revise any WaterSense product specifications at this time.  But the Federal Register Notice does make clear that these specifications could be re-evaluated based on customer satisfaction information.
"AWE supports EPA's decision not to revise any specifications at this time," said Dickinson, "but we believe it important that product specifications move forward and advance over time based on adequate study and research.  WaterSense product specifications should keep up with changing times and technology."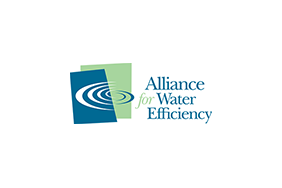 Alliance for Water Efficiency
Alliance for Water Efficiency
The Alliance for Water Efficiency is a non-profit organization dedicated to promoting the efficient and sustainable use of water in the United States and Canada. Headquartered in Chicago, the Alliance works with more than 400 water utilities, water conservation professionals in business and industry, planners, regulators, and consumers. AWE delivers innovative tools and training to encourage cost-effective water conservation programs, conducts cutting-edge research, and pursues programs and policies necessary for a sustainable water future. In 2014 the Alliance won the U.S. Water Prize in the non-profit category for its work. For more information, visit www.allianceforwaterefficiency.org.
More from Alliance for Water Efficiency