Published 04-30-20
Submitted by Discovery Education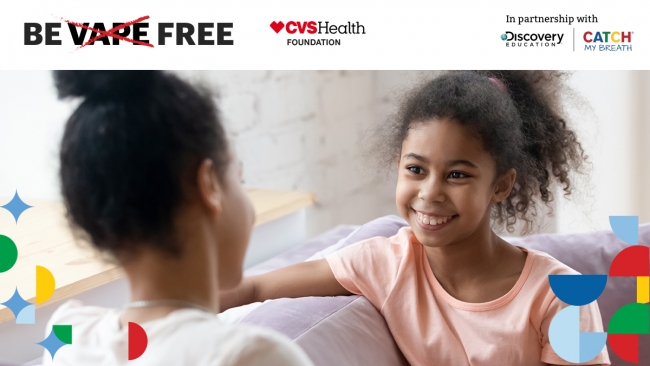 The Food and Drug Administration reports that 5 million youth in the United States currently use e-cigarettes. That's 1 in 4 high school students (27.5%) and 1 in 10 middle school students (10.5%).
The COVID-19 pandemic compounds the impacts of the vaping epidemic. Research shows that vaping increases a person's chance of experiencing complications from upper respiratory illnesses, like the coronavirus.
Families play a critical role in their children's decision-making but starting or continuing a productive conversation about being vape free can be challenging. No-cost dynamic digital resources for Be Vape Free – a nationwide initiative to provide standards-aligned, no-cost, e-cigarette prevention resources for educators teaching grades 5-12 created in partnership with the CVS Health Foundation, CATCH Global Foundation, and Discovery Education – provides families and educators with the necessary tools.
The parent and community toolkit offers an explanatory video about e-cigarettes and the impacts about youth, as well as an engaging slide deck addressing what can be done to combat the surge in usage among youth. These downloadable resources empower communities with the knowledge needed to help students be vape free.
The materials from the Be Vape Free are available at no-cost to families through the curated weekly content site known as Daily DE.
In response to the ongoing COVID-19 crisis, Discovery Education is offering schools and school systems not currently using the company's digital services free access to Discovery Education Experience. Schools accepting this offer will have access to Discovery Education's dynamic K-12 learning platform and its ready-to-use digital lesson plans, activities, and standards-aligned resources through the remainder of the school year. In addition, Discovery Education is offering a suite of no cost resources for parents and caregivers called Daily DE that can be used at home. For information, visit Discovery Education's comprehensive Virtual Learning resource center dedicated to helping educators adapt their instruction to meet today's need.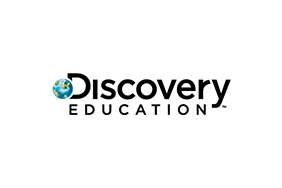 Discovery Education
Discovery Education
Discovery Education is the global leader in standards-based digital content for K-12, transforming teaching and learning with award-winning digital textbooks, multimedia content, professional development, and the largest professional learning community of its kind. Serving 4.5 million educators and over 50 million students, Discovery Education's services are in half of U.S. classrooms, 50 percent of all primary schools in the U.K., and more than 50 countries. 
Accelerate student achievement in your district by capturing the minds and imaginations of students with the fascination of Discovery, tapping into students' natural curiosity and desire to learn.
More from Discovery Education